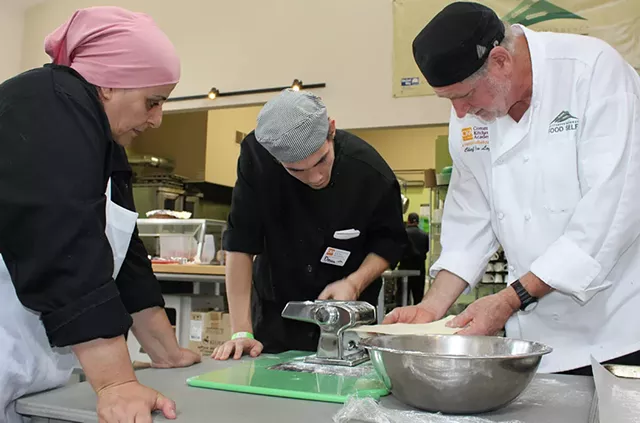 Courtesy of Community Kitchen Academy
Community Kitchen Academy chef Jim Logan (right) with students
Last week, the nonprofit Chittenden Emergency Food Shelf, located at 228 North Winooski Avenue in Burlington, received permits to add a second kitchen and new offices. "We have very limited space here," noted director Rob Meehan. "Ever since I started, in 2007, I've been looking for a new location."
Finding a second building from which the CEFS could serve the community proved difficult, however. "We've rented [additional] space off-site for years," Meehan said, but he called it an expensive solution that diverts resources from places where they could be better spent. And, he continued, "We like our location as far as serving people. We're on the bus line; we're in the Old North End."
The new kitchen will be used by the Community Kitchen Academy — a job-training program operated by Vermont Foodbank that helps prepare people for employment in the food service industry — and by the Good Food Truck, which delivers free meals to low-income community members.
The 800-square-foot addition will also allow CEFS to offer cooking classes and demos, nutritional counseling, and one-on-one meetings between staff and clients. According to Meehan, the aim is to help CEFS' staff serve the community with greater ease.
"It's the evolution of hunger relief," he said. "We're trying to shift our focus [from moving pounds of food] towards working with people. When you're overcrowded, people just come and go. There's not a lot of space to sit and discuss strategies for moving out of poverty."
Whether it's a desire to eat more fresh vegetables or an ongoing struggle with depression," Meehan added, "We want to help people with whatever they have on their plates."