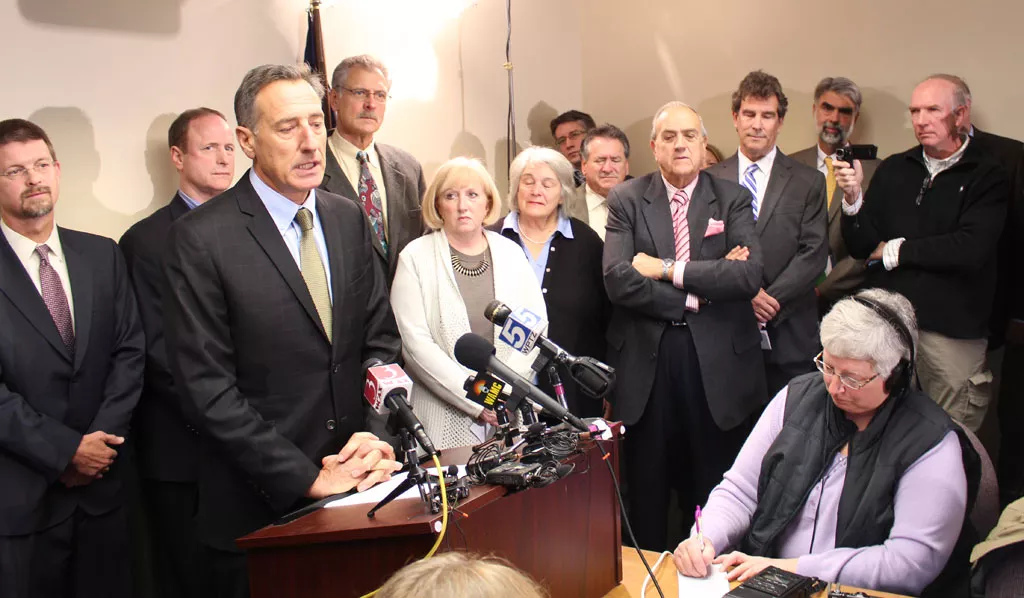 Paul Heintz
Gov. Peter Shumlin reacts to news of IBM's departure Monday in Burlington.
It ain't Ebola or the Islamic State, but even Vermont's sleepy gubernatorial race got an "October surprise" this week.
After 56 years in the state, IBM announced Monday that it would offload its semiconductor business — and its Essex plant, which employs 4,000-plus Vermonters — to California-based GlobalFoundries.
It was the day every Vermont governor since Howard Dean had feared would come on his watch — and it came just two weeks before Election Day.
What could possibly be worse for Gov. Peter Shumlin's reelection campaign than the state's largest employer pulling up stakes and leaving the Green Mountains? Well, pretty much any other news IBM could have delivered, short of no news at all.
In fact, as Shumlin and a host of politicians and business leaders argued Monday morning at a Burlington press conference, "This is good news for Vermont."
Good news, they said, because, for the first time since IBM began trimming its then-8,500-strong Vermont workforce in 2001, company bosses were promising to preserve jobs at the Essex plant and continue operating it "for the foreseeable future."
That's a far cry from IBM's modus operandi of slashing Vermont jobs to meet Wall Street's quarterly demands and publicly promising to dispose of its semiconductor albatross. And it's way better than the other options on the table: another round of layoffs or an outright closure by IBM or GlobalFoundries.
"There should be no big mystery here: IBM has made very clear to shareholders over the last several years that this is not their core business anymore," Shumlin said during Monday's presser, which was held at the Lake Champlain Regional Chamber of Commerce's Main Street headquarters.
"As Vermonters, we've gotta ask the question, since we know IBM's business mission has changed: What could be our best outcome?" he continued. "And, in my view, the best possible outcome would be a company who is innovative and wants to be in this core business and understands the value of what Vermont does here. And that's exactly what we got."
He's right. GlobalFoundries makes chips. That's what they do. That's what Essex does.
And unlike IBM, a publicly traded company subject to the whims of Wall Street, GlobalFoundries is a wholly owned subsidiary of Mubadala Development Company, an investment arm of the Emirate of Abu Dhabi. In other words, they've got cash to burn as they scale up and try to make IBM's chip business profitable.
Standing on the chamber's front steps after Monday's press conference, Shumlin's secretary of administration, Jeb Spaulding, said — and I'm paraphrasing here — "How could anybody portray this as bad news?"
Well, they tried.
Within hours of IBM's announcement, Vermont Republican Party chairman David Sunderland took to Twitter to ask, "Did @GovPeterShumlin believe that publicly calling the #IBM representative a 'liar' was going to help that or did he just not care?"
Sunderland was referring to an infamous April 2008 incident during which Shumlin, then the Senate president pro tem, interrupted a Statehouse press conference to tell IBM lobbyist John O'Kane, "You're lying about that."
(Side note: They were squabbling over a bill that would have forced Entergy to cough up the full cost of decommissioning its Vermont Yankee nuclear power plant, then estimated to be $800 million. Last Friday, Entergy upped its estimate to $1.24 billion.)
So was Sunderland suggesting Shummy's name-calling played a role in IBM's departure?
"There is never one single thing that factors into decisions that are this big and this complex," the party chairman explained. "But I think it's wise to look at the net effect of infrastructure challenges, workforce challenges, education challenges and statements like that, which were made by a state senator who now happens to be governor of the state. It would be equally foolish to think that it didn't play any role in it as to think that it played the only role in this decision."
Like Sunderland, Republican gubernatorial nominee Scott Milne says he was relieved that the Essex jobs were spared — at least for now. But he worries that Vermont has become inhospitable to business, and that GlobalFoundries might not stay.
"As a state, we need to stop treating large employers like IBM or small employers like Seven Days or taxpayers in general like cash cows that we can keep milking and milking and milking as part of Gov. Peter Shumlin's reckless experiment," Milne said.
Also contributing to IBM's decision, Sunderland alleged, was Shumlin's 2011 move to kill the Chittenden County Circumferential Highway, which would have linked the IBM campus to I-89. The road stalled out after four miles of paving.
"Did that weigh into the decision?" Sunderland asked. "I have no inside knowledge about that, but it's not hard to connect the dots."
Shumlin takes exception to the charge.
"Listen, let's be honest about this: The Circ Highway has nothing to do with the developments that we're addressing today," Shumlin said at Monday's press conference. "The suggestion that any decisions that Vermont made had anything to do with this international corporation's decision to move out of the chip-making business really is unrealistic."
In that, Shumlin has an unlikely ally: Libertarian gubernatorial nominee Dan Feliciano, a business consultant who used to work for IBM.
"I won't hang that around Shumlin's neck," he said. "I know those are corporate decisions where governors think they have more pull than they do."
Indeed, anyone who's followed the financial press' reporting on the two companies' nearly yearlong negotiations — or simply read their joint statement Monday — knows GlobalFoundries wasn't jonesing to buy IBM's plants in Essex or East Fishkill, N.Y.
In the statement, GlobalFoundries celebrated its acquisition of "thousands of patents," "world-class" engineers and IBM's microelectronics technology. Left unmentioned until paragraph four? The aging plants it picked up in Vermont and New York.
The deal's inclusion of those plants, which cost a ton to operate and have proved unprofitable for IBM, might explain why Big Blue pledged to pay GlobalFoundries $1.5 billion — minus $200 million in working capital — to take the Essex unit off its hands. That's not usually how a "sale" works.
Vermonters are endearingly quick to assume that the world is hanging on our every word. But it's absurd to think that a Fortune 500 company pawned off its semiconductor division because of what some state senator told some lobbyist six years ago, or because some highway was never completed. It's equally absurd to think, as Shumlin and his fellow politicians claimed on Monday, that GlobalFoundries' investment in Vermont was motivated by our unrivaled innovation and work ethic.
The company bought a bunch of patents and hired a bunch of engineers. They wound up with a couple of plants in the bargain. That's undeniably good news for now, but the real question is whether an Emirati company with facilities in Singapore, Germany and a brand-new one in Malta, N.Y., will stick around Vermont for long.
As usual, it's probably out of our hands.
Spoilsport
Speaking of sticking around, that's exactly what Vermont Republican Party leaders hope Feliciano won't do.
A week ago Friday, Senate Minority Leader Joe Benning (R-Caledonia) convened a top-secret meeting with Feliciano and Milne to persuade the former to drop out of the gubernatorial race and endorse the latter.
Participants pledged to keep the confab confidential, so neither candidate would confirm his attendance.
"I'm not saying," Milne said.
"I can't confirm or deny anything," Feliciano said. "I worked at the Pentagon."
But according to Benning, the senator sat down with Feliciano and two others at an undisclosed location in Chittenden County for a 90-minute chat about why the Libertarian should call it quits. Was Milne one of the others in attendance?
"I guess I'm going to leave it up to Scott Milne to make that decision as to whether he was there or not," Benning said.
Hmmm ...
"I went through the pros and cons of [Feliciano's] being in the race," Benning recalled. "I suggested to him that the poll numbers were not in his favor and that if he stayed in the race, the only thing for sure that would happen is Peter Shumlin would walk back in without any kind of contest."
A recent Castleton Polling Institute survey commissioned by WCAX-TV found that Feliciano was trailing Milne 35 to 6 percent — with both behind Shumlin's 47 percent.
"I said that even if he left the race at this stage, it's still an uphill battle for Scott Milne," Benning continued. "But in the event that he had any interest in a future in Republican politics, I would imagine folks on our side of the aisle would be a lot happier if there was no split in the ticket in this race."
And, as Kevin J. Kelley reports in this week's Seven Days (see page 20), Feliciano plans to run again in two years.
"I will say that Dan listened," Benning said. "But he was not going to make a commitment at that time, and we did not press him for one."
Sounds like the message fell on deaf ears.
"I can't even tell you how many people have contacted me about dropping out, but I will not drop out," Feliciano said. "I've made it clear to everyone and anyone who's spoken to me that I'm in 'til the very end."
Feliciano doesn't think much of Milne, who has waffled on key GOP issues — most distressingly for conservatives: single-payer health care reform.
"I still think I have the strongest positions out there, and if someone was interested in conceding, they should align behind me," says Feliciano, who vociferously opposes single-payer.
He has a point.
Milne's campaign has stumbled at nearly every turn: on messaging, organizing, advertising and fundraising. He got into the race pledging to elevate the debate, and then refused to debate Feliciano in the GOP primary. He calls his bid a "campaign of ideas," but waited until last Wednesday to release his first policy proposal of the race.
Speaking at Barre's Spaulding High School, Milne attempted to outline a plan to cut education spending by consolidating school districts and then reinvesting the savings in free college tuition. But in a train wreck of a press conference, the candidate seemed unable or unwilling to answer some pretty basic questions about his own plan.
Such as: Who would decide to consolidate the districts? How exactly would those districts cut spending by a third? And, most troublingly, if Vermont froze its statewide property tax, as he said it should, would Gov. Milne fill the resulting hole by cutting $42 million in spending or raising $42 million in other taxes?
"The question would be, 'What taxes and [spending] changes from the legislature am I not going to veto?'" he responded. "You know, it's their job to come up with a way to figure it out."
Not exactly gubernatorial.
Benning doesn't quite see it that way.
"What I like about Scott Milne is that he listens before he speaks. He's spent a great deal of time trying to listen in the very short period of time available to him," the minority leader said. "I just hope Dan looks seriously at the numbers and decides to throw his support behind Scott Milne, so we have a shot at the race."
Good luck with that.