Sam Lai has cultivated a habit over years as a chef that supersedes even his survival instinct. Five years ago, Lai was at the back of his takeout store, China Express 2 in Burlington's Old North End, when he heard his wife scream.
He dropped his cleaver on the chopping board and rushed to the front of the eatery, where he saw an armed robber reach into the cash register. Thinking that his spouse, Li Rong Lin, had been attacked, Lai chased the fleeing perpetrator. The men wrestled outside the store. The robber stabbed Lai in the neck before escaping.
Why did Lai put down his cleaver — a potential defensive weapon — when he heard the commotion?
"The cleaver never leaves the cutting board," Lai, 38, said emphatically. "It's a habit. You don't walk around with a cleaver."
Even more astounding than Lai's logic was that he returned to the store three days after the surgery on his neck. Clearly, China Express 2 represents more than just a decade's worth of his sweat and tears.
"I don't have a kid. But this [store] is like my kid," Lai said. "I make sure it's doing OK even if I get stabbed in the neck."
Actually, China Express 2 is not Lai's only food business undertaking. He had two previous restaurants — New Ethic Café and ONE Pepper Grill. "I had to fail twice to realize that I can't just randomly hire people," he said.
The unsuccessful ventures left Lai with a mountain of debt, but they spurred him to pour everything into China Express 2. "I grew up with the store," he said. "I ran into a lot of problems. I had to learn through the experience and solve them myself."
During the store's early years, Lai and his wife worked 16 hours every day. Now, with the help of two employees, they can afford to scale back their hours — to 12 hours a day, six days a week. Normally, they rest on Mondays.
When I visited Lai to sample some authentic Chinese dishes, it turned out that Monday, December 12, was to be an exception. It was the last week of the school term, and Lai wanted to give his business a little boost before the end-of-semester break.
More than half of his store's sales come from local students, Lai said. "Every time the college kids are gone, we feel it right away. The business just dropped."
Lai, a native of China, assured me he would have plenty of time to cook up the kind of dishes that he and his family would make for themselves.
Lai has 13 years of experience as a chef. But he's been in the food business for more than 20 years. He started out as a delivery boy for his father's takeout business in Union City, N.J., where he grew up. They moved to Vermont in 1999 to start the first China Express on Shelburne Road. In 2006, Lai left that eatery to embark on his own culinary path. A fellow Chinese immigrant later bought his father's enterprise.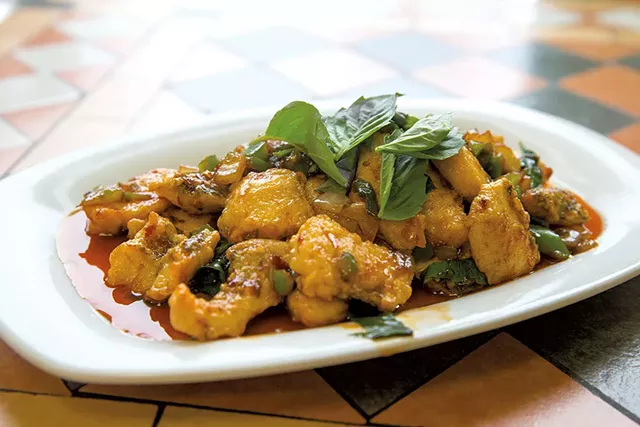 James Buck
Battered fish with green peppers and chile sauce
Lai was born in the southeastern coastal province of Fujian. His family immigrated to the U.S. when he was 10. Most Chinese restaurants in this country serve Cantonese cuisine, he explained. "[If you see a] roasted duck hanging in the window, that's Cantonese food," he said. The earliest Chinese immigrants to the U.S. in the mid-1800s were from Guangdong province, historically known as Canton, so it's no surprise that American Chinese food most resembles that style.
Since Lai and his wife spend most of their time at their store, they eat their own meals there. Breakfast is congee — rice porridge or gruel — and pickled vegetables. Other daily fare includes white rice, Chinese bok choy or Chinese watercress, soups, and fish.
Some typical fish dishes that Lai cooks for his family are battered fish with green peppers and chile sauce, and slow-cooked fish with ginger slices and sweet-chile-soy sauce. He usually uses the fish head to make soup with mushrooms and tofu.
Lai would prefer to serve more fish dishes to his customers because they're a healthier option. But picking out fish bones is something Western customers still find a challenge. "We were raised to choke all the time on fish bones," Lai said. "Our tongue will get smarter. We don't swallow [the fish bone.] We spit it out."
In addition, cooking more authentic Chinese cuisine, such as his fish dishes, for his customers would take "a lot of time" and cost more, because he only uses fresh ingredients. "That will not pay the bills for me," Lai pointed out.
By comparison, he can serve up fried rice and lo mein in less than two minutes. It takes about five minutes to boil and then fry his homemade dumplings. Except for house specialties, most of the mains, such as Sichuan chicken and kung pao chicken, cost less than $10. Appetizers start at $1.75, while a pint-size container of wonton soup costs $2.25.
Although Lai sticks to the tried-and-tested cuisine of the first Chinese American restaurants, he also follows another old adage: "You don't want to buy premade food." That's why he still makes his own dumplings and egg rolls, and he marinates and debones chicken by hand. Sometimes, the store gets so busy and "out of control," as Lai put it, that he and his wife stop answering the phone for hours to give them a chance to prepare more ingredients.
Kymelya Sari | Andrea Suozzo
Sam Lai
Lai said the most popular meal among local college students is General Tso's chicken, a sweet, deep-fried dish. "Young people like fried, sweet and greasy," he noted. Another favorite is crab Rangoon, deep-fried dumplings stuffed with imitation crabmeat and cream cheese. The dish was invented for Americans, Lai said: "It's Chinese fusion food."
While Lai was cooking, a customer came in and told him that the store's phone number for home deliveries was out of order. Lai assured him it was working. After the man left, he said he has his fair share of quirky customers. But they're mostly harmless, he said — and he has experienced worse.
While he was growing up in N.J., Lai said, he was often bullied because he was the only Asian kid in school. When he worked as a delivery boy, he was robbed at least once a week.
"A good robbery means I didn't get beaten up," Lai said. "They just took my food and ran. A bad one means 20 kids surrounded me and threw punches."
Those difficult years made Lai adept at dealing with challenges as they come. A couple of days before meeting with Seven Days, he said, his store had been robbed again. This time, the perpetrator ran off with the tip jar. Lai's response was simple: He replaced the container and tied it to the cash register. The incident didn't perturb him. "Shit happens," he said.
Instead of worrying about what others may do, Lai prefers to focus on what he can do to make sure his business stays afloat. He would like to build a food truck in order to sell Chinese street food during the summer. His rationale: "If I'm losing business because of truck food, I have to be in [the] food truck business."
It wouldn't offer the same type of cuisine that he serves at his store, though. "It'd be more authentic, something I would cook for myself," Lai said.