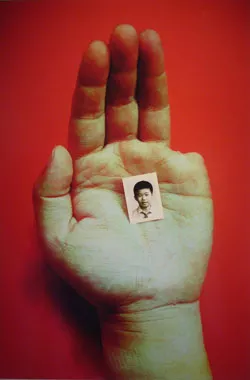 "Memories/me" by Sheng Qi
Few epochs in Chinese history have brought changes as dramatic as those in the last half of the 20th century. From the communist victory of 1949 to the upheavals of the Cultural Revolution in the 1960s to Deng Xiaoping's capitalist reforms of the 1980s, China has reinvented itself from a feudal empire to a modern economic powerhouse in just a few generations. The evolution has taken its toll on China's citizens, however. Accordingly, dislocation is a common subtext of the current exhibition at Stowe's Helen Day Art Center, "Made in China," featuring works by contemporary artists of that vast country.
A few traditional pieces provide some context for the exhibit. The forms of two 18-inch-tall Ming Dynasty "Lothan Heads," carved from red sandstone, are echoed by the intricate airbrush on paper "Works From the 18 Monks Series," by Qui Zhijie. Qui's pieces are forests of vermilion contour lines that turn into contorted faces akin to the ancient Lothan Buddhist sculptures. Qui also refers to traditional forms in the 9-foot-tall fabric columns of his "9 Elements Series." These are filled with large passages of calligraphic script.
Two of Qui's 36-by-30-inch chromogenic prints are also included here. Both are altered self-portraits of the artist, nude from the torso up. "Tattoo #6 (Daoist poem)" has broad brushstrokes covering the figure; "Tattoo #4 (coins)" shows the artist behind a hailstorm of Chinese Empire and early Republic coins. In a posted artist's statement, Qui writes that he's examining "the problematic relationship between an image and its background," though in his images the "background" is more than a formal design element: It's a term that encompasses his culture.
The Tiananmen Square protests and massacre of 1989 are more than backdrop for artist Sheng Qi. "Memories/me" is a 39-by-26-inch color digital print focused on the artist's palm, which holds a snapshot of his childhood portrait. Sheng was active in the Tiananmen protests and escaped from China after the crackdown. Before leaving, he severed his pinky and buried it in his native soil. Also appearing at the Helen Day are two of Sheng's red-painted sculptures — "Hero," referring to the anonymous protester who tried to block a tank at Tiananmen, and "Bloody Tian'anmen," in which Mao's tomb appears to drip blood.
Ironically, after eight years in exile, Sheng returned to China; he now lives in Beijing. Chinese artists apparently come to terms with the People's Republic by finding ways to be subtly subversive without compromising personal aesthetics.
Photographer Wang Qingsong's 4-by-8-foot color prints directly approach contemporary China's contradictions. "Past" recreates a monumental propaganda sculpture of revolutionary Red Guards; in this muddy tableau, the artist looks upward at the sculpture, appearing as a most unheroic, battered soldier, lifting a bouquet to the surreal statue. In "Beggar," a chic, well-heeled Caucasian woman walks past a decrepit beggar on the right side of the photo. The woman carries a fan and holds a transparent purse stuffed with dollars, euros and yuan.
Intriguing videos of performance events by Zhang Huan also appear in the exhibition. "To Raise the Water Level in a Fishpond" documents an event in which dozens of men clad only in underwear entered a shallow pond in an absurdist display of collective cooperation. As they leave the pond, all walking to the same point, small fish gather and leap before the men.
China seems to be confidently reasserting its place in world culture, and the country's dynamism is evident in "Made in China." It's also clear from the show that contemporary Chinese artists are refusing to be cowed by the new empire's ongoing political dictatorship.