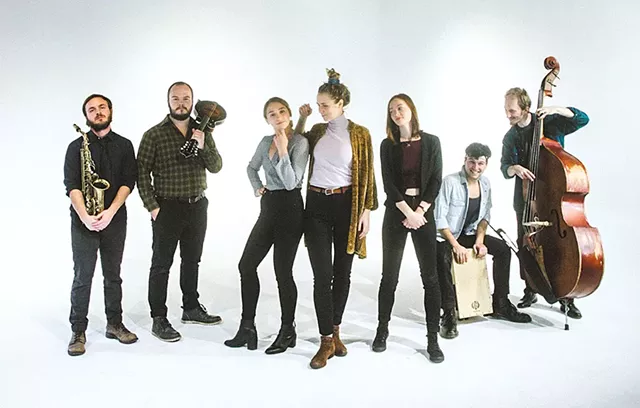 Vermont's chilly climate mandates that most music festivals take place between late spring and mid-fall. Obviously, summertime is the busiest. You could spend practically every June, July and August weekend frolicking through grassy festival grounds as talented bands pluck, strum and croon the days away.
But there's no real reason we can't enjoy some festival action in winter. Sure, you'll battle the elements. But Vermonters are nothing if not tough, right? We brave the late-January cold for the yearly folk-centric Spice on Snow festival in Montpelier. And, though technically a springtime happening, EDM extravaganza Minus Zero Festival hits southern Vermont ski destination Stratton Mountain Resort in early April, when temps can still dip into the twenties. Now, Stratton is gearing up to launch the newest iteration of renowned bluegrass hootenanny WinterWonderGrass.
Also held in California and Colorado, this family-friendly celebration of twang runs in Vermont Friday through Sunday, December 14 through 16. Along with tunes, expect to find all the trappings of any music and arts fest, such as food vendors, an activities zone for kids and, naturally, craft beer. Also, lots of heaters.
Though many acts will play inside heated tents, you'll want to dress like you're heading out for a day of skiing. The Main Stage, for one, is exposed to the elements. Keep that in mind as you plan your ensemble.
Of course, what you really should think about is who to see. Lucky for you, the schedule eschews conflicts between Main Stage acts and support stages, so you'll be able to see all of the big draws, should you so choose. Additionally, several bands perform on multiple days.
To help you navigate the fest, we present our top picks from this year's lineup. Visit winterwondergrass.com for the full schedule.
The Infamous Stringdusters
Friday, 8:20 p.m.
Nashville, Tenn.'s Infamous Stringdusters headline the first night of the fest. Players of progressive bluegrass, they suffuse the old-timey genre with a bit of modernity. You'll hear elements of contemporary blues and rock stylings embedded in otherwise traditional-sounding jams.
Earlier this year, the group claimed Best Bluegrass Album at the Grammy Awards for its record Laws of Gravity. In addition to the lauded studio version, the band also released a live album, pieced together with recordings taken from a selection of shows in early 2017.
Fruition
Friday, 5:35 & 7:30 p.m., and Saturday, 6:15 p.m.
Portland, Ore., quintet Fruition got their start as many folksy bands do: busking for tips on city streets. They even met their manager in a chance encounter on a San Francisco sidewalk. And when you listen to the group's debut self-titled album, full of breezy country-swing and coastal folk vibes, it's easy to imagine the five-piece getting down on a street corner.
But Fruition's latest work, the 2018 EP Fire, is almost too grand to conceive of being stripped down. Pop and alt-country inclinations fill the four-track collection, which also includes some of the band's most dramatic arrangements and production techniques to date.
Pappy & Friends
Friday, 2 & 3:40 p.m.
You may remember Pappy Biondo from his time in Cabinet. The Pennsylvania-based progressive bluegrass band is currently on hiatus — save for one final New Year's Eve show in New Cumberland, Pa. — and Biondo is now living among us in the Green Mountain State. Perhaps you caught some of his residency at Burlington's Skinny Pancake earlier this year.
On Back to the Basics, Biondo's new solo EP, he teams up with a group of Vermont's finest folk musicians, including fiddler Caleb Elder and mandolinist Matt Flinner. While Cabinet incorporated modern rock aesthetics into their work, Biondo and co. are about as down-home as you can get. His fingers flick and pick at lightning speed on tunes that sound like early 20th-century standards.
Upstate
Saturday, 2:40 p.m., and Sunday, 5 & 7 p.m.
Upstate come from the Hudson River Valley — specifically Beacon, N.Y. Formerly known as Upstate Rubdown, the seven-piece ensemble recently shortened its name. Why the change? According to a June announcement on Facebook, "It's the same us, but better. Bolder. Short and sweet, but with something to say."
The name change also heralds the group's upcoming sophomore LP, Healing. Lead single "Marietta" shows that the band's sound remains unaffected. Its unconventional blend of bass, saxophone, mandolin and cajón provides a supportive and flexible foundation for lead vocalists Melanie Glenn, Mary Kenney and Allison Olender. Undoubtedly folksy, their harmonies also evoke jazz, soul and gospel traditions.
Railroad Earth
Sunday, 7:40 p.m.
"I'm adding my voice to the voice of the people who've had enough," sings Railroad Earth front person Todd Sheaffer on their tune "Adding My Voice." The New Jersey-based Americana group released the declarative song in 2017 as a reaction to a charged political climate. As have many conscientious and socially minded artists in the past couple of years, Railroad Earth are going full steam ahead on the protest train.
Several weeks ago, tragedy struck the band. On October 12, cofounder Andy Goessling passed away. No cause of death was cited, but it came about 18 months after an announcement that the multi-instrumentalist would be taking some time off from the band for medical reasons. He played his last show with the group on August 26.
Bridget Law
Sunday, 3 p.m.
Until recently, you could have seen fiddler and vocalist Bridget Law perform with "transcendental folk" band Elephant Revival. But in the fall of 2017, her 11-year run in the group came to end. The cofounder announced her departure via Facebook, noting that she was taking some time to allow "new opportunities for growth." Now focused on family and working with conservation nonprofits such as Leave No Trace, Law noted in her farewell that future collaborations were still possible.
Also in 2017, Law became involved with the Sister Winds music festival in her home state of Colorado. The female-centered event highlights women onstage as well as behind the scenes.
Law exhibits great versatility, whether fiddling in her current project, the Latin- and Arabian-inspired ensemble Tierro, or alongside former Elephant Revival bandmate Charlie Rose.
Lindsay Lou
Sunday, 5 & 7 p.m.
Don't be surprised if you hear a bit more polish on Lindsay Lou's newest material. In the past, the Nashville-based artist and her band, the Flatbellys, kept things a little bit gritty. But Southland, released in 2018, showcases a sparkling indie-folk sound similar to that of Mipso or I'm With Her.
Lou recently told Americana website the Bluegrass Situation, "As an artist ... I have to do what feels right to me ... And that's what I'm trying to do — create something that sounds like the world I'm living in." That's what you'll hear on Southland: an artist finding her voice in a world that's constantly changing.