Eleven-year-old Gabe Little is an articulate, polite sixth grader with a purple streak running through his dark brown hair. He's a Boy Scout, a football player for the CSSU Buccaneers and a saxophonist in the Shelburne Community School band. Gabe is also an avid and enthusiastic video game player. His game of choice these days? Fortnite.
If you have a school-age child, chances are you've heard of it. The multiplayer Battle Royale version of the free, online video game has attracted more than 125 million players since its September 2017 release.
In Fortnite, players are dropped from a flying bus into a brightly colored, cartoonish fantasy world populated by other players. The object of the game is to hunt and kill them all. The last one standing is the winner.
It's less disturbing than it sounds.
On a recent school night, after tae kwon do practice, Gabe gave this reporter a Fortnite tutorial using the Xbox console hooked up to his living room TV. For this demonstration, he played in "solo mode," working alone to defeat other randomly chosen opponents; he also likes to play in duo or squad mode, teaming up with friends who log in using their own devices.
Gabe's avatar floated down to a location called Dusty Divot, aided by a special glider he purchased in the game's shop. Though players don't pay to download Fortnite, they can purchase items like the glider, or "skins," which change the appearance of their avatars. Gabe has several of those. His favorite is the Dark Voyager — a black space suit with glowing orange embellishments.
As his avatar, wearing the Dark Voyager skin, descends on Dusty Divot, Gabe comments that his landing spot "was actually just a warehouse until a giant meteor hit it." He's been playing Fortnite since January, long enough to see the world evolve over time.
Upon touchdown, he begins to open chests nearby in order to collect weapons and healing items, like bandages, that will help him in the battle. "I'm looting up," he explains.
Then he's off, barreling through the virtual world while narrating his actions. "Right now, I'm in some unnamed house," he says. When he encounters other players involved in a gun battle, he becomes more animated.
"There's fighting," he says, as he maneuvers his avatar to engage. "Oh, my God, he has the high ground on me," he observes nervously. "That's a huge advantage, but I'm just going to shoot his base down," he continues as he fires his gun.
Then he sees his opponent's weapon. "He has a grenade launcher," he says, followed by, "Oh shoot, he got me."
There's no blood or gore when Gabe's avatar dies. The character simply disappears. And just like that, after only a few minutes, his game is over. Gabe is briefly disappointed, but, like many of his peers, he's eager to play again.
A 2018 study from the Pew Research Center finds that 97 percent of boys and 83 percent of girls ages 13 to 17 play video games. And a 2018 report from the Entertainment Software Association shows that 64 percent of U.S. households own a video gaming device.
This pastime can mystify parents who might not have grown up gaming, and worry those who see their kids spending hours sitting in front of a screen. What is it, exactly, that makes video games so compelling? And what can parents do to make sure gaming doesn't get out of control?
Reaping Rewards
Marguerite Dibble, founder of Burlington-based game design company GameTheory and a 2012 graduate of the game art and animation program at Champlain College, is a local gaming expert. When Dibble was growing up in rural Landgrove, her mother wouldn't let her have a Nintendo 64 gaming system. Dibble says her mom was worried that she would spend all her time playing games.
"Video games felt like this alien, strange thing that she wasn't familiar with," the game designer explains. And many games are, indeed, designed to suck players in for as much time as possible, she adds. It's understandable that this can feel "scary" and "nefarious" to parents.
But Dibble sees things differently. She's spent a lot of time thinking about gaming's appeal. In a 2014 TEDx Talk, available on YouTube, Dibble speaks about the "ingredients" that make video games fun for people of all ages. If we understand the ways in which games motivate people psychologically, she asserts, we can apply these tools to other arenas, like government and education.
For example, Dibble's team has created a game that explains the complex political concept of gerrymandering. (Full disclosure: Playing it is worth 10 points in Kids VT's Good Citizen Challenge. And Kids VT partnered with Dibble in 2013 to create Runoff, an educational game about stormwater pollution.)
According to Dibble, one ingredient in successful games is reward, meaning an action leads to a reaction. "As humans beings, we love this," she says in her talk. "We want to know that what we do produces results."
It's the principle behind even the simplest of baby toys, like a rattle. And it's why it's so satisfying for Gabe to open a chest in Fortnite and find a rocket launcher or rifle.
Other ingredients that make video games engaging, she says, include surprise, challenge, mastery, status, cooperation, competition, collection, construction and, crucially, identity. "Identity is all about defining ourselves through specification," Dibble explains. "When you create an avatar in a game, that's what it's all about."
Fortnite capitalizes on this aspect. Its game store sells skins and "emotes," which enable avatars to perform silly poses and dance moves — as well as items like gliders, backpacks and pickaxes, which allow players to customize their appearance. The items in the store change nightly at 8 p.m., which adds to the allure.
In addition to building a player's identity, these items make loads of money for Fortnite's creator, Epic Games — more than $1 billion to date, according to research firm SuperData Research. Gabe estimates he's spent roughly $160 of his own cash — some of which he earns mowing his dad's lawn — on different skins. "If you have a cool skin in a popular game, it makes you feel good," he says.
Gabe's mom, Samantha Little, admits it can be frustrating that her son spends his money in the virtual world. But, she continues, Gabe "is adamant that it is worth it ... and I leave the choice up to him." Even if he ends up regretting it, she says, it's a good lesson in money management.
Video games can also provide kids with the opportunity to show agency at a time in their lives when many decisions are dictated for them, says Ben Wiley, an instructor of game production management at Champlain College who has worked in marketing for the gaming industry. "It is something in your life that you choose to do, even if everything in your life feels out of control," he notes.
Other rewarding aspects of video games, he says, include having an achievable goal to work toward; a set of rules, which lead to coming up with creative solutions; and feedback that lets you know when you're successful. In most games, the player is building social connections as well, says Wiley, noting that he's met people through video games who have become real-life friends.
For Gabe, the ability to play with his friends is one of his favorite aspects of Fortnite. Sometimes he uses a texting group chat to arrange to meet peers in the virtual world after school or dinner.
Samantha, who also has a 9-year-old son, Gavin, points to the social benefits of gaming, as well. "Honestly, I do think the positive of online video games is the togetherness of it all ... They are interacting and strategizing, sometimes for themselves and sometimes working together as a team. I see them share tools and weapons and even give helpful tips to other players from time to time. Oftentimes, during a boy sleepover at my house, all seven or eight boys will be quietly playing on their own device, but turns out they're all playing together."
Your Move, Mom and Dad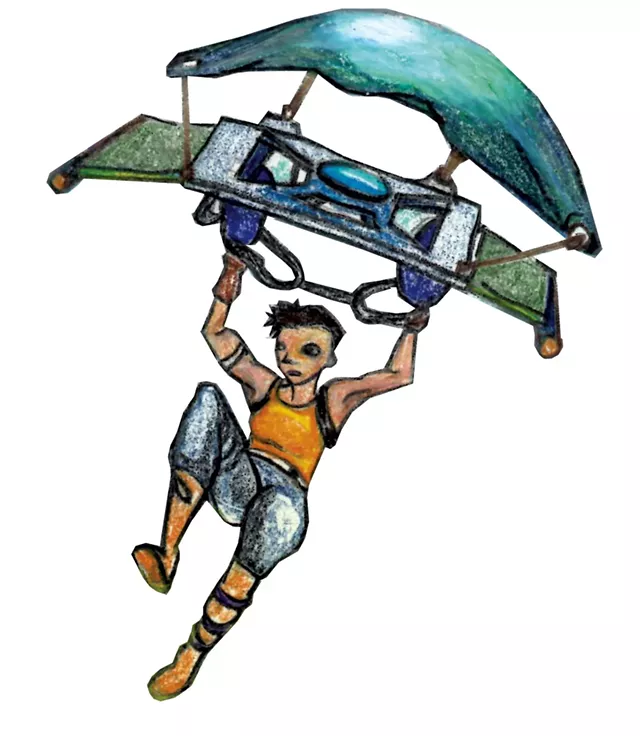 Not all the news about video gaming is positive. In June, the World Health Organization made headlines when it identified gaming disorder as a mental health condition. And a recent police sting in New Jersey resulted in the arrest of 24 men for allegedly trying to arrange meetings with kids, in some cases through online games like Fortnite.
Dr. David Rettew, director of the pediatric psychiatry clinic at the University of Vermont Medical Center, says he sees many kids who "spend a huge amount of time on video games."
He's careful, though, not to write off the activity. "Older generations are always saying that the younger generation is going to hell in a handbasket," he says. It's been true since parents griped that their kids were listening to Elvis Presley.
He offers another analogy: "I play golf. People say, 'You spend half a day hitting a non-moving ball into a cup.' I think you can argue that a lot of what people do for fun doesn't have tremendous inherent value."
Still, medical and gaming experts agree: It's important to understand what your kids are doing when they go down to the basement to play Fortnite, or whatever their favorite game may be.
Says Dibble: By simply asking your kids, "Can I play with you a minute? I want to see how this works. This seems cool and interesting," parents will get a window into what the game is actually like and whether there is something to be concerned about — whether it's violence or characters being represented in a stereotypical or sexist way.
When parents understand what their kids are playing, "if you get into the position of needing to limit it, you're in a much better space because you sort of get it," says Rettew.
Another way to get a sense of different video games is by watching others play them. Jamie Danaher, who owns the Vermont Gaming Academy in the University Mall in South Burlington, advises parents to check out YouTube or video game streaming site Twitch to watch the game their child wants to play for 15 or 20 minutes to "get a realistic impression of what that game is going to look like ... You're going to make up your mind pretty soon whether or not it's something you want your child to play," he says.
The Entertainment Software Rating Board, which rates games much like movies, is another resource, says Wiley of Champlain College. Ratings include E for Everyone, E 10+ for ages 10 and up, T for teens ages 13 and up, M for mature players ages 17 and up, and A for adults. Parents can visit esrb.org and search for a game to get its rating, as well as a brief summary explaining it.
Fortnite, for instance, is rated T because of the violence: "Battles are highlighted by frequent gunfire, explosions and cries of pain," reads the review.
Another consideration, especially when it comes to multiplayer games, is whether kids are being exposed to toxic language or views — or even online predators. Like most online multiplayer games, Fortnite enables players to talk to each other. Danaher says he's heard of cases of adults asking for kids' email addresses, then soliciting photographs, personal information and even parents' credit card numbers .
Samantha Little says she's talked to Gabe about not disclosing any personal information to fellow gamers, and she periodically swipes his headset — which he uses to communicate with other Fortnite players — to ensure that there's no vulgar language or taunting. "It's a sneak attack, and it really keeps the boys in line, knowing that they need to be appropriate and only play with others who are behaving similarly," she explains.
For TV, movies, social media and video game usage for school-age children and adolescents, the American Academy of Pediatrics recommends that parents "place consistent limits on hours per day of media use as well as types of media used."
Dr. Rettew recommends enforcing these limits starting when kids are young. "If you ignore it and now you have a 16-year-old spending every waking hour" playing video games, he says, "it's kind of hard to institute some kind of martial law."
One way to manage screen time is through devices such as Circle, which enable parents to set a time limit on different apps, block websites and disconnect the internet. Dr. David Greenfield, assistant clinical professor of psychiatry at the University of Connecticut School of Medicine and the founder and chief clinical officer of the Center for Internet and Technology Addiction in West Hartford, Conn., endorses this approach. Parents shouldn't leave it to their kids to monitor their own screen time use, because "everyone who looks at screens disassociates or time distorts," he says. This means they might believe they've been playing Minecraft for 30 minutes when it's actually been two hours.
When it comes to video games, Dr. Greenfield stresses that — just like watching TV or eating chocolate cream pie — it's all about moderation. "If you can play a video game and it can enhance the quality of your life simply because you're enjoying it, I think that's wonderful," he says.
Dibble agrees. She recalls that when she was 13, she was an avid gamer, but she also loved reading books and going outside and walking her dogs. "I think it's just important to help encourage kids to find that balance," she says, "and see that there is a lot of value in all these different parts of life."
System Overload: Video Game Addiction
The World Health Organization identified gaming disorder as a mental health condition in its most recent International Classification of Diseases. To be diagnosed with it, a person has to show a pattern of behavior for at least 12 months in which gaming is out of control; the pattern of behavior must show an "increased priority given to gaming" so that gaming "takes precedence over other interests and daily activities;" and there must be a "continuation or escalation of gaming despite the occurrence of negative consequences."
The classification was met with some pushback. A group of several dozen psychologists published a rebuttal in the Journal of Behavioral Addictions stating that, though there could be benefits to formalizing gaming disorder, the new classification "lacks the necessary scientific support and sufficient clinical utility" to justify the diagnosis. In the most recent Diagnostic and Statistical Manual of Mental Disorders (DSM-5), published by the American Psychiatric Association in 2013, internet gaming disorder is classified as a condition for further research.
Dr. David Greenfield, founder and chief clinical officer of the Center for Internet and Technology Addiction in West Hartford, Conn., has been studying and treating patients for technology addiction for more than 20 years. He acknowledges that there isn't yet consensus on the criteria that constitute gaming disorder, but based on his clinical work, he says, "I have no doubt that there is a phenomenon with regard to the internet and how it is used and abused, and that it's addictive ... Bottom line, if you're a doctor and you have a patient who walks into your office, you're going to treat them, not turn them away until there's an agreed upon diagnosis."
Since he began treating internet addiction — which includes addiction to video games — in the 1990s, Greenfield says there's been at least a 1,000 percent increase in the number of cases he's seen.
The majority of patients he treats for video game addiction are in their mid- to late teens or early twenties. He attributes this to several factors. Up until around age 25, he explains, people have less development of their brain's orbitofrontal cortex, which is associated with executive skills and higher-order judgment, and they have a more sensitive limbic system, or mammalian brain, which is associated with emotion and addiction. This makes adolescents more prone to "develop disorders that are pleasureoriented."
Additionally, when people become gamers as adults, they're more likely to have already developed life skills that have enabled them to do things like hold down a job or get through college. In contrast, teens haven't learned these skills yet, and so they are more likely to develop what he calls "reward deficiency syndrome." Essentially, video games are so stimulating that everyday activities like schoolwork feel boring in comparison.
Dr. David Rettew, a child psychiatrist at UVM Medical Center, underscores this point. "There's some evidence that video games kind of reset your brain arousal level," he says, "so if you're spending six hours a day in simulated combat and there are all these sights and all these sounds ... that's the level of stimulation it takes to get you to pay attention."
Another common worry about video games, says Rettew, is whether playing them will make kids more aggressive. There is some evidence that video games can desensitize kids to violence or create a lack of empathy, he says, but the link between engaging in simulated combat and real-life violence is weak.
Both experts agree that the vast majority of young people can play video games without becoming addicted to them. "People need to be aware that there's a variability in response, just like with alcohol or cannabis," says Rettew. "There are people who can use these things and not get into trouble, and there are people who get into trouble." Kids who struggle socially, who have aggressive feelings and who have attention problems are likely more prone to becoming addicted to aming, says Rettew. Data also show it's more of a "male problem," which Rettew attributes to both genetic and cultural factors.
Greenfield says he can't remember the last time he treated a female patient for video game addiction and that around 90 percent of patients he's treated for the condition also have ADHD, or attention deficit hyperactivity disorder.
Game On
We asked Marguerite Dibble, founder of Burlington-based game development company GameTheory, and Burlington-based game developers Sundae Month, for fun, engaging and enriching video game recommendations for kids.
For the Nintendo Switch
Nintendo Labo: This game lets you do a makers project before gaming, building fun cardboard robots and fishing poles in real life that you then get to use in the digital game.
The Legend of Zelda: Breath of the Wild: Probably best for kids over 8, this adventure, in which players roam freely through a virtual world, uses unique problem solving based on physics.
Super Mario Odyssey: This is a bright and exciting game that allows kids to solve puzzles and find secrets on their own schedule, but it is still directed enough to be compelling. Great for parents and kids to play together.
For mobile phones
Geometry Dash: A fun, educational game for older elementary kids. It lets you build your own levels, which is a great way to start getting into game design.
Monument Valley: This all-ages game is a beautiful puzzle game experience that can be lots of fun for kids and parents to play together.
Alto's Adventure/Alto's Odyssey: This visually stunning snowboarding-themed game is just a lovely experience.
For computers and almost all game consoles including Playstation, Xbox and Switch
Undertale: This emotionally evocative game allows you to either defeat monsters or to make monsters your friends and change the world. It might be a little spooky for young kids, but for older elementary kids, the emotional journey and empathy the game elicits can be life-changing.
Stardew Valley: This game, in which players tend a little farm and help a neighborhood thrive in the face of a corporate takeover, became a $30 million hit. The realistic farming details make it especially suited to Vermont kids.