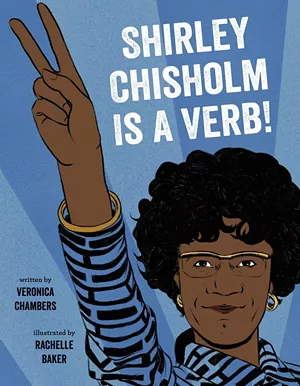 While much of history has been written by men, women have never sat by idly. One hundred years ago, ratification of the United States Constitution's 19th Amendment — which granted women the right to vote — marked a major milestone for women's rights. Enormously controversial, the amendment passed by a single vote after decades of work by women — and men. And it only secured the right for white women; many Black women were disenfranchised until the passage of the Voting Rights Act of 1965.
This month, as children across Vermont transition from summer to schooling — either in-person or remote — we gathered a list of literary resources showcasing women's rights and suffrage. As essayist Rebecca Solnit writes, "A free person tells her own story."
Good Night Stories for Rebel Girls: 100 Tales of Extraordinary Women
by Francesca Cavallo and Elena Favilli
(Ages 7 and up)
This two-volume set features 200 one-page stories of remarkable famous and not-so-famous women. Selections include Aisholpan Nurgaiv, who became the first woman to enter the Golden Eagle hunting competition in Ölgii, Mongolia; and Italian Beatrice Vio, who won international fencing competitions although her legs and forearms had been amputated to save her life from meningitis. Look for a new compendium, Good Night Stories for Rebel Girls: 100 Immigrant Women Who Changed the World, in October.
Roses and Radicals: The Epic Story of How American Women Won the Right to Vote
by Susan Zimet and Todd Hasak-Lowy
(Ages 10 and up)
Roses and Radicals tells the story of the heroines — including Susan B. Anthony, Alice Paul, Mary Wollstonecraft and Matilda Joslyn Gage — who campaigned relentlessly for decades to pass the 19th Amendment. They endured ridicule, arrest, imprisonment and torture — but, nevertheless, they persisted.
Finish the Fight!: The Brave and Revolutionary Women Who Fought for the Right to Vote
by Veronica Chambers and the staff of the New York Times
(Ages 8-12)
This new release for middle-grade readers tells the stories of some lesser-known figures who fought for women's right to vote. Short illustrated biographies of activists — including Mary Eliza Church Terrell, who cofounded the National Association of Colored Women, and Mabel Ping-Hua Lee, who, as a teenager, helped lead the biggest parade in history to promote the cause of suffrage in 1912 — highlight the important role of people of color in the women's suffrage movement. K
Shirley Chisholm Is a Verb!
by Veronica Chambers, illustrated by Rachelle Baker
(Ages 4-8)
This picture-book biography tells the story Chisholm, the first Black woman elected to Congress in 1968, who sought the Democratic nomination for president in 1972. Chisholm famously said, "If they don't give you a seat at the table, bring a folding chair." Award-winning author Chambers grew up in Brooklyn during the time when Chisholm was running for office.
My Name Is Truth: The Life of Sojourner Truth
by Ann Turner, illustrated by James Ransome
(Ages 6-10)
This historical picture book tells the story of Isabella Baumfree, who was born into slavery in 1797 and escaped to freedom with her infant daughter 29 years later. Baumfree renamed herself Sojourner Truth and became a staunch abolitionist and women's rights activist.
I Dissent: Ruth Bader Ginsburg Makes Her Mark
by Debbie Levy, illustrated by Elizabeth Baddeley
(Ages 4-8)
This biographical picture book features the now-87-year-old Supreme Court justice — also known as RBG — who has devoted her life to standing up against inequality and unfair treatment. Ginsburg demonstrates that fighting for what's right is worthwhile work. Also check out Notorious RBG Young Readers' Edition: The Life and Times of Ruth Bader Ginsburg by Irin Carmon and Shana Knizhnik. This lively and lighthearted biography, geared toward ages 8-12, introduces young readers to the importance of the Supreme Court and the influence of one remarkable woman.
Elizabeth Leads the Way: Elizabeth Cady Stanton and the Right to Vote
by Tanya Lee Stone, illustrated by Rebecca Gibbon
(Ages 4 and up)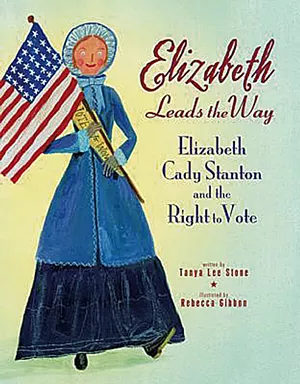 Abolitionist Stanton headed the early women's rights movement in the 19th century. In addition to organizing and campaigning for the women's voting rights movement, Stanton addressed wider issues affecting women — including parental and property rights, employment and income, divorce, and birth control. Vermont author and Champlain College writing professor Stone also wrote Who Says Women Can't Be Doctors? The Story of Elizabeth Blackwell and Almost Astronauts: 13 Women Who Dared to Dream, a middle-grade book about 13 women who tested to be astronauts in 1961 and were turned away because of their gender.
Around America to Win the Vote: Two Suffragists, A Kitten, and 10,000 Miles
by Mara Rockliff, illustrated by Hadley Hooper
(Ages 5-8)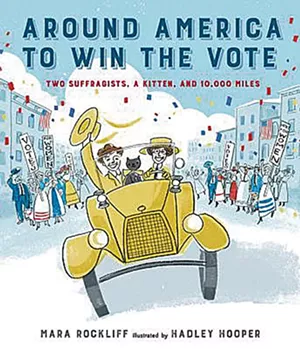 In April 1916, Nell Richardson and Alice Burke left New York City in a little yellow car on a mission to crisscross America to campaign for equal voting rights for women. They packed a typewriter, a sewing machine and a black kitten. As this picture book pluckily illustrates, the two friends endured blizzards, deserts and ardent critics in their quest to make positive change.