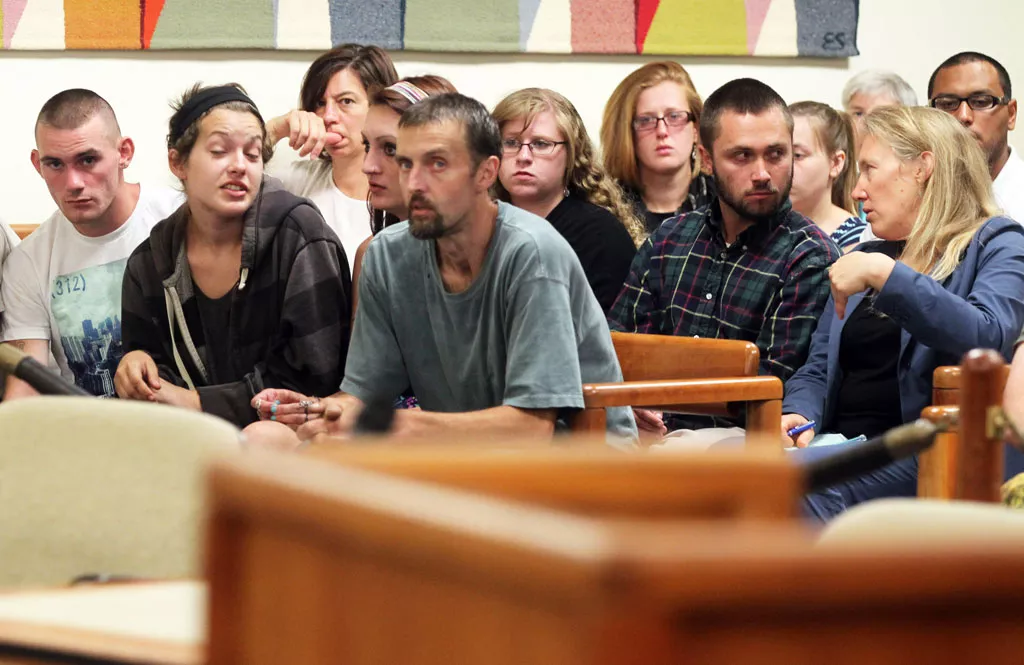 Toby Talbot/Associated Press
Desiree Herring and Felicia Kennison, center of front row, at their mother's arraignment Monday
Scott Williams exited the Washington County Courthouse Monday afternoon carrying the gray sport coat he'd worn earlier that day to a press conference on the courthouse steps.
As he stood on a West Street sidewalk across from Barre's downtown Dunkin' Donuts, a man approached the newly elected state's attorney and offered him a hug. The man joked that it wasn't every day he found himself embracing a county prosecutor.
These are no ordinary times for Williams, nor for the central Vermont communities he serves — rocked this past week by a suspected quadruple homicide.
Three days earlier, the Navy veteran and former criminal defense attorney had been exercising at a gym one block away from where he now stood. Upon hearing two shots fired outside, Williams had rushed to the parking lot, confronted a woman holding a Remington 700 bolt-action rifle and disabled the weapon. After two bystanders helped restrain the shooter, Williams approached the victim and comforted her as she took her final breaths.
This is Vermont, so it should come as no surprise that Williams knew both women: alleged shooter Jody Herring, a 40-year-old Barre resident, and victim Lara Sobel, a 48-year old Department for Children and Families social worker who lived in East Montpelier.
"She did not hesitate to let lawyers and judges know what was best for kids." Williams said of Sobel, who was married with two young children. "I respected the hell out of her."
Later that day, across West Street from where Williams stood, three young women loitered in the parking lot behind the Dunkin' Donuts. This is Vermont, so it should come as no surprise that two of them — Desiree Herring, 20, and Felicia Kennison, 23 — were daughters of the alleged shooter.
Both had attended their mother's arraignment earlier Monday at the nearby courthouse, where Jody Herring had pleaded not guilty to first-degree murder. Though she had been charged that day only with Sobel's shooting, Gov. Peter Shumlin and Attorney General Bill Sorrell had named her as the sole suspect in three other homicides authorities believe were committed earlier Friday.
The victims: Jody Herring's cousins, Regina Herring and Rhonda Herring, and her aunt, Julie Falzarano. All three were found dead by a relative Saturday morning in their Berlin home.
Dress ed in a black-and-gray-striped hoodie and black leggings, Desiree Herring seemed energized and eager to talk Monday, but she said she could not do so inside the Dunkin' Donuts because she had been banned from the place. Her older sister — wearing a short skirt, sequined top, purple eye shadow and blue nail polish — appeared teary-eyed and reticent.
After crossing the street to sit outside the courthouse, both said they believed their mother had lashed out in response to the state taking custody of their 9-year-old sister.
"We got taken from her, also, when we were younger," Desiree said. "DCF has been involved pretty much her whole life, so I'm sure she just had enough of them."
They said their mother had lost custody of Felicia, the oldest sister, just weeks after giving birth to her at age 17. Years later, when Desiree was 6 or 7, she, too, was taken away, they said.
"My dad went to prison for a long time, and she kind of went apeshit and just started using drugs," Desiree explained. "She wasn't a fit parent."
The young women, who each have a son of their own, said they had hoped their mother would be able to take care of their youngest sister.
"Yeah, I mean, she always said, 'If I ever get [the girl] taken, I'm gonna fucking lose it,'" Desiree recalled. "You know, because she got her other two kids taken, and we had really hard lives because of that. I think she really wanted a good life for [the girl]. [She's] really all she had."
Desiree's smartphone rang.
"Can you talk to him?" she asked her older sister, nodding toward me. "I gotta answer this."
Felicia picked up where Desiree had left off.
"I've known my whole life my mom's been, like, feeling guilty about what happened between us all," the oldest sister said. "She definitely didn't have the easiest time growing up."
Desiree ended the call and rejoined the conversation. She said her mother once called the authorities to report "a lot of untrue stuff" about Desiree herself.
"Just very, very sick things, like I was shooting my kid up with drugs," Desiree said. "She basically told them whatever when, realistically, sometimes I was just not home. I was gone a lot. You know, I was young, but I never beat my kid or did anything like that."
The incident, Desiree said, prompted the state to take custody of her son.
Desiree passed the phone to her sister.
"Read that," she said, pointing to a news story with recently released details of her mother's arrest. "It says she was laughing the whole time."
"She was not laughing," Felicia insisted, her eyes welling up.
"Felicia, we don't know!" Desiree yelled. "When she's on drugs and she's that out of it. You know what I'm saying?"
According to her daughters, Jody Herring's behavior had changed since she had been prescribed Ritalin and Klonopin.
"Ever since she's been getting those, she has lost her mind—" Desiree said.
"She has lost her fucking mind," Felicia interrupted.
"—thinking people are after her, thinking me and my sister are [Drug Enforcement Administration] agents," Desiree continued.
"Like, plotting against her," Felicia said.
In recent months, they said, their mother had sustained physical abuse from a partner.
"That really fucked her up," Desiree said. "Did you notice that, too?" she asked her sister.
As Felicia described one such incident, Desiree jumped up and said, "I gotta go."
She crossed the street and jumped into the passenger side of a green pickup truck. As it sped away, a child was visible through the rear window. Felicia walked across the street and, a few minutes later, got into a gray pickup truck, which drove off in the same direction.
A block away, two television reporters prepared for live shots near the crime scene. The concrete base of a lamppost was covered with bouquets of flowers, votive candles and a Vermont State Employees' Association poster with the words, "We support you."
A woman placed another bouquet by the memorial to Sobel and walked away. Mayor Thom Lauzon and his wife, Karen, approached the reporters and started chatting with them.
Earlier that day, sitting in a spare conference room in the city's offices at the nearby Barre Opera House, the mayor had reflected on the immense challenges DCF employees face. Following the deaths last year of two young children under state supervision, some faulted DCF for failing to take action. Now, it seemed, a distraught mother had reacted violently because its workers had taken action.
"Their job is just so difficult," Lauzon said. "There are so many people willing to Monday-morning quarterback these cases. But they're there to protect children and serve families. They do both."
That second-guessing has turned vitriolic on websites and social media, Lauzon said, contributing to a charged and dangerous atmosphere.
"When people seem to be almost inciting violence, is there a point where you cross the line and it almost becomes criminal?" he asked.
It's a point that's been raised at the highest levels of state government in recent days. During a press conference near the crime scene Monday, Gov. Shumlin called for a more civil discourse.
"Hateful language breeds, fertilizes hateful acts," he said.
Later that day, his Agency of Human Services secretary, Hal Cohen, contemplated how, after last year's child deaths, "The focus moved away from the perpetrators and went toward the [DCF] workers."
"When you think about it, it's not the workers who killed these children," he said. "There are bad people out there, and that's what happened in both of those cases. But the focus was on state workers, and that's concerning."
In response to those deaths, the legislature passed a new child protection law earlier this year meant to encourage better communication between various government agencies and to ensure that a child's well-being trumps family reunification.
After last week's deaths, lawmakers will surely feel the pressure to take further legislative action — of some sort. But given the scope of issues potentially involved — firearms, mental illness, drug abuse, child protection and the very size of state government — it's hard to know where they would start.
"I've been sort of tossing it around in my head, and it's hard to see how changes in the law would make anything any different," said Sen. Claire Ayer (D-Addison), who helped craft this year's child protection law. "I think this may have more to do with a particular person than the law."
But Dr. Joseph Hagan, a Burlington pediatrician, isn't so sure. As cochair of the Vermont Citizens Advisory Board, he helped write a report responding to last year's child deaths calling for, among other things, more DCF workers to reduce caseloads. He said he's disappointed that, after Shumlin hired 18 new caseworkers last summer, the legislature declined to create more positions — and caseloads remain high.
"We needed 40 new workers," he said. "We got none."
More broadly, Hagan wondered whether Vermont failed Herring as much as it did Sobel.
"There's something about this woman who murdered this social worker that is heinous but is also tragic," he said. "She'll go to jail for life, and she probably deserves that, but here's the tragedy: How did she get into this situation?"
"As a culture and a society, we can do better," he said.
Rep. Ann Pugh (D-South Burlington), who also worked on last year's child protection bill, said she hopes her fellow Vermonters will take action of some sort to make their state a safer place. But for now, the professor of social work is mourning. This is Vermont, so it should come as no surprise that Pugh taught Sobel 14 years ago at the University of Vermont.
"Lara was one of the good ones," Pugh said. "She epitomized everything that a social worker is all about. She really believed in the possibility of change in her community and in trying to keep kids safe and help families out of trouble."
Ever the social worker, Pugh cautioned that now may be a time for reflection, not precipitous action.
"Let's not rush to judge anyone now," she said. "Let's be gentle with ourselves and our state and with all those who have been affected by not only Lara's death, but by the family members of the woman."
Media Notes
Near the end of his weekday talk show Monday morning, WDEV radio host Mark Johnson made some news of his own: "I'm going to be wrapping up my job here as the host of the program in a couple of weeks," he announced.
After 25 years hosting "The Mark Johnson Show," he said he'd be joining VTDigger.org in October as senior reporter and editor. A former scribe for the Eagle Times of Claremont, N.H., and the Burlington Free Press, Johnson said he looked forward to returning to the written word.
"We're very excited to have him come on board," said VTDigger founder and editor Anne Galloway.
The fate of his show is uncertain. Radio Group Vermont president and CEO Ken Squier said he's on the hunt for "a person or persons" to replace Johnson during the 9 a.m. to 11 a.m. slot, though he said he hopes Johnson will "treat it as a sabbatical for a year and ... come back."
As Johnson comes, VTDigger education reporter Amy Ash Nixon goes. After seven months at the news site, she left last week to return to the Caledonian-Record, where she previously worked for eight years.