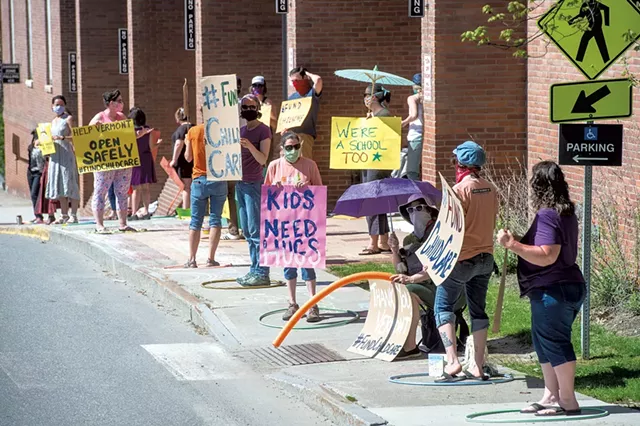 Jeb Wallace-brodeur
Childcare professionals demonstrating outside the Pavilion Building in Montpelier
After a nearly three-month hiatus, Aubrey Boyles is preparing to welcome kids back to her home-based childcare program in Montpelier on June 8. She's spent hundreds of dollars on cleaning supplies and personal protective equipment, including rubber gloves and eight masks, currently stashed in her sock drawer.
She's also devised several creative ways to help the young kids in her care, who are between the ages of 1 and 3, get comfortable with her wearing a cloth facial covering — one of the guidelines that Vermont childcare providers must follow when reopening. A "Pin the Mask on Aubrey" game encourages children to fasten a cloth mask onto an enlarged, laminated photograph of Boyles' face. She's also made square buttons, printed with the same picture of her, that she can put on her shirt — so kids are reminded that, under the mask, she's smiling.
"I'm trying really hard to help the kids not feel scared," said Boyles, who has been a childcare provider for 12 years. "I really do wonder, Is this really an age-appropriate way to care for children?"
It's not just the 13 pages of newly issued state guidelines that give center operators and childcare educators pause. They're also concerned about the financial burden reopening will put on both the programs and the families that use them.
Since March, when the coronavirus pandemic forced facilities to close, Vermont has been paying a portion of tuition for parents who want to keep their spots. The state has spent nearly $4 million for what are known as stabilization payments, which have allowed many Vermont childcare providers to keep their staff on the payroll and eased the financial strain on families.
But on June 1, the date Gov. Phil Scott is allowing childcare centers to reopen, the cash dries up. In its place, the state has pledged $6 million in restart stipends to help childcare and summer programs cover COVID-19-related expenses, such as cloth face masks, gloves and cleaning supplies; making structural changes to their buildings; and hiring additional staff to accommodate smaller groups.
Providers don't expect to find out how much they'll receive until May 27, just a few days before they're allowed to reopen. On its website, the Department for Children and Families says the amount will depend on how many programs request funds, the number of children they serve and how many weeks of care they'll provide through the end of August. Providers must reopen by July 6 to qualify for the cash.
Early childhood advocacy group Let's Grow Kids has expressed concern that $6 million will not be enough to support reopening costs for both childcare and summer programs. The state regulates about 1,200 childcare programs alone.
The educators have similar concerns. Wearing masks and holding signs urging funding for centers, they rallied outside the Pavilion Building in Montpelier the past two Friday mornings to drum up support as state officials headed inside for one of the governor's thrice-weekly press conferences.
The Scott administration has proposed a $400 million support package for businesses, using federal money the state received as part of the multitrillion-dollar CARES Act. "Childcare providers are businesses and therefore could seek out available funding where applicable to their needs, if this package is passed," Rebecca Kelley, the governor's spokesperson, wrote in an email. "While there is some sector-specific funding, it's not all sector-specific."
When Boyles closed her childcare program in March, five of her eight families unenrolled, primarily because of job loss or uncertainty. The state has been paying those families' tuition for the last few months, plus half the tuition of the three families that stayed enrolled. "For me, that program has been a lifesaver," Boyles said.
She applied for the restart stipend on May 15, within the first hour of the online form's posting. She's hoping it will reimburse her for the $850 or so she's spent in the last few weeks on items such as disposable gloves, hand sanitizer, a touchless thermometer and an outdoor handwashing sink. But she's not sure what to expect. "Maybe we're each going to get $50," she said. "There's no clear indication."
Boyles runs a small enough center that she's confident she can make the finances work once she's back up and running. But bigger programs face a more uncertain future.
Vicky Senni is codirector of Turtle Island Children's Center in Montpelier, a program that, pre-coronavirus, served 86 infants, toddlers and preschoolers. Her center is participating in the stabilization program and has also applied for the restart stipend.
She's planning to reopen in June, but, based on a survey of her families, she anticipates that only about half the children will return then. She's wrestling with how she can keep paying her staff this summer with a significant reduction in enrollment. One option would be to charge all families 100 percent tuition, even if their children aren't coming back immediately. But that option "really pains me," she said.
The Scott administration "has absolutely done the right thing for Vermont" in offering the stabilization payments, Senni said. But she believes the state must keep the money flowing until at least September to ensure that childcare centers — which were already operating on low profit margins before the pandemic — will survive.
Peggy Price of Burlington is one mom who is grappling with the repercussions of the reopening. She and her husband have been working full time from home, where they are sequestered with their 6-year-old son and 17-month-old daughter. Price's father, who is 71, has been helping care for the children.
Her daughter usually attends Ohavi Zedek Synagogue's OZ Full Circle Preschool, and the family has paid 50 percent tuition since March. Price fears that if her daughter returns to the preschool in June, her father could be exposed to the virus.
The decision to stop stabilization funding is "putting families and centers in a very precarious position," Price said. There is already a shortage of childcare in the state, she added, and she worries that if her daughter's program closed, there would be few options.
Price said she could probably borrow money from family members to pay 100 percent tuition to secure her daughter's spot, if that's what is asked of her. But she's spoken with other families that cannot. "I think the governor has been doing a really good, thoughtful job of listening to science and data," she said. "I just feel like this decision is being driven by money."
The state has argued that the decision is based on data, not financial concerns. Vermont's new coronavirus cases have flattened significantly, even as businesses have reopened. And as more people return to work, they'll need childcare.
Data provided by the Vermont Department of Health show that, of 967 confirmed COVID-19 cases as of Tuesday morning, only one involved a child under 9. The state, though, hasn't released data on the number of people tested in each age group.
"In terms of moving forward, I can't wait to see kids back together and to start to grow in their social connections," Dr. Breena Holmes, the Department of Health's maternal and child health director, said during a May 18 webinar sponsored by Let's Grow Kids. "This is such an individual decision for all of our families, but we as state leaders, we just really wanted to offer it ... But I also know some families are going to make decisions not to utilize the reopening."
Another Burlington mom, Grace Oedel, doesn't see reopening as a choice because some programs won't receive state support if they don't meet the July 6 deadline. She is one of about 30 parents and early childhood educators who have formed a group called the Coalition of Families for Vermont's Future. They've penned an open letter to state officials urging more funding for childcare programs.
If Vermont could continue stabilization payments to programs that want to delay reopening, the group argues, it would take some of the burden off both providers and families.
"Legislators should continue to allocate funds from [the federal CARES Act] to support the most important asset of Vermont — our children," the coalition wrote. "Without support, many programs will still have to close, and all the funds the state has spent will have been wasted, leaving children, educators, and ultimately the entire state in a dangerous position."
Baby Steps Childcare in Proctor could be one casualty if more funding isn't available. Heather Martin, the center's owner, came down with COVID-19 in March, and she said she was too sick to apply for the stabilization money. Instead, she laid off her four staff members, who cared for the kids of 15 families.
But Martin believes financial assistance is important for reopening, especially since programs will likely have a smaller pool of kids this summer.
"Our revenue is going to be inconsistent and lower than it was before," she said, noting that she doesn't feel she can raise tuition for families, many of whom already had trouble paying for childcare before the pandemic.
Martin is also worried about having enough personal protective equipment and finding new qualified staff. Some of her teachers have preexisting conditions or are pregnant, and state guidelines prevent those groups from working in childcare programs right now.
"The pushback is not about not wanting to go back to work," Martin said. "It's about having safe centers and giving families affordable care."