Liz Small has quite the brood. And despite being young, they all have "old-lady names": Pauline, Penny, Esther, Edith, Rosie and Milly. These aren't Small's children — they're her chickens, a pair of Black Australorps, a couple of golden Buff Orpingtons, a Rhode Island Red and a speckled, black-and-white Barred Rock.
Small and her husband, Eric, started building their flock on their two-acre Cambridge homestead as a sustainability lesson for their smaller brood of children — Savannah, 5, and Danyon, 22 months. But the novelty of collecting eggs — the birds generate four to five daily during their spring to late-fall laying season — quickly wore off for the kids.
Savannah Small with her chickens
Their mother doesn't seem to mind. She's hooked on the birds: on the hens' vibrant colors, their inquisitive personalities and their eggs. She says they taste creamier and have larger yolks than eggs that come from the store.
Raising chickens, she says, is "so addicting. I'd like to get more ... I'm the crazy chicken lady."
Small isn't alone. In recent years, a growing number of Vermont families are squawking about their backyard roosts. Equal parts pet, food supply, fertilizer and pest control, chickens can provide families with hours of healthy and relatively clean outdoor fun with only a moderate investment of time, space and money.
It's hard to quantify chicken ownership — the State of Vermont doesn't keep statistics — but municipal officials in Burlington say they've definitely noticed an uptick in calls from residents curious about the subject. The city is currently reworking its ordinances to address the expanding interest in chickens and other forms of urban agriculture.
That said, the growing popularity of poultry has its downsides, including possible exposure to salmonella (see sidebar). In proportion to the increased interest in chickens, the Humane Society of Chittenden County is getting more calls from people whose fowl have become unwanted or problematic.
For people ready for the challenge of owning backyard chickens, the internet provides valuable information and networking. Chicken-related postings abound on Front Porch Forum, and bird fanciers organize meet-ups and swaps using social media. A Facebook page called Burlington Backyard Chicken Owners, which began in February 2011, has at least 132 likes.
"Backyardchickens.com is a great source," Small says. "They even have their own iPhone app."
Liz Small's chicken, Pauline
Small, a freelance designer who works from home, started researching chickens about a year and a half ago, inspired by the 2008 documentary Food, Inc., and other films about factory farming and industrial food production. The Smalls ordered their first chicks in February 2013. The hatchlings arrived in mid-April and were kept inside until they feathered — at about six weeks — and began laying eggs 16 to 20 weeks later. The Smalls built their own coop from plans they downloaded from the internet.
And talk about a coop de Ville! Spacious and clean, it has a corrugated metal roof, three nesting boxes, heat lamps for the winter, and hanging food and water containers inside and out. Evidently, when chickens are outside and hungry or thirsty, they're not smart enough to go inside to eat and drink.
Located under a good shade tree, the coop is enveloped by plenty of rigid wire mesh (not, as one might assume, chicken wire) to keep out weasels, squirrels, foxes and other predators. Otherwise, the chickens have free range of a section of yard that's surrounded by deer netting, which, as Liz Small explains, is there mainly to keep the hens from digging up her vegetable garden.
Chicken upkeep hasn't been overly taxing, though Small points out they do eat a lot. In addition to feed, the hens also get table scraps such as cabbage and lettuce ends, as well as occasional oyster shells to provide them with enough calcium to lay eggs with strong shells.
As for the time commitment for their care, Small says she spends "way more time than I have to," including 15 to 20 minutes in the morning feeding and watering the chickens, and about the same amount of time in the evening. Gathering eggs takes a few minutes a day. The Smalls sell about a dozen a week to neighbors, and the proceeds go into Savannah's piggy bank.
Small says having chickens has taught her kids a lot, but not all of the lessons have been easy ones.
"We've had to 'do away' with some," Small says, referring to the rooster they slaughtered rather than contend with 5 a.m. wake-up calls and irate neighbors; he was also beating up the hens. His death "was much less traumatic for the 5-year-old than I expected," Small says.
"It's one more step to being sustainable," she adds. "And I like the fact that they know where eggs come from and they're not just something you buy at the store."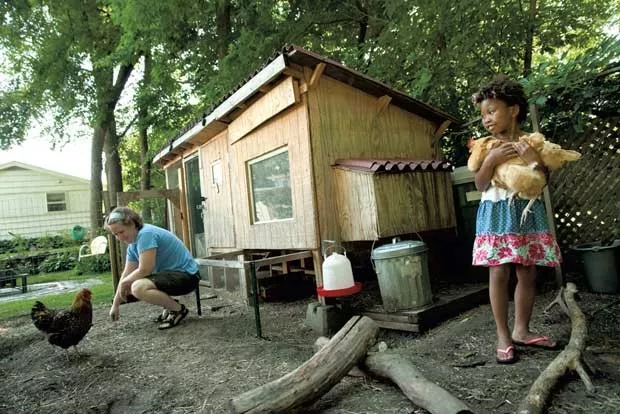 Kristen and Olivia Ryan with Barbara and Mae
Small points out that living in the country makes it easier to have chickens, but a rural setting isn't a requirement. Kristen Ryan, her wife, Sally, and their 6-year-old daughter, Olivia, keep two hens in their backyard in densely populated Winooski. When a neighbor offered the couple some chickens before moving three years ago, Ryan admits she wasn't exactly thrilled with the idea, especially because they had to build a coop in the dead of winter. But she quickly warmed to the chickens, and has since had as many as six — the maximum allowed under city ordinance.
"It's been a great experience," reports Ryan. "They are known to invade our snow forts. They're like dogs you don't have to walk."
Like Small's chickens, the Ryans' two hens, Barbara and Mae, also have old-lady names. Ryan explains that the couple continued their neighbor's tradition of naming their hens after maternal grandmothers. Olivia hasn't tired of gathering eggs and feeding them leftovers.
"We called her 'the chicken whisperer' for a while because she was great at finding worms and bugs, and [the chickens] just follow her around," Ryan says.
What's the best aspect of keeping backyard chickens?
"They're fun to watch," she adds. "I didn't know anything about chickens, but I find them to be very gregarious and curious little creatures. If you're weeding a garden, you'll suddenly have a chicken head next to you wondering what you're doing."
Poultry Pointers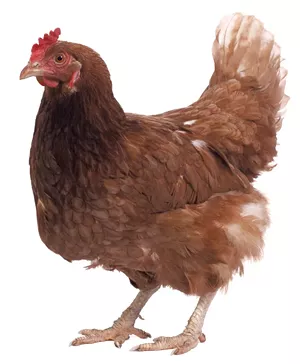 Raising chickens can be a rewarding and fun-filled project — but it's not for everyone. Here are some aspects of poultry rearing to consider before investing time and money:
Buy chicks in late April or May, recommends Liz Small. When they arrive, they're not fully feathered and won't thrive in colder temps.
Poop happens, and having a coop full of the smelly stuff is no fun — for you or your neighbors. But many backyard chicken enthusiasts use the messy manure and soiled bedding as compost in their gardens. Especially handy DIY coop builders may consider building a mobile coop that can be rolled around the yard, allowing the hen droppings to fertilize different spots on the lawn.
Kids need to be taught proper hygiene for handling chickens, as baby chicks are notorious for being vectors for disease. Bradley Tompkins, an infectious disease epidemiologist with the Vermont Department of Health, reports that although there haven't been any salmonella-related hospitalizations in Vermont in 2014, last year one child was hospitalized with the illness after handling poultry. People of any age can contract salmonella from live poultry, but it's especially common in young kids, he explains, in part because their hand-washing abilities aren't very good, and also because children's immune systems aren't mature enough to stave off the infection. "Also, kids are more attracted to little chicks," Tompkins adds. "They're cute little birds, and kids always want to pick them up and play with them."
"Start small, and build the coop larger than you think you need to," Liz Small suggests, because "you'll want more." Although many people start with a dozen, you need adequate space in the coop because chickens don't like to be cramped "or things start to get ugly." The Burlington Urban Agriculture Task Force recommends having at least 1.5 square feet of space per chicken for indoor coop space and twice as much run space outdoors. We did the math for you: Six chickens need a minimum of nine square feet of coop space and 18 square feet of run space.
Chickens often outlive their egg-laying days. Parents should decide what they'll do with their geriatric hens and have a "game plan" in mind — especially once your child has named them all. "For us," says Kristen Ryan, "we're going to have a really nice chicken old-folks' home."
Chickens not only spread diseases, but they catch them, too. You've heard of avian flu, but probably not bumblefoot or bent gleet, aka "nasty chicken butt." Not all local vets treat chickens. For those who do, it's a good idea to call ahead to ensure the waiting room will be free of other animals. To find a chicken vet in your area, contact the Vermont Veterinary Medical Association, or visit their website at vtvets.org. Click on the "Find a veterinarian" link, then look for "types of animals seen in practice."
Research your town's laws on backyard-chicken ownership. Ordinances vary from one community to the next, especially on the maximum number of chickens allowed, whether roosters are permitted and how much space is required per chicken.
Chickens will attract predators, such as skunks, raccoons, weasels and even coyotes, cautions JoAnn Nichols, a humane investigator with the Humane Society of Chittenden County. In the last year or two, the humane society has been getting more calls to rescue chickens from unsafe environments. "The humane society is not currently equipped to take in chickens and be able to house them safely and appropriately," Nichols says. She suggests checking with your local humane society to find out if any hatchlings are available for adoption before purchasing new ones.
Parents should research chickens, including the habits and personalities of different breeds, so they know what they're getting into, says Kristen Ryan. They should factor in all the practical considerations, such as how much chickens eat, where to buy feed, what to do with their waste and how to ventilate the ammonia from the coop. "There's a lot to know about chickens," she says. "It's a real project."