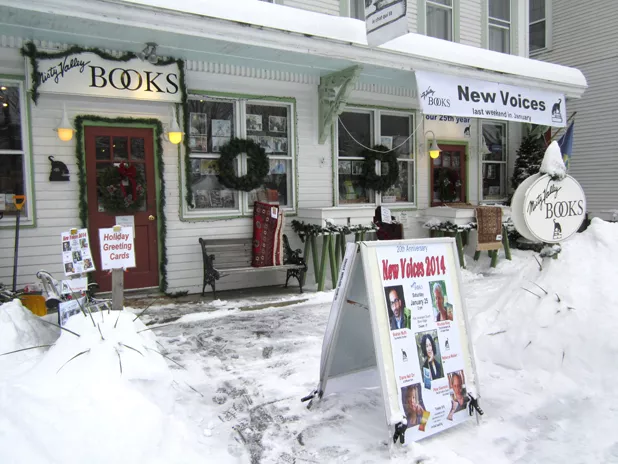 Tucked on Chester's town green, Misty Valley Books is quintessential Vermont. Cozy as it is, with its Oriental rugs and IndieBound best sellers, it may not be a store you'd expect to get visits from literary heavy hitters such as Dennis Lehane, Jennifer Egan, Steve Almond or Gregory Maguire.
In fact, all those authors have appeared at Misty Valley's annual New Voices reading series, which fêtes its 20th year this week. The series focuses on promising debut authors, some of whom have gone on to Pulitzers and movie deals. Last year, a capacity crowd of 200 came to see Eben Alexander read from his best-selling inspirational memoir Proof of Heaven in Chester's Old Stone Church.
"We work on New Voices all year long," says Bill Reed, who owns the store with his wife, Lynne. "It's exciting."
"It's their labor of love," says Thomas Christopher Greene, president of the Vermont College of Fine Arts, who read from his first novel at New Voices in 2004.
That labor started with Misty Valley's former owners, Dwight Currie and Michael Kohlmann, who moved the store from Springfield to Chester in 1989 and started New Voices in 1994, drawing on their New York publishing contacts. The Reeds bought the 1,700-square-foot store in 2001 and eventually purchased its building on the green, where they now live.
As for New Voices, "We decided right away that we would [continue the readings]," says Lynne Reed in a phone interview, "because we thought it was a cool thing."
Rather than whisking the authors in and out, the Reeds give them a full Vermont experience, starting with a Friday night dinner at home, where writers meet the community members who will introduce them. Then, bright and early on Saturday, "we pick them up … and make them go skiing," says Lynne with a chuckle.
"That was the first time I'd ever tried cross-country skiing and that was a blast," writes Heidi Durrow, author of Bellwether Prize-winning novel The Girl Who Fell From the Sky, in an email. She adds that she's "still in touch with some of the people I met there now four years ago!"
Miranda Beverly-Whittemore, author of the forthcoming Bittersweet (a novel set in Vermont), says in a phone interview that a fellow reader at New Voices "became one of my closest friends in the world." She calls the event "a great introduction to the experience of doing a reading."
The writers' full day continues with the afternoon reading, a Q&A session, a reception at the church and dinner at the Fullerton Inn — all events to which the public is invited. At the end, "everyone's exhausted but happy," Lynne Reed says.
To find each year's New Voices participants, Lynne combs catalogs looking for debut authors and attends BookExpo America. Publishers often seek out the Reeds — but nowadays, not all fund their authors' appearances. "It's tough days in publishing, and more and more they're refusing to pay," Bill Reed says. "In several cases in recent years, writers have gotten here on their own nickel."
Last year, for the first time, the Reeds began charging admission to the reading. "We were scared that people wouldn't come," Lynne says. But they had "no problem at all" filling the church — and covered their expenses.
"You get a lot of smart, interesting, funny literary types together, and something's bound to go wrong or go right," Bill Reed says. He recalls when Steve Almond (author of Candyfreak) read from his 2003 collection My Life in Heavy Metal: "We were doing this in a church, and I was a little apprehensive about the content of some of the stories." Reed attempted to steer Almond away from a story called "How to Love a Republican" — in vain. But his fears were assuaged when he saw that "the church ladies were laughing and laughing," he recalls.
This year's five authors cover a wide range: from fiction to nonfiction; from love to crime to politics. Rebecca Walker, daughter of Alice, will read from her first novel, Adé: A Love Story, set in Africa. Elaine Neil Orr's A Different Sun takes place in Africa, too — but in the 19th century. Peter Swanson's suspense novel The Girl With a Clock for a Heart bears a glowing blurb from Dennis Lehane. Rhonda Riley's The Enchanted Life of Adam Hope is a magical-realist romance. And Shahan Mufti's The Faithful Scribe is a family history that helps explain why "the tension between the United States and Pakistan isn't going anywhere," in the words of the Huffington Post.
"Publishing the first novel can be a surprisingly lonely thing," says Greene. "You have expectations and hopes for it, but you're also vulnerable because you've never put yourself out there like that."
A well-attended reading can change that. New Voices "was the first time I had actual physical customers walking up to me and asking me to sign books," says Beverly-Whittemore.
Independent bookstores like Misty Valley stay alive in the age of Amazon.com by making connections — hand selling titles, introducing writers to readers. On that score, the Reeds' event gets high praise from Carole DeSanti, a past New Voice author who also happens to be vice president of Penguin Random House.
"Misty Valley's New Voices series is really extraordinary; it provides a model of what should be happening everywhere to engage and foster a community of readers," she writes in an email. "It really shows what can be done, when it's done well."
Misty Valley Books New Voices, Saturday, January 25, 2 p.m., at the Old Stone Church in Chester. $10. Info, 875-3400. mvbooks.com
The original print version of this article was headlined "Good Reeds"