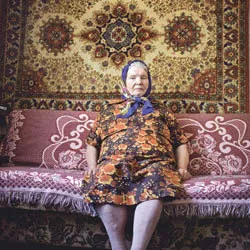 In Gabriela Bulisova's photograph, a 31-year-old woman named Yulia closes her eyes and tilts her head back to reveal a fresh scar, flecked with dried blood, tracing the base of her neck. In eastern Europe it's known as a Belarus necklace. Instances of thyroid cancer spiked in the region after the Chernobyl Nuclear Power Plant exploded in 1986. Those with the scar, a result of thyroid surgery, are branded as Chernobyl victims.
The photo is part of Bulisova's timely exhibit "Chernobyl: Life on the Edge," at Montpelier City Hall. The show, sponsored by the Vermont Yankee Decommissioning Alliance and the Sierra Club of the Upper Valley, was booked long before a massive earthquake and tsunami struck Japan, hurling its Fukushima 1 Nuclear Power Plant into turmoil and drawing comparisons to the tragedy in the former Soviet Union.
Bulisova's photographs were intended as a commentary not on Fukushima but on Vermont Yankee. The Washington, D.C., artist's ex-husband, Kevin Kamps, of the nuclear watchdog group Beyond Nuclear, came to Montpelier in January 2010 to testify at the Statehouse on tritium leaks at the Vernon plant. That's when he began arranging to show Bulisova's photos in Vermont.
A native of the former Czechoslovakia, Bulisova was drawn to Chernobyl for personal reasons. As a child, she lost her best friend to leukemia, probably as a result of radiation contamination. Bulisova's interest in the tragedy grew when, in 1996, she visited the Chernobyl region — in what is now Ukraine, though much of the nuclear fallout landed in neighboring Belarus — with an international team of environmental activists. There, a decade after the disaster, she met people still living in contaminated areas, many of whom were coping with serious illness. Bulisova was appalled when they told her, "We learn to live with radiation."
In 2002, after moving to the United States, Bulisova returned to the region with a camera, accompanying a convoy of ambulances and aid workers from Chernobyl Children International. She spent time in an overcrowded children's mental hospital and orphanage, as well as in the homes of families who had refused, or could not afford, to leave their abandoned villages.
Bulisova says they were thrilled to tell their stories and have their pictures taken. Most felt as if they had been forgotten by the world and neglected by their governments. Unlike Poland, which quickly distributed preventative medicine to its citizens in contaminated areas, Bulisova says, the Soviet Union downplayed the health hazards. Getting her subjects to open up was pretty easy for Bulisova, who speaks Russian and could "offer my ear and listen and talk and cry and laugh with them," she writes in an email.
Bulisova admits she was often uneasy spending time in one of the most radioactive areas in the world. She carried a radiation detector with her and avoided local milk, water, mushrooms and berries.
"It's hard to photograph what's invisible," she writes of her elusive subject, radioactive contamination. In many of her images, the fallout of the nuclear disaster isn't apparent. You wouldn't know, for example, that the old woman sitting on a couch, her stern face almost lost in a sea of clashing textiles — the Persian rug, the decorative throw, her floral dress and patterned scarf — is the mother of a terminally ill "liquidator," one of the workers responsible for cleaning up the exploded nuclear reactor.
Another photo depicts a slightly younger woman gathering mushrooms. It looks as if she's picked enough to feed her family for a week, but the caption reveals a scary fact: The area is highly contaminated, and mushrooms are especially absorbent.
In other photos, however, the devastation is clear, such as in the portrait of a hydrocephalic toddler in an orphanage, her oversize skull bulging. She died shortly after the photo was taken.
Even before the disaster in Japan, stories of Chernobyl started resurfacing — next month marks the 25th anniversary of the tragedy. Still, Bulisova says that, while preparing an upcoming colloquium for college students, she debated whether to show her work from Chernobyl. They'd probably never heard of it, she thought.
Not anymore. "Chernobyl is again part of people's vocabulary," writes Bulisova. Still, she's wary of her photos taking on a sensational aspect in the frenzied aftermath of Fukushima. "You don't want to use your images to scare people," she says. "But hopefully some of [the photos] will resonate with people … evoke empathy and then, perhaps, move them to action."