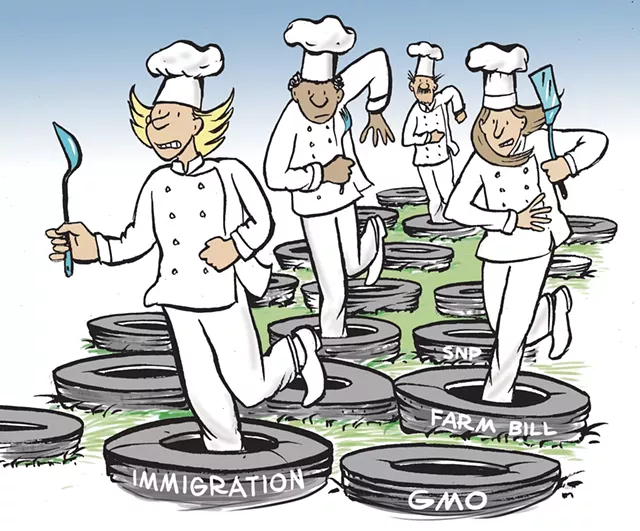 The 14 American chefs who gathered last week at Shelburne Farms have collectively earned an impressive list of awards, starred restaurant reviews, media features and TV cooking show appearances. But the main goal of their two days in Vermont did not involve knives or whisks, split-second timing or juggling a deluge of orders.
Instead, it demanded less familiar tools and skills: sitting still for several hours of PowerPoint presentations, trying to grasp how Congress works and wrestling with some of the thorniest policy issues in the food system.
The diverse group came from 12 states, one U.S. territory and Washington, D.C., to participate in a James Beard Foundation Chefs Boot Camp for Policy and Change. The New York City nonprofit was established in 1986 to honor the legacy of Beard, an iconic American cookbook author and teacher. The foundation is best known for its annual awards, often called the Oscars of the food and restaurant world.
Launched in 2012, the Chefs Boot Camp initiative is part of the foundation's education and outreach programming and represents a relatively new step in the culinary community: the recognition that chefs can — and should — try to influence food-systems policy and that they can be most effective when trained to do so. To quote Beard himself: "If we really believe in food, we must do something about it, for our voices should be raised above the rest."
All boot camp expenses, including chef travel, are covered by corporate and philanthropic sponsors such as the Maryland-based Osprey Foundation. For a small foundation like his, explained Osprey trustee Chris Powell in Shelburne last week, "This is a way to have an outsized impact. Chefs have high public trust. A chef is everything a politician wants to be associated with — often a small business owner, an artist. Everyone likes to be known at the coolest restaurant."
Simply put, Powell added, in D.C. hierarchy, "chefs can get the meetings I can't."
The Vermont boot camp was the 13th nationally and the third hosted at Shelburne Farms. Each event has targeted a significant food-system issue: food waste, for example, or sustainable seafood. Even by that measure, last week's focus on the upcoming U.S. Farm Bill was ambitious.
In civilian clothes, and fortified by many cups of coffee, the chefs spent Tuesday morning mostly listening. Katherine Miller, senior director of food policy advocacy for the James Beard Foundation, delivered a high-level summary of the political process and reinforced the opportunity chefs have to engage with issues they care about, including immigration reform, support for small farmers and genetically modified organism labeling.
"Anyone think a member of Congress actually wants to hear their opinion?" Miller asked, looking around at the chefs seated in the inn's marble-floored dining room. "You told us they do," responded Shaun Brian, chef-owner of Hull Bay Hideaway on St. Thomas in the U.S. Virgin Islands.
"You might want to keep politics out of the restaurant, but it makes you realize how political food is. There is no choice," said Mourad Lahlou, chef-owner of Mourad in San Francisco and a repeat boot camp participant. He's met several times with members of Congress about legislation to reduce and redeploy food waste.
"We have the trust, the economic power, the networks to get shit done. We should use it," Miller summarized. "Food is the most-shared social media topic," she continued. "This is how to take those pretty pictures and tell a richer story."
After briefly explaining the process of moving bills through Congress, she cautioned, "It is not a linear process. This is hard. It takes time. You will get knocked down. Things you care about won't happen. It's really fricking complicated."
This comment was an appropriate lead-in to the Farm Bill crash course presented by Patricia Griffin of NVG, a D.C. government relations firm (aka lobbyist). The massive omnibus bill, she explained, is renewed about every five years and encompasses many critical programs impacting the American food system, including agricultural conservation, global trade and food aid, crop insurance and subsidies, and SNAP, the nutrition assistance program (formerly food stamps).
The last Farm Bill clocked in two years late with an estimated five-year cost of $489 billion. It expires in 2018, and hearings for the next update have already begun. So has intense lobbying from food and agriculture corporations and advocacy groups. It may seem daunting or overwhelming, Griffin said, "but ... if you don't show up, you lose the opportunity to have impact."
Pausing to gauge the mood, Miller asked for one word that described how everyone was feeling. "I went from motivated to frustrated," admitted Sheila Lucero, executive chef of the five-location, Boulder, Colo.-based Jax Fish House & Oyster Bar. Sheldon Simeon, chef and co-owner of Tinroof in Maui, Hawaii, offered pono, a Hawaiian word he defined as "what you know is right in your heart." Less poetic was "shit show," contributed by Mike Friedman, chef-owner of two Italian restaurants in D.C.
Overall, the responses were more positive than negative, tempered by pragmatism. Before heading out for lunch, Suzanne Cupps, executive chef of Untitled at the Whitney Museum of American Art in New York City, explained her interest in the boot camp. "We get a lot of asks for all kinds of charity. I think there is a rising level of expectation that we can go deeper," she said. "I like to be educated. It's the next step."
Weston Nicoll, chef de cuisine at the Inn at Shelburne Farms, admitted he was a little starstruck by the credentials of his fellow boot campers and was impressed by the sense of shared purpose. He originally chose to be a chef because of the impact he hoped to have on the food system, Nicoll said. But he acknowledged "an uneasy tension" for some chefs between supporting a food system that promotes environmental, economic and social well-being and creating meals that are financially inaccessible to many Americans.
"The guilt aspect is absolutely a part of it," Nicoll said. "You want to be able to give back in this way, as advocates."
Over grilled cheese, salads and chocolate cake made with root vegetables, the chefs recharged with a view of Lake Champlain. They also brainstormed dishes for the collaborative dinner that would take place in the evening. Simeon of Hawaii had been paired with Duane Nutter, who will soon open Southern National in Mobile, Ala. For their assigned salad, they were thinking of green beans and Swiss chard from the Shelburne Farms market garden, with buttermilk dressing, crispy parsnips and maybe an egg.
Simeon said he was relishing "just being immersed, lighting the fire. It's very rare [that] we get to come to a spot where we're removed from our restaurants and can be with people who are as passionate as us about figuring this out."
Nutter observed that navigating policy calls for a different way of thinking. "In our world, you see a problem and you fix it," he said. "This is much more nuanced."
In the afternoon, the chefs split into teams to work on strategies to support and protect SNAP. During Griffin's presentation, the chefs had been surprised to learn that the federal nutrition assistance program accounted for 80 percent of the last Farm Bill budget and is expected to be at serious risk during this cycle. They had also learned that 41 million people in the U.S. — including 13 million children — are still classified as food-insecure. That is, they have limited or uncertain access to nutritious, safe food. During a discussion of myths and misunderstandings about SNAP, two chefs shared that their families had depended on food stamps when they were children.
Gathered in a ring of Adirondack chairs, the teams took turns presenting their SNAP defense strategies and receiving feedback. "Think about the unique voice you have as a small business owner and as a chef," emphasized Eric Kessler, a James Beard Foundation trustee who helps direct the boot camp program. "You're much more powerful when you add your uniqueness. You have this incredible tool in your expertise, your place of business, in your regulars, your community." But, Kessler advised, "You have to figure out how you want to use your time. It's the most valuable thing you have."
Looking back over the day, Danielle Leoni, chef and co-owner of two restaurants in Phoenix, acknowledged that time is always tight. "I was texting frosting recipes to one employee this morning, and another was sending me photos of wilted microgreens, all while Katherine was up there trying to teach us how to change the world," she said. "But even if [I'd] had to shut down the restaurants, I would have come.
"I know [advocacy] doesn't work if you don't know how to do it well," Leoni continued. "This is the alliance, the network I always yearned for. Locally, I have impact, but I'm alone."
To do things you believe need to be done, she concluded, "you find space."