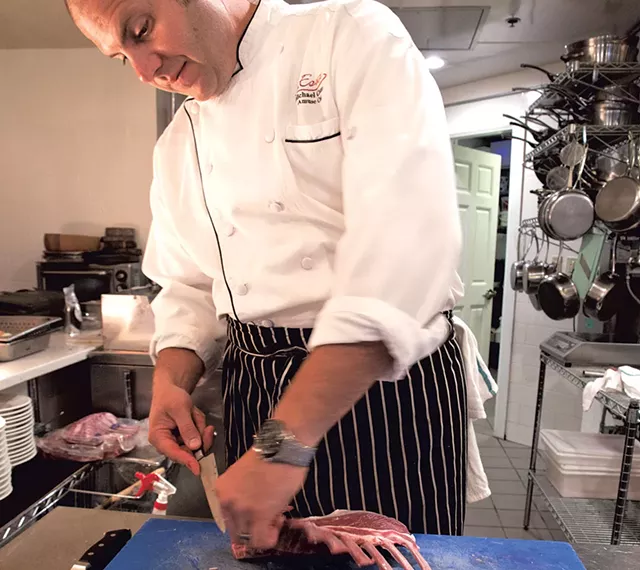 Matthew Thorsen
Michael Clauss
After overseeing its culinary operations for the last year and a half, executive chef Michael Clauss has departed the Bluebird Restaurant Group. But he's not leaving to open a new restaurant — Vermont has plenty of those right now, he tells Seven Days. Instead, he'll go into private practice.
As the head of Michael Clauss Events, the chef — who spent three years teaching at the New England Culinary Institute — will offer private cooking classes, as well as personalized in-home or office catering and occasional large-event catering.
Vermont has no shortage of cooking instruction, either. But Clauss' classes will differ from those offered at the Inn at Weathersfield, Essex Culinary Resort & Spa and Shelburne's Chef Contos Kitchen & Store in their focus on individual or small-group instruction in students' home kitchens.
"This is geared to the serious home cook that wants to learn," Clauss says, adding that courses could range from a single session on a specific technique, dish or idea to a custom "Culinary Apprentice" package. "These could start with something as simple as basic knife skills and techniques, then build to doing a small dinner party on [one's] own," he says. More advanced offerings would depend on the student's skill level and needs.
Courses might focus on cooking for a family member's special dietary needs or finding ways to use unfamiliar produce in a weekly CSA basket. "Say [someone] gets their CSA on Thursday: We meet that night, look at the basket and plan meals [around it,]" Clauss says. He hopes such sessions could open people's minds to unfamiliar produce, with delicious results. "So many people are like, I don't know what to do with this," says the chef. "They have this huge kohlrabi, and they're afraid of it."
The catering arm of Clauss' business will offer prepared meals for home and office — a one-off solution to feeding guests from out of town, for instance, or an ongoing weeknight supper supply. "Maybe you have a summer home here, and you're going to eat out three nights and eat in three," Clauss says. "I could deliver those meals. Or, for the office that wants to eat healthier and have custom lunches delivered, whether it's one or five days a week, anything's doable."