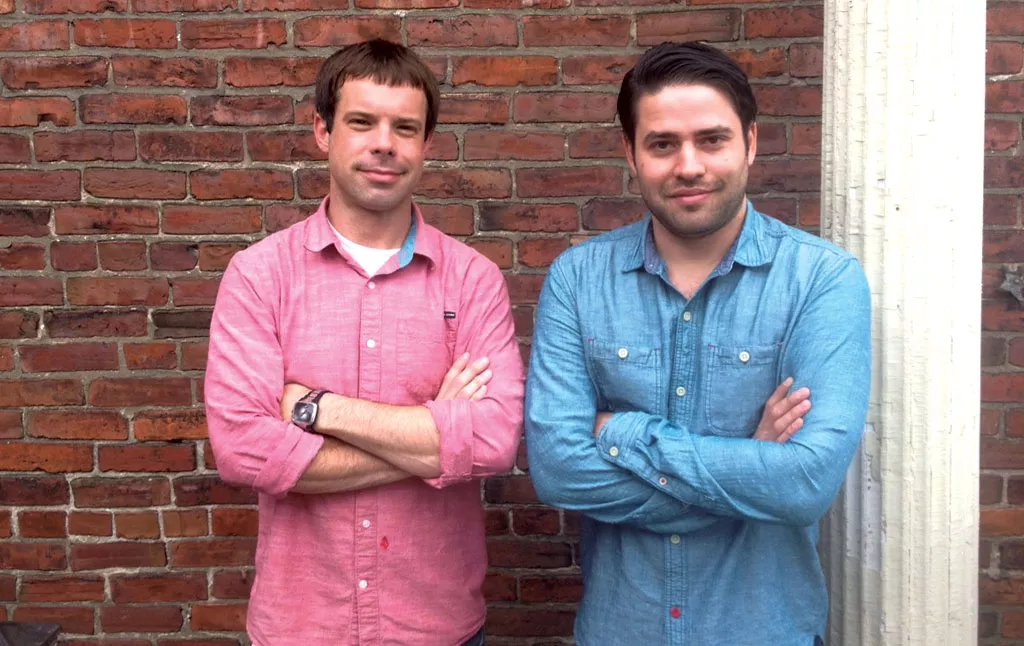 Courtesy of La Puerta Negra
Jean-Luc Matecat and Xavier Jimenez
After going dark in January 2013, the space at 44 Main Street in Montpelier formerly known as the Black Door will rise again as La Puerta Negra (Spanish for "the black door") later this summer.
Though owned by restaurateur Carlo Rovetto, the new restaurant and night spot is not under the umbrella of Rovetto Brothers International restaurant group, whose 11 eateries include four Positive Pie locations and Piecasso in Stowe.
According to general manager Xavier Jimenez (a Positive Pie alum and co-owner of Montpelier's Buch Spieler Records with Knayte Lander), the new restaurant will serve inspired Latin American fare and craft cocktails, midday through late-night.
Jean-Luc Matecat — formerly of the Inn at Weathersfield, Amuse at the Essex Resort & Spa and storied kitchens in Boston and Nantucket — will run the kitchen. Though he brings a lot of high-end history to the table, Matecat says he plans to keep La Puerta Negra's food fun and affordable.
"It's a pretty funky, colorful spot," the chef says. "So we're trying to have that be the theme in terms of food and overall attitude." Though he's still sorting out the details, Matecat's "modern Latin" menu will pull from cuisines all over Latin America. Street snacks such as tacos, tostadas and empanadas will share the bill of fare with ceviches and heartier entrées, such as braised beef cheek in tamarind jus. Matecat says he also plans to feature alpaca meat from Cas-Cad-Nac Farm (with whose owners he recently wrapped up a book project) as a nod to the Andes, where those animals are a common source of protein.
Behind the bar, Jimenez plans to mix Latin-inspired, booze-forward cocktails, such as Brazilian-style caipirinhas, in keeping with the speakeasy vibe.
A record-industry veteran, Jimenez says, "Music is going to be a very, very big part of this place." He's working with a collective of local bookers to "cast a wide, large net to bring local artists and talent in."
Jimenez and Matecat say La Puerta Negra will be open by July 3, when four-piece Latin soul band Xtet — all members of Burlington's Afinque — will play the first show. That opening happens to coincide with the capital's Independence Day celebration: "It will feel quite celebratory, as far as the timing of things," Jimenez says.