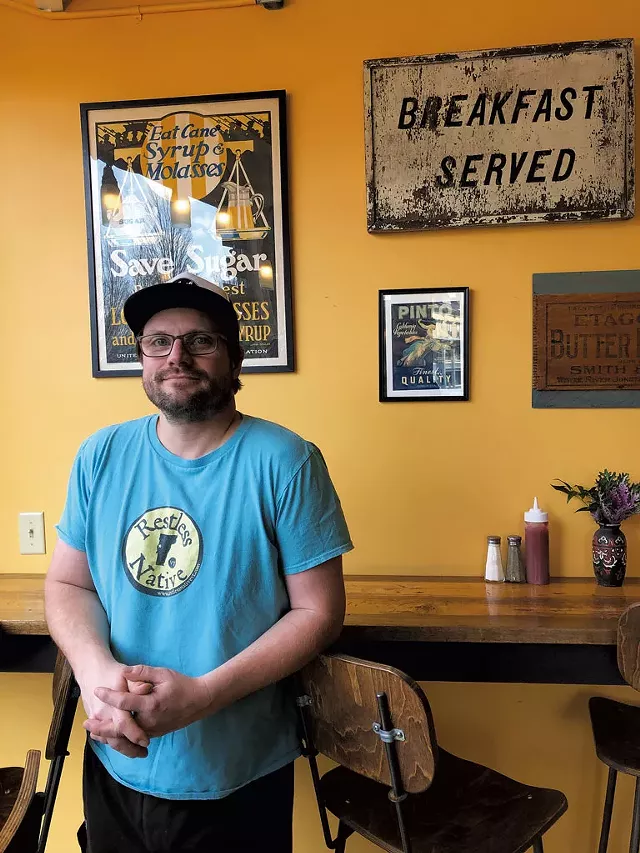 David Holub
Matt Birong
Chef Matt Birong
Position: Chef-owner at 3 Squares Café, state representative (D-Vergennes)
Location: Vergennes
Age: 42
Cuisine type: Eclectic American
Culinary training: New England Culinary Institute (culinary arts)
Experience: Working in restaurants in New York, Boston and Burlington. Elected state delegate for Sen. Bernie Sanders (I-Vt.) by the Vermont Democratic Party in 2016. Partner in Cacao Bosque/Rainforest Chocolate, an agricultural project in the Dominican Republic. Board member of Main Street Alliance of Vermont.
What's on the menu? Challah French toast, smoked salmon bagel, buttermilk fried chicken sandwich, shredded pork taco, legislation
Running for state representative seemed a natural step in Matt Birong's political trajectory. His involvement in politics had increased in the preceding four years, including his work with Main Street Alliance of Vermont, an advocacy group for small businesses, and with the state Democratic Party. The hitch? His other job: owner, manager and chef at 3 Squares Café, a popular restaurant in Vergennes that's open daily. If he won a seat in the legislature, he would be in Montpelier four months out of the year.
Birong did win the election in 2018 and is now in his second session representing the Addison-3 district as a Democrat. And it turns out that the compatibility with 3 Squares is nearly perfect: The legislative session — January through April — generally corresponds with the restaurant's slowest time of year.
When Seven Days met up with Birong at 3 Squares on a weekday afternoon, he was on the phone with the chair of his committee (General, Housing and Military Affairs) discussing a concern voiced by a local business owner.
Such is the life of a legislator who owns and manages a restaurant.
"It's funny. We get new employees, and they don't know that I'm a legislator. And we're just working in the back, and all of a sudden my district mate [Diane Lanpher] shows up to talk about something, or a concerned business owner or the city manager or whatever," Birong said. "I actually had [a new hire] this summer who was like, 'Why does everyone bring you their problems?' He was just really confused. I was like, 'Oh, I got another job.'"
As Birong enters his second year in office, Seven Days asked how his two jobs are going.
SEVEN DAYS: Are you in Montpelier full time while in session?
MATT BIRONG: I stay up [in Montpelier] Monday night through Friday. So I'll drive up Monday and drive back midday Friday.
File: Matthew Thorsen
Breakfast offering from 3 Squares Café
SD: What is your involvement with 3 Squares now?
MB: My sous chef of 10 years [Eric Montgomery], we're actually just finalizing paperwork. I'm making him a partner in the business, so he and the other management staff and veteran staff basically do the year-round, day-to-day operations here. And while I'm in Montpelier, I'm still supporting them with bigger-picture decisions. I'm still doing invoices, payables, payroll. They're dealing with the hours of operation management and execution. And also, when I come back, I work, like, one day a week. I work Saturdays just to be a face.
SD: What are some big issues facing Vermont restaurants?
MB: I think the biggest issues right now for the scene — and it's not just restaurants, but it's definitely, I think, impacting hospitality and tourism — is just the labor market. Low unemployment, 2.2 percent unemployment. Especially for places that need seasonal staff, it's very difficult to just fill slots right now.
SD: What did your food life look like while in session?
MB: There's not a lot of time to cook. So you're hitting restaurants in Montpelier when you get out. You're eating the cafeteria food during the day because you don't have a ton of time.
SD: Got any favorite spots in Montpelier?
MB: I go to Pho Capital, the Vietnamese place. I ate there a lot because it was lighter. My whole career has been pretty much spent on my feet lifting stockpots and cases of this, that and the other thing. You're burning calories all day long. Then, all of a sudden, I totally got freshman-15'd up there, which is the irony. You actually have to get me out of the kitchen for me to start putting on weight.
But the food scene in Montpelier — Kismet is a great place. I spend a lot of time at Three Penny [Taproom] socializing with people and eating there. There's the Blue Stone pizza; I like to grab a slice in that joint.
SD: How do you see food and politics crossing over in such a politically volatile time?
MB: The quickest way of understanding a culture or something that might be foreign to you is, honestly, in my opinion, through its food, because it can give you a sense of its socioeconomics, the types of ingredients they're using. You know, regionality with the flavor profiles and spices. There's also this communal moment when you're sitting down — even in some of our euphemisms: breaking bread. Especially in [the] antagonistic political world that we're living in, you take some of these people, these factions, this tribalism, [people] that are fighting with one another right now ... it's just like, shut up and have a meal together. Let's just talk through this shit.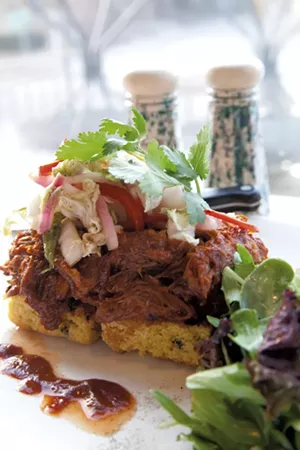 File: Matthew Thorsen
Lunch offering from 3 Squares Café
SD: If you were going to give a particular food a starring role in a Vermont political ad, what would it be?
MB: Fuckin' maple on snow. If you go anywhere outside of Vermont, you instantly start talking food with people, and it's one of two things: You're getting Ben & Jerry's or maple syrup. And then, even though we have tons of outdoor recreation year-round, you go outside of the region, and you start thinking [that Vermont is just] snow. I think if you're running a statewide political ad, [and] you had to win over a broad range of people with just a visual, culinary one-liner: maple on snow.
SD: What does the perfect election-night meal look like?
MB: I mean, I've only had one campaign, and it went well: I won. So what did we have there? Some friends of ours who own Hired Hand [Brewing] and [Bar] Antidote, around the corner, they put out a mix of pizzas, and they had this cool local pork belly ... There were little bánh mìs and smoked chicken wings and a couple of other things. It was my first election, my first win; we had it at a friend's restaurant with a bunch of community members. Everything about that night was perfect.
SD: How is running a restaurant similar to being a legislator?
MB: Your customer interactions and constituent interactions are actually really similar. You're making contact with a very wide range of people from your community, a lot of varying opinions. You are providing sort of, like, a customer service as a politician; you're there for people that have concerns. They have needs. The interaction I've always seen is very similar with constituents and customers, because it is understanding what their wants are and then delivering to them something that makes them happy.
SD: How are the two jobs different?
MB: The hours of operation. Even though it is kind of 24-7 with the legislature, it's defined hours, right? You're, like, 8-to-5'ing with an hour for lunch in the middle. Like, wow, what is this? The attire is certainly different. [Here,] I wear chef pants and T-shirts. Now I'm in suits. The pace: Policy and legislation is slow, where [in restaurants] the decisions are fast, quick and putting out fires — bang, bang, bang all day.
Government is slow. I know I thought this way before I started working [in the legislature]: Why does this shit take so long? Then you get up there, and you're like, Oh, my God. You're dissecting a law word by word, comma by comma. You're trying to figure out all the snapbacks: Is this going to happen if we do this?
I guess another one of the restaurant parallels is, it's really difficult to make everyone happy all of the time.
SD: What's the most surprising thing you've seen in Montpelier?
MB: There was a night out where it was all the Republicans, Progressives, independents, everybody else, out at one of the bars. One of the legislators was playing in a band there, and it just turned into this awesome party where people were dancing with each other; the speaker and the minority leader were hanging out.
I wasn't necessarily surprised by that, because something like that is, politically, uniquely like Vermont. It caught me a little bit off guard because, unfortunately, people are getting desensitized to the aggressive tone that's coming down from national politics. And I was laughing with people in that moment, like, Dude, this only happens here.
I remember I was talking to somebody who works for the [Vermont] League of Cities & Towns, a senator from the [Northeast] Kingdom and another House rep, and the four of us were just standing in the corner, watching this happen. And we're like, This is just the coolest shit, that we can have our moments in the Statehouse, in committees, and fast-forward a few hours in the same day, and everybody's cool. It's crap like that that gives me hope.