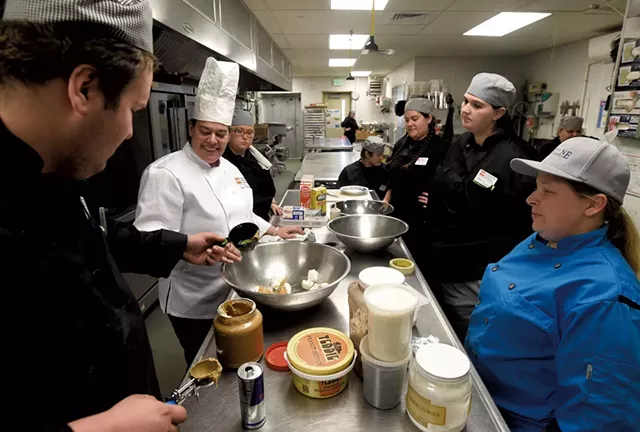 Jeb Wallace-brodeur
Chef Joey Buttendorf teaching at the Community Kitchen Academy
Chef Joey Buttendorf
Position: Senior chef instructor
Location: Community Kitchen Academy at Capstone Community Action, Barre
Age: 49
Cuisine type: Contemporary global, or "everything!"
Education: New England Culinary Institute
Experience: Currently consulting as executive chef for the Black Lantern Inn in Montgomery. Has been owner-operator of Gigi's Deli, Bakery and Catering in Stowe; executive chef at Jay Peak Resort; chef instructor and chef of student advancement at NECI; and trainer at Sandals Resorts in the Caribbean.
What's on the menu? 15,000 pounds of resource food (donated food) turned into holiday pies, stocks and sauces at Community Kitchen Academy; farm-to-table fare, including pub steak from Breezy Acres Farm and a maple-chipotle chicken sandwich "that rocks the world" at the Black Lantern.


Chef Joey Buttendorf didn't expect to find herself in another teaching job. But when she started working as senior chef instructor at Barre's Community Kitchen Academy in September, she had a feeling she'd be doing more than she had before.

"This job has a lot of meaning," Buttendorf said. Since 2009, Community Kitchen Academy has trained underemployed and unemployed Vermonters for careers in the food service industry. Run by the Vermont Foodbank, the statewide program has a Burlington branch in partnership with Feeding Chittenden; in Barre, where "Chef Joey" teaches, it's in partnership with Capstone Community Action.

For 12 consecutive weeks, students learn how to work in a high-volume production kitchen through hands-on instruction and academic work, which translates to nine college-level credits for qualifying graduates. Since 2009, more than 190 students have graduated from Community Kitchen Academy and gone to work in restaurants around the state, the academy reported. Buttendorf said those include the Trapp Family Lodge, Sodexo and Stoweflake Mountain Resort & Spa.

Buttendorf's culinary experience, which includes cooking for 15 years in the industry before enrolling at NECI, has taken her all over the state and even to the Caribbean. But it was a NECI connection that brought her to this job; former Community Kitchen Academy chef David Eyler was also an alum.

"NECI catapulted me into teaching and understanding food," Buttendorf said. Now, she'll rely on her network of NECI colleagues around the state to help find jobs for the newly minted culinary professionals she's teaching.

Thanksgiving week, Buttendorf and her students made maple nut, pumpkin and apple pies to sell as a fundraiser, donating one pie to the Foodbank for every pie they sold. It was an early test of teamwork for the students and a lesson in giving back to the community.

Buttendorf talked with Seven Days about the Community Kitchen Academy's role in the industry, how food connects to life's big questions and why being a chef-instructor is a lot like being a rally car driver.

SEVEN DAYS: What drew you to your new job?

JOEY BUTTENDORF: It's working with people to help them better their lives and situations, and I get to do that through my passion for teaching. Working with resource food was a draw, too. That's a huge challenge for a chef: To take food that's coming in a box that may not be perfect and make it perfect is really hard to do. To do it with 10 people who have never cooked before is even more of a challenge.

SD: How is Community Kitchen Academy different from other places you've taught?

JB: The program is very mission-driven. You're helping people; you're utilizing food from the Foodbank; you're teaching them classical culinary skills that they need to be able to obtain a job. You're also teaching them how to be confident, how to interview, how to look somebody in the eye and shake their hand, and how to keep their head up during the day.

They learn work ethic. They learn critical thinking skills. They learn all the things they need to be able to work in any kitchen. At the end of the 12 weeks, the students go to local restaurants for a week of work experience. There's a 92 percent job placement [rate] for the students from there.

I would never send any one of these students to an environment that is going to be too hostile or where the chef is going to fly off the handle. I will hand-select where every student goes as much as I possibly can.

SD: When you start teaching someone how to cook, what's lesson No. 1?

JB: Yes, Chef. [Laughing] I know it sounds weird and hierarchical, but if you knew everything, you wouldn't be in my kitchen in the first place. That, I think, is the hardest transition for people to make: to just shut up and learn.

I teach them about mise en place. Are you ready to be here? Mental mise en place, physical mise en place, spiritual mise en place.

Really, the first things I'm teaching students at CKA are: Do you have your uniform on right? How to show up on time, how to be punctual and why that matters. And then stocks and sauces are the first thing. Knife skills, safety, equipment — all the basics. Understanding my students' attention span is huge. I had to learn how to teach them.

SD: What are your favorite dishes to teach?

JB: This is my first time, so this is where this program gets tricky. I can't say, "I want to cook lasagna with you." I have to wait to see what comes in on my dock.

Our kitchen is able to purchase a few staples, but most of the food we teach our students with comes from the Foodbank. Sometimes farmers will show up and say, "Hey, do you want five Hubbard squash that weigh 100 pounds?" That happened this week, and my students walked in and went, "What are those things?" They'd never seen a Hubbard squash.

What I can do is make all the stocks, make all the five mother sauces. I can make sure I have those ingredients here. I'm a well-rounded chef: I bake pies; I make roast beef; I do it all. I love to braise dishes and teach them how to cook sauces. Those are my favorite things.

SD: Are those the things students get excited about, too?

JB: They will. If you have an excited teacher, it's impossible not to get excited. But I think it's really about inspiring all the way around so that they actually are excited to get up today, and they might not have been three weeks ago. That makes me really happy.

SD: Is gardening part of the curriculum?

JB: I garden like mad! I live in Montgomery, on 25 acres on a mountain. I have raised beds at home, and I'm also part of the community garden in Montgomery. It just got wrecked in the flooding, but my mom and I do that together, and we love it. Gardening is so important to cooking, because you have to do it to understand where food comes from.

Yesterday in class I said to my students, "I'm putting a garden out back, and I don't care what anybody says." It's important for me to help students connect all the dots. When you know who grew your carrot, it gives you that much more passion for the carrot.

You've got to be connected to life. If you don't go out and garden, you don't know what an earthworm looks like. I think it's important to have everybody understand that we all can be connected. Culinary [work] has taught me a lot about religion, a lot about geography, a lot about the world, a lot about global warming, overpopulation, agriculture, sustainable agriculture. Without cooking, I probably wouldn't have [learned] all that.

SD: Before you went to culinary school, you studied classical music. Do you see connections between the two?

JB: I was a classical music theory major at Johnson State College — never finished. I played piano, guitar and clarinet. But I cooked my way through school, and one day I told my dad, "I can't do this anymore. I'm going to cook." I think I turned my artistic ability into food.

I see connections between reading and writing classical music and expediting a line all the time. You have to organize chaos. When you read four parts of music, you have to divvy up your brain into four different places, right? When you are expediting a line and you have four stations, it's the same kind of thing.

SD: If you weren't a chef, what would you do?

JB: I'd be a rally car driver. I love cars, and I'd need to do something high-energy that keeps my adrenaline going, because cooking really does that. I also love music, but ... I learned that I love music too much to be a musician.

Cooking is the only occupation I can think of that uses all five senses all the time. We're touching, tasting, seeing, hearing, feeling food. It's kind of wild.

This interview has been edited and condensed for clarity and length.