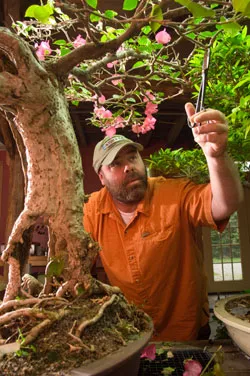 Matthew Thorsen
Chef Michel Mahe
Chef Michel Mahe probably owns more restaurants than anybody else in Vermont. But his oldest, Black Sheep Bistro, is still his baby: "It is my little bistro and I love it," he says. "It's probably the closest to my heart."
The child of French immigrants (a chef and a waitress), Mahe hung out in eateries from an early age and has worked at renowned spots in New York City and San Francisco. But when he moved to Vermont in 1999 for a stint as a partner in Starry Night Café, he found his home. Now, his three restaurants and one bar sate hundreds of Vermonters and tourists each week.
Because he has talented teams running The Bearded Frog and Bobcat Café & Brewery, Mahe can devote most of his time to Black Sheep, where he prepares what he calls simple fare. "It's about a fair meal for a fair price," he says of his flagship. "I'm not trying to be an artist; I'm just trying to give you good food."
But the entrepreneurial chef — who has a degree from Cornell University's School of Hotel Administration — is never far from his next project. Right now, he and some of his young staffers are pondering the concept of a restaurant called Local, which would use "100 percent local [products], within reason," Mahe says. He's been "poking around" Middlebury in search of a place for the new eatery but hasn't settled on one, he says, despite rumors to the contrary. "I guess if I stand in front of an empty space long enough, people think I'm opening a restaurant there."
We're fascinated by Vermont's own Napoléon of the restaurant scene, so we decided to grill him…
How did your family eat when you were growing up?
My parents lived in Manhattan. They would stay at an apartment above the restaurant. [When we were 12 and 10], my brother and I would stay at our house. They'd come home on Sunday night and bring us filet mignon, roasted duck, sauces and scallops, and we'd take care of ourselves [during the week].
[When I was even younger], sometimes my father would bring home the special of the day between shifts — everybody worked doubles then. He'd come home at four with things like scallop scampi and duck confit. He'd say, "Put it in the pan, and when you smell it, it's ready."
So I'd put on the flame, and I could see the fire — but I was 6, and I was too short to see inside the pan. I would just stir and stir until I could smell it.
It's almost child abuse these days, but then it was another time, and I loved it. My brother and I were eating specials from a great NYC restaurant for dinner!
Sounds like you grew up with a varied palate. Is there anything you don't eat?
I'm lactose intolerant, which limits my ability to eat cheeses and cream. When I was a kid, I'd put my spoon and my glass and my chocolate in the fridge because I liked things cold, and then I'd drink a big glass of chocolate milk and have cramps so bad I had to roll on the floor. It was like a ritual.
My parents didn't know [about lactose intolerance]. When we talked about it in my first class at Cornell in biology, I thought, That sounds like me, and I pulled away from [eating so much dairy].
It's very hard. I love food, and [even if it has dairy in it], I will cook it and I will taste it and I will eat it.
What's your favorite food?
I'm a steak frites kind of guy. Give me a good steak and good French fries and I'm a very happy man. Some of my happiest meals have been that: no sauce, no frills, just a straightforward meal. I hate to say that, but it's a fact.
What's your favorite beverage?
Well, I don't drink [alcohol] anymore, so I would say my favorite beverage is water when I'm cooking, right out of the tap, like drinking from a river.
Black Sheep's kitchen goes up to 135 degrees in the summer. You go on as long as you can ... but you're literally dehydrating, and you know it. Then the rush is suddenly over, and you need water — it's not pleasure; it's need. You run the tap until it's really cold, let it run over your hands, put your hat in the water ... and then put your mouth down to it. It's a beautiful moment. When you satisfy that need, it's orgasmic.
What's the last thing you ate?
You're going to hate me for this, but I had duck for breakfast. We cooked it last night, and I ate it with salt and pepper, and coffee.
I don't understand the cereal thing; I'd rather have protein. I'll turn on the grill at 6 a.m., and people are like, "What the hell are you doing?"
What foods are always in your pantry?
My restaurants are my pantry: We have cases and cases of food all the time. Whatever I feel like having, I have. But it's a mix. We have a little kid who is 7 years old, so we have frozen pizza and filet mignon. There's bologna for him, and duck and pork chops.
Are you raising your son to be a foodie?
The little boy likes to eat what he likes to eat, and he wants pizza like his friends have. I'm not going to push my chef's values onto my son. He's a good little boy. He likes his Popsicles; [the other day] he ate duck with a Popsicle in his hand.
If you limit people, they become obsessed with things. He has everything a normal boy should have.
If you could have any chef in the world prepare a meal for you, who would it be?
Anthony Bourdain. When I was a chef in New York, my favorite restaurant was Les Halles — when Bourdain was there, no matter how crazy he was, it was the perfect steak frites kind of place.
I used to go there twice a week and loved it. My girlfriend at the time was a vegetarian, and she just had to deal.
Describe your best meal ever.
My grandmother cooked a hare that my grandfather caught in a snare. It was a goodbye dinner [for my family]. She cooked the stew in a big pot on the fireplace and just threw in more water and more butter — it went on for hours. Everything was mush, but the flavors were incredible.
You're trying to impress somebody with your culinary prowess. What do you make?
There's something about boeuf bourguignon with a good piece of crusty bread. If I invited you to my house for dinner in winter, that's what I'd make.
It's the hardest thing to do, because you can overcook it and it's dead, or you can undercook it. It's all about when you put things in and how you put things in, and the temperature. When the final thing comes out, the meat should be perfectly cooked and soft, but the carrots should be al dente.
When I'm doing it, two out of three times I get it right. The third time, I was watching TV with my kid and forgot about it.
Name a local restaurant that you patronize.
There are so many that I like. If I'm shopping on Church Street, I'll go to Leunig's. If it's dark and wintry and we just want to go out, we'll go to Trattoria Delia. My favorite room is Hen of the Wood — it's a spectacular space. I wish I'd known about it before Eric [Warnstedt] took it, because I would have. The Kitchen Table Bistro is good.
When I want lunch, I'll go to 3 Squares [Café in Vergennes]. It's a good restaurant, well run. I'm impressed with how [chef-owner Matt Birong] approaches it and the quality that's coming out of there.
What do you think other Vermont restaurants could do better?
I think the hard part in Vermont is staffing your restaurant, whether the kitchen or the front of the house. It's very difficult; there's a small market [of workers].
Writing menus and service are difficult. You're trying to satisfy locals — who are who they are — and some of the richest people in the world, who have houses on the lake. The best server knows when to say, "How you doing?" versus "Good evening." When you see somebody who is obviously vacationing from Basin Harbor [Club] and is used to a more classic service, then [you] treat them that way.
What kind of music do you like to listen to in the kitchen?
I'm known as the "no-noise chef." If the music isn't off within two minutes of me walking in, I throw the radio out the back door. I've probably thrown 20 radios — it's a very funny thing. There are kitchens where I don't notice the music when I walk in, because it's low, and after a few minutes I start getting angry. When the music goes off, I'm fine.
I can't do two things at the same time. When I'm cooking, there's this noise in my head that I love, and I can't do anything else. It's Zen cooking: Be the food.
What's the hardest thing about being a chef?
Missing those special moments with my family. I never cared before [now], because everybody I dated or was friends with was in the restaurant business, and I was raised in a family that was part of that world.
What's your favorite junk food?
Give me a Kit Kat and I'm happy. New York chefs are trained and paid to be very intense assholes — I'm more mellow now. One day in New York I was being an asshole, and my chefs all threw Kit Kats at me, and I started laughing. It brought me down.
If you could choose your last meal, what would it be?
I would make myself a boeuf bourguignon, and I'd cook it all day and eat it all by myself.