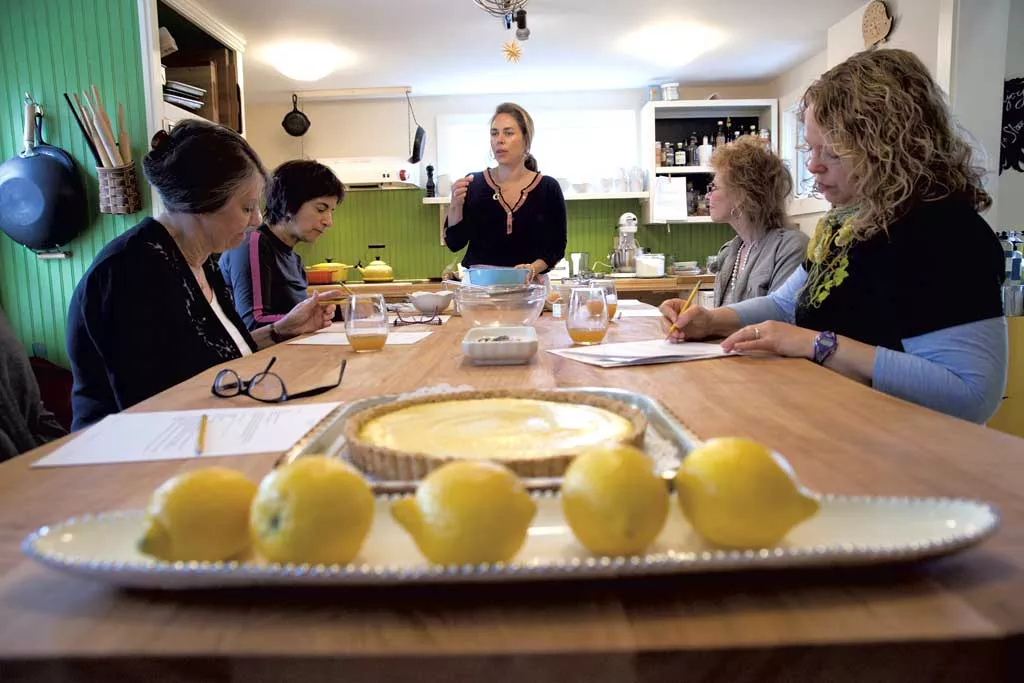 Matthew Thorsen
Courtney Contos talking to a class
Chef Courtney Contos, the owner of Shelburne's Chef Contos Kitchen & Store, lives by a philosophy attributed to Joseph Campbell: "Follow your bliss." Raised in Chicago's high-end restaurant scene, Contos skipped a semester of high school to run a small eatery in Mexico, talked her way into a coveted internship at the legendary Charlie Trotter's restaurant and traveled the country as a private chef before settling in Vermont in 2006. For the chef, now 39, following her bliss has always coincided with making and serving fantastic food.
Contos' warm, inviting kitchen store in Shelburne, which opened last year, may initially seem like a far cry from the upscale-dining world of her youth. Visitors encounter tastefully arranged rooms with rustic décor and well-worn antique rugs scattered over hardwood floors. Contos and shop manager Liz Bernier are always nearby with a cheery smile. The shelves are stocked with hard-to-find kitchenware, artisan-crafted dishes and home items, along with small-batch sauces and spices, which Contos finds by scouring local and international markets.
Contos, who has been teaching since 2000, initially moved to Vermont to take a job as executive chef of the Essex Culinary Resort & Spa's Cook Academy, which she held until 2011. She also writes a popular recipe blog, makes regular appearances on WCAX-TV and does a monthly food-news segment on radio station WVMT. A master gardener, too, she brings her knowledge of fresh produce to her cooking classes in Shelburne.
In the back room, where Contos teaches several days a week, a wide butcher-block table dominates a well-stocked kitchen. A tray of treats and a pitcher of lemon water often sit on the table for shoppers and students to sample.
Contos' cooking classes don't resemble the strict training she experienced at Chicago's Kendall College, a culinary and hospitality school. She says she prefers to cultivate a friendly, easy rapport with her students; sometimes they call the store for advice, and Contos or Bernier walks them through recipes. But, while Contos' instructional model feels relaxed, the owner's commitment to top-shelf ingredients and quality kitchenware remains firm. "That's my [culinary school] training," she admits with a smile. "It was kind of militant."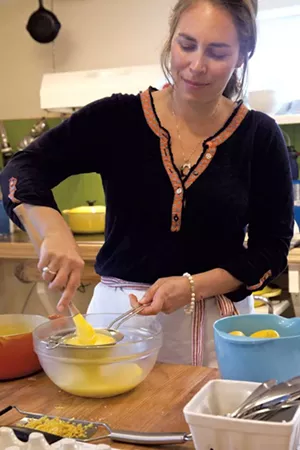 Matthew Thorsen
Courtney Contos
Contos' classes range from a workshop in knife techniques to a popular series called Cook the Book, in which participants prepare a meal from a specific cookbook. She offers special sessions for children or couples and seasonal classes such as April in Paris or, for Easter, The Perfect Lemon Tart. Later this year, Contos will lead a group culinary trip to the Yucatán.
Her classes have attracted repeat customers. "She is such a good teacher," says Bonnie Harris, 58, a Hinesburg resident who says she's missed only one of Contos' classes since the store opened. "She laughs with you, she cooks with you, and she has so much passion."
Harris is a trained cook herself, but she keeps coming back for more. The Shelburne venue, she says, is "divine," and Contos' knowledge of specialty ingredients and international cuisine is a big draw. "She taught me how to use some ingredients I'd never even heard of," Harris notes.
On a recent Saturday afternoon, seven students and a reporter cluster around that butcher-block table in Contos' store. She's teaching a Cook the Book class using Vegetable Literacy, a tome by chef-author Deborah Madison, a 2014 James Beard Foundation award nominee. On the menu are toasted millet, kale with fresh cheese, chive-and-saffron crêpes filled with fresh greens and carrot-almond cake with ricotta cream.
The instructor stands at the head of the table and sets a number of dish preps in motion, chopping nonchalantly while keeping up a stream of chatter. Contos is full of anecdotes (the crêpe pan she uses and sells comes from a Québecois buckwheat farmer who has experienced trouble with his deliveries at the border); trivia (saffron releases its flavor through immersion in hot water, a process called "blooming"); and helpful hints ("You can skip toasting the millet if you just want to get dinner on the table, but it does give this amazing flavor").
Contos says her real mission is to spread enthusiasm about cooking — "helping [people] connect with the land, food and each other." During class, her zeal for ingredients and flavors is contagious. She insists that everyone try prep work or tossing crêpes. "It's just these subtle little moments in the kitchen that make the difference," she says.
Contos also teaches students how to use the products she sells in the store — where they get a discount. "I'm just so passionate about the inventory, and it matches so well with all the classes I teach," she explains.
In an interview the week after the class, Contos shares more of her story. Her culinary cred is practically genetic; her father owned restaurants in Chicago and a nightclub in Acapulco. The best known of the family's establishments was Chez Paul. That classic French eatery was named for Contos' grandfather, a Greek immigrant who arrived in the United States in the mid-1940s and started out in the food business with a fruit cart. Paul worked his way up to running an ice cream parlor, then seized the opportunity to oversee a French restaurant.
"We're a Greek family; we're all entrepreneurs," Contos says. "It didn't matter to him [her grandfather] that he didn't know anything about French food ... You flew your chefs in from France, and they were the experts in that area. You just needed to know how to run a business."
In its heyday, Chez Paul — which Contos' father, Bill Contos, eventually took over — frequently catered to celebrities. It was featured in films including The Blues Brothers and Ferris Bueller's Day Off.
"It was so fun growing up in that scene," recalls Contos. "Every Wednesday in grammar school, I was allowed to take up to four kids to Chez Paul for lunch. My dad would send [the restaurant's] Rolls-Royce over, and we'd hop in, go to the restaurant. We had one hour. Our food would be waiting. We'd always have chopped sirloin and hollandaise sauce, and on the side were these potatoes that we always ordered extra of, and we'd drink Shirley Temples."
Why didn't Contos ever open a restaurant of her own, as many of her James Beard-winning classmates from Kendall did? She has a simple answer: Her family had a saying that the restaurant business led to "gray hair, alcoholism and dying young." While she always loved food and wanted to share it, she says, she opted to skip the most stressful route.
Early in her life, she got a taste of a more palatable path: cooking as bliss. At age 16, Contos took five months off from school to help a family friend run a small restaurant in Zihuatanejo, Mexico. She remembers spending her days on the beach and her nights running the restaurant: "There were no windows, [the space] was all open, and it was literally on this cliff. It was probably the size of this store, and there was always Roy Orbison playing ... By the end of the night there'd be dancing. It was just so fun."
Upon her return to Chicago, Contos began working for her father in the office of Chez Paul. "There were not very many women in the restaurant business at the time," she notes — and just four in her class at Kendall. Though she initially intended to get a hospitality degree there, Contos soon found herself attracted to the culinary programming. Her restaurant background gave her a leg up, she says.
Contos began staking out Charlie Trotter's, which had stopped taking interns from Kendall because, she says, too many burned out in short order. Contos was undeterred; she camped out on the back steps for three days until the restaurant's manager agreed to let her do a trial day. "I just always wanted to be with the best, and that was the best place in the city," she says. After she graduated, Trotter offered her a chef position, which she held for a year.
For the next phase of her career, Contos launched a private-chef business and cooked for high-end clientele at parties across the country. She returned to Chicago in 2003 to work as chef at the Chopping Block Cooking School, but a childhood dream of living in Vermont began to beckon.
"I grew up in the heart of downtown [Chicago] in a brownstone," she says. "This whole Vermont thing was just really magical; I think it was [the TV series 'Newhart'] that planted the seed ... I knew that my next step was going to be here."
And so it was, when she found work at the Cook Academy. But after five years there, Contos began looking around for the next thing. She says she had her eye on the storefront at 65 Falls Road in Shelburne; when a different kitchen store closed there in early 2013, she jumped on it.
Chef Contos Kitchen & Store gives her the opportunity to educate, cook and be creative all at once. "I feel like every morning I'm just shot out of a cannon, there's so much to do and so much to learn," Contos says. "I'm just so excited about all of my projects."
Contos keeps a reminder of her rigorous background on a shelf in her shop: a blue caviar tin that she spilled in Charlie Trotter's kitchen during her internship. "I have this brand-new tin of caviar, worth probably $1,300, upside down," she recalls. "I mean, what do you do? Everyone's looking. So the chef de cuisine, Matthias Merges, who's now one of the top chefs in the country, came over with a spatula, flipped it over ... and, when the tin was empty probably a month later, he gave it to me.
"Every day," says Contos, "I come through here, I turn the lights on, I see that tin, and it just reminds me to maintain excellence."
The original print version of this article was headlined "Cooking Up Bliss"