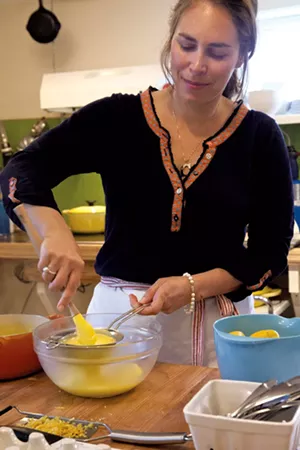 File: Matthew Thorsen
Courtney Contos
2014 was a fairly slow year for pop-up dining in Vermont, but in 2015, Courtney Contos will revive evanescent eating with a series of one-night dinners at her Chef Contos Kitchen & Store in Shelburne. The monthly dinners seat a maximum of 10 guests.
The chef mostly cooks in a teaching capacity these days, leading workshops and classes that consistently sell out well in advance. Contos says she's excited to get back behind the burners in a service capacity. "It's a different energy for me to cook as a chef than as a teacher," she says. "It just seemed like a fun idea to go back to the old days of working in a kitchen and cooking food for people."
Contos plans to use the monthly dinners as an opportunity to cook dishes that don't lend themselves to teaching. The inaugural menu — $65 per person for three to four courses, and BYOB — offers a wintry mix of dishes, including Scotch eggs, deviled brussels sprouts, roast lamb shoulder and dark-chocolate cakes. For February, Contos says she's been talking with another local chef about collaborating on a meal, probably with a Latin American focus. She says she's excited to team up with her colleagues in the restaurant business and put on dinners at her place or theirs.
Contos says the events are as much about having a culinary conversation as they are about eating. Some dishes — such as a bread board with virgin cultured butter and pinot noir sea salt — will be passed around, family-style. "It's a great space for that," Contos says, "and it'll be a fun vibe. I just feel like, It's January: Let's cook some food and have some people over."
The original print version of this article was headlined "Kitchen Dinner"