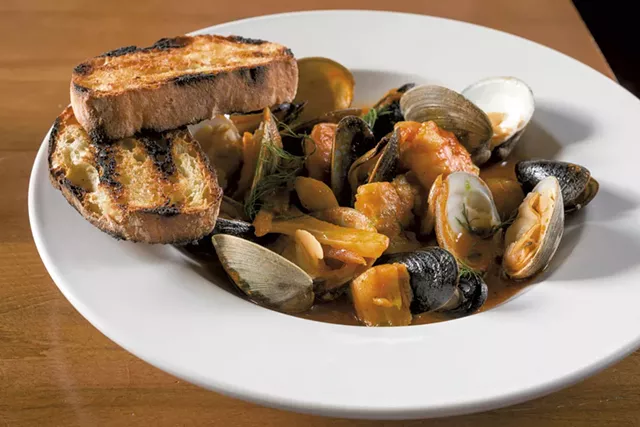 Oliver Parini
Cioppino
On a recent raw and sleety day, before going to her job as chef at Sorriso Bistro in South Burlington, Chelsea Morgan ran two miles on ice-slicked streets. She's training to run a relay leg in the Vermont City Marathon and committed to running every day no matter the weather.
"I'm very competitive," Morgan said. "Not a lot of chefs are out running; more chefs are at the bar drinking."
For Morgan, 29, running is meaningful for several reasons: The race will honor a friend of hers who is battling cancer, she said. Running is a return to a central pursuit of her youth, when she competed in cross-country and track for Woodstock Union High School. And it's part of her effort to quit smoking cigarettes — her goal for this year, she said.
Also this year, Morgan has taken the helm of Sorriso, an Italian bistro that opened in late November in the old KFC building on Shelburne Road. She was hired by owner Amir Jusufagic, 55, to open the restaurant in the building that more recently housed Tavern II and Junior's Rustico.
Oliver Parini
Fettuccine with Gorgonzola cream sauce
Jusufagic, who also owns Piesanos Burlington in the old Junior's Downtown spot on Main Street, was looking for a young but experienced chef who would grow with the business. Taste-testing Morgan's cioppino, a seafood stew served in a white-wine-and-tomato broth, he was reminded of the Mediterranean food of his youth in the former Yugoslavia. "It was amazing," Jusufagic said.
A casual restaurant, Sorriso is a place for dining on pizza or trying the broader range of menu offerings, from endive-and-orange salad to seared sea scallops with cauliflower purée and prosciutto.
It was a quiet night at Sorriso, which means "smile" in Italian, when two friends and I ate dinner there last week. A few people sat at the bar, which looked like a good spot for a solo diner to try the Wednesday night special: lasagna and a Switchback Brewing beer for $10.
We took a table in the corner and ordered something from each section of the menu: soup and salad, small plates and pasta, and pizza. Soon we were sharing a bowl of roasted-cauliflower-and-tomato soup that was deceptively creamy for a vegan soup — and straight-up delicious. The Caesar salad was presented with whole leaves slicked in a lemony garlic-anchovy dressing and sprinkled with bread crumbs and shaved Parmesan. More dishes, rich and flavorful, would follow.
Morgan was most recently sous chef at Mule Bar in Winooski; before that, she cooked at Junior's Rustico. But she's also cooked everywhere from a Thomas Keller Restaurant Group bakery in Manhattan to luxury resorts in Park City, Utah; from Burlington's Splash at the Boathouse to Hen of the Wood.
She grew up on her family farm in Reading, the 370-acre Jenne Farm, which is among the most photographed farms in the region and even the nation. The farm served as the location for a 1987 holiday-themed Budweiser commercial; in it, a team of Clydesdale horses trots through a snow-covered landscape, pulling a wagon that holds a Christmas tree across a stone bridge as Budweiser wishes its audience "the very best of everything." Scenes in the movies Forrest Gump and Funny Farm were also shot at Morgan's home.
Oliver Parini
Chef Chelsea Morgan
After high school graduation, Morgan passed up a cross-country scholarship in favor of attending the (now-closed) Connecticut Culinary Institute in Hartford. From there, Morgan returned to Vermont and got a job as the "salad girl" at Splash. When the season ended, she went to New York City to interview for a job at Bouchon Bakery, a restaurant owned by Keller, who is best known for the French Laundry and Per Se. She was hired on the spot.
But, coming from a farm in Vermont, "New York was not my thing," Morgan said. After a year in the city, she headed to Utah, where she cooked at ski resorts and served crowds at the annual Sundance Film Festival. She also gained fine-dining experience at an Asian fusion restaurant.
Her experience includes working as sous chef at Das Bierhaus, a German restaurant that was on lower Church Street.
At Sorriso, she developed the menu and made revisions at the suggestion of Jusufagic, who wanted to emphasize small plates over entrées to create a "rustic" dining experience.
At our dinner, we enjoyed two dishes from the small plates menu: gnudi — ricotta, egg and flour dumplings — came with duck confit, mushrooms and squash in a goat-cheese cream sauce ($15). Arancini were stuffed with melted mozzarella and served with marinara ($15).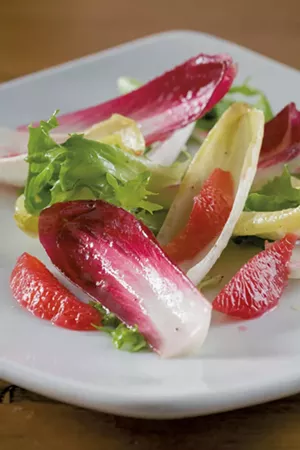 Oliver Parini
Endive-and-orange salad
My favorite dish of our shared meal was a $15 pasta entrée of al dente fettuccini tossed in a Gorgonzola cream sauce with bacon, pear and red onion. The dish is a riff on one Morgan made in Utah; her addition of bacon and onion adds depth to the appealing Gorgonzola-pear combo.
Morgan said her previous experience at Junior's Rustico gave her an advantage in the early weeks of running a restaurant in the same location. She plans to add lunch service in March, with a mind to serving employees of nearby businesses.
"I know where we do well and where we don't," she said. "I definitely think we'll take off when we do lunch."
At Jenne Farm, Morgan grew up eating animals raised on the farm and vegetables from the family's big garden. Her mother, who worked in the education program at the award-winning cheesemaking operation Spring Brook Farm, did the cooking. That tradition — women cooking at home, men taking the reins in professional kitchens — is an arrangement Morgan has an opinion about. She thinks there are "not enough" female chefs in the top spot at local restaurants.
"Cooking is the women's job, [yet] it's a man's industry, a man's world," she said. "Honestly, I think it's bull crap."
Correction, January 30, 2019: An earlier version of this story misstated Chelsea Morgan's position at Das Bierhaus.