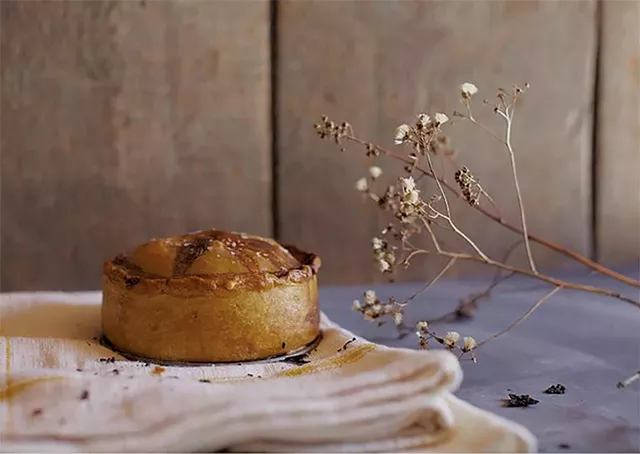 Courtesy Of Piecemeal Pies
Piecemeal Pies
Looking back on 2016 conjures visions of fake news, resurgent white nationalists, Russian hackers and — love him or hate him — president-elect Donald Trump. All of which is to say, this year has given many Americans reasons aplenty to eat (or drink) their feelings.
Here in Vermont, this dramatic and unusual turn around the sun brought a few tasty reasons to celebrate. We could start with the continued proliferation of good coffee: Single-source artisan roasts appeared in new cafés such as Burlington's Onyx Tonics Specialty Coffee, Essex Junction's Nomad Coffee, Stowe's PK Coffee and Montpelier's Tremolo Coffee.
Meanwhile, upscale chefs continued to play with high-end/lowbrow cookery. While I don't love that concept, Burlington's Monarch & the Milkweed, Morrisville's Niche at Rogue Artisans Café, Jamaica's Honeypie and Waitsfield's Canteen Creemee Company all proved that it can be great when executed with precision.
Other restaurants expanded on their strengths, spinning off new enterprises around single items. In Shelburne, Archie's Grill moved across Shelburne Road — then, this summer, took advantage of the empty adjacent space and started serving its housemade ice cream at the Scoop to great fanfare. In Washington County, the guys from Barre's Cornerstone Pub & Kitchen jockeyed their popular burger menu into a patty joint in Northfield and put a food truck on the road.
In Waterbury, Park Row Café reworked its entire concept around the success of its burger and smoothie menus; in early summer, the casual café rechristened itself Buddy's Famous Burgers.
What did we love, hate and wish we'd never have to see again? Read on for the Seven Days spin on the good, the bad and the ugly of eating in Vermont, circa 2016.
Let's start with a little ambivalence, shall we?
Not Convinced, But...
Counter Service Is Cool Now
I'm not sure how I feel about ordering fancy food from someone behind a register. But if it's the only way to access the warm, bacon-laced rabbit stew hidden inside buttery pastry at White River Junction's Piecemeal Pies, I'll do it. And I don't mind standing in line if it results in Monarch & the Milkweed's obsession-worthy smoked-bluefish sandwich or — during a freezing winter — a steaming bowl of bone broth at newly opened Beau Butchery + Bar in Montpelier. Sometimes it is nice to just order, pay, sit and eat, without having to talk to a waiter.
Best New Bar
Drifters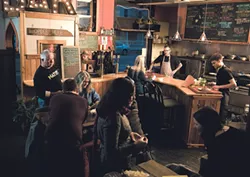 file: brent Harrewyn
Drifters
It took a while for Queen City residents to discover Drifters, which opened in the former Psychedelicatessen space in the Old North End in June. But slowly word got around that chef-partner Andrew Ryan's inexpensive, religiously local fare was worth a visit. From the $5 cans of Citizen Cider to the house-smoked bacon that appeared in a recent duck-broth ramen dinner special, everything on the menu is made from scratch and top quality. And — most crucially for a neighborhood bar — the fun, laid-back vibe makes you want to stay and stay.
Best Meat
Barbecue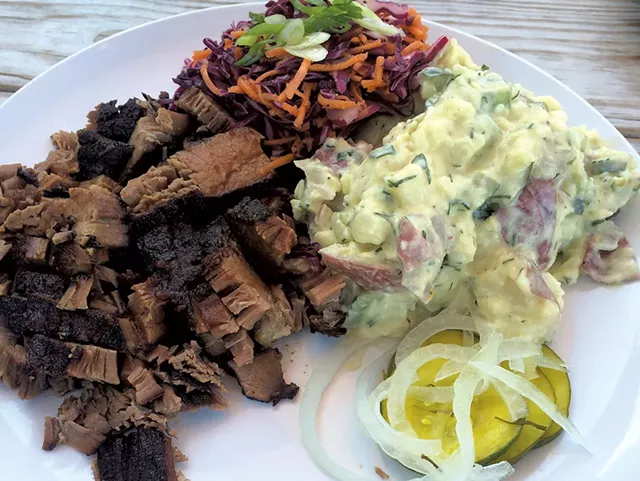 File: Suzanne Podhaizer
Brisket at Pork & Pickles BBQ
This was perhaps the best year in memory for smoked meats in Vermont. In June, Chris Simard (formerly d/b/a the Lazy Farmer) opened Pork & Pickles BBQ in Essex Junction. Two weeks later came Roaster's BBQ in Milton, where demand for Trevor Leroux's smoked ribs, pulled pork and roast beef was so robust that he almost immediately exhausted all his local meat sources and had to start bringing in hogs from out of state.
As the year wore on, the meaty wave kept right on mounting. In September, St. Albans' 14th Star Brewing partnered with Smokin' Butt's Bar-B-Q to bring rib sandwiches and pulled-pork tacos to the drinkers at its bar. That paved the way for Mill River Brewing, which will open with brews and barbecue elsewhere in town in 2017.
By October, Elmore-based Black Diamond Barbecue & Catering was offering slow-roasted pork, smoked-shrimp mac and cheese, and craft cocktails at its tiny Morrisville storefront.
Add to that Back Road BBQ: Based in Cabot, the whole-hog rolling smoke shop drove circles around north-central Vermont all summer. Then there's the new 20-line crowler bar and beer retail shop at Big Fatty's BBQ in White River Junction. Carnivores, we've had ourselves a fine year, indeed.
Best Do-Over
Growler Garage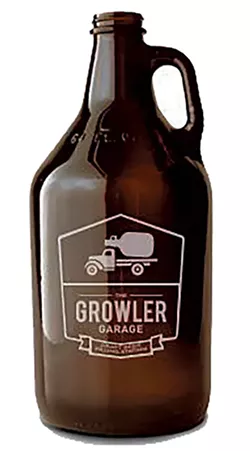 To get to Growler Garage's original South Burlington location, you had to wrestle with traffic on Williston Road and Dorset Street before pulling into a bare-bones storefront that seemed better suited for a car wash or tire shop. You could snack on pretzels or peanuts as the Garage's beer-geek staff guided you to a pint you could love, but if you were actually hungry, you were out of luck.
In July, owner Liam O'Farrell packed up shop and moved to 30 Main Street in Burlington, where Noonie's Deli had closed a few months earlier. By October, he'd enlisted Winooski's Our House Bistro to supply food: gooey mac and cheese peppered with hunks of Buffalo chicken (and crowned with an electric-orange chicken wing), burgers stacked with everything from pulled pork to cucumber slices, and an array of other dishes from the restaurant's menu of "twisted comfort food."
Ample patio seating at the Garage's new location catches summer breezes off the lake; it's an easy walk from downtown. And there's shuffleboard and cornhole, which lead me to my next supper superlative...
Fun Trend
Dining While Gaming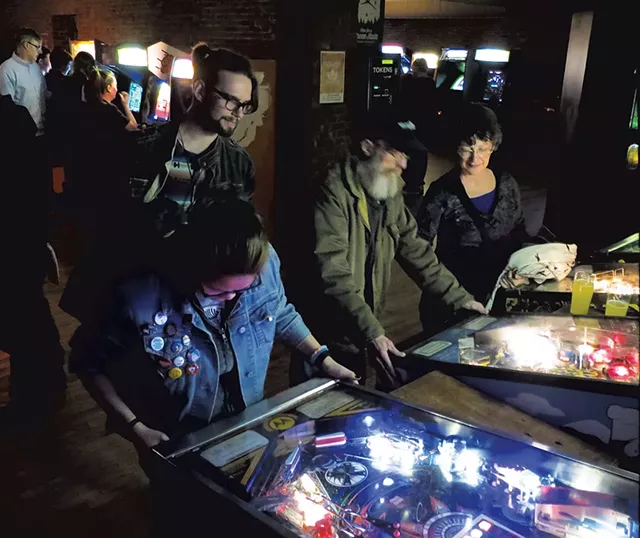 Matthew Thorsen
The Archives
In 2014, Tilt Classic Arcade and Ale House brought Pac-Man and pub fare to South Burlington. That bar-arcade, featuring food that was creative, mostly local and mostly good, closed this past summer. But Tilt's owners were onto something, and in 2016, Vermont saw a spate of new businesses fusing food and fun in fresh and exciting ways.
In downtown Burlington, the Archives opened in March; with its impeccable 24-line draft list and dozens of vintage games, it's a fun spot to hang even if pinball isn't your thing.
Over in Stowe, Sun & Ski Inn and Suites opened Stowe Bowl in February. While the state-of-the-art bowling lanes and plush, classy lounge are a bigger draw than the food, the hotel's ownership has put effort into crafting fresh finger snacks and noodle bowls that go beyond the usual burgers and 'dogs.
A mile down Mountain Road, at the posh new Field Guide hotel, Picnic Social opened with casual snacks and lawn games in June. In her August review, Suzanne Podhaizer raved about chef Justin Perdue's cooking, describing the place as "a scrumptious, and silly, success."
Best Pizza
Kingdom Crust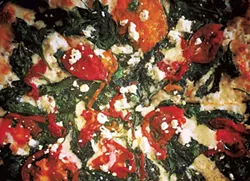 Courtesy Of Kingdom Crust Co.
Kingdom Crust
For years, a franchise pizzeria held down the St. Johnsbury corner where Hastings Street merges with Route 5. When the franchise closed in July, Mike Heath reopened the place as Kingdom Crust. Now everything in the from-scratch kitchen is 100 percent GMO-free; the shop's goal is to source 90 percent of its ingredients from in-state producers and to buy organic whenever possible. A 16-inch extra-large cheese pie is still only $13 and crisp and blistery. And don't get me started on the deliciousness that is the chicken-bacon-ranch sandwich...
Best Burger
Buffalo Bleu, Cornerstone Burger
File: Jeb Wallace-brodeur
Buffalo Bleu burger
In February, Cornerstone Pub & Kitchen opened a burger joint on East Street in Northfield beside what is now Good Measure Brewing, which (finally!) opened its tasting room earlier this month. Whenever I go to Cornerstone, which is admittedly not often enough, I get the Buffalo Bleu burger. It's a juicy six-ounce Angus (or, for $3 extra, New England beef) patty, tucked inside a brioche bun that's overflowing with a melty mess of wing sauce, diced pickled jalapeños and blue-cheese crumbles. It's awesome, and I'd like to eat one right now.
Kudos to
Distilling Vermont's Harvest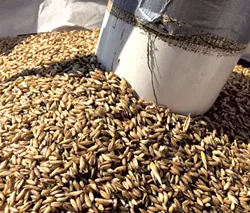 Courtesy Of Rogers Farmstead
Vermont-grown oats
Just a few Vermont growers have cultivated cereal grains since the early 1980s. Recently, though, as climate change has brought a trend of warmer, often drier summers, newer farms have planted their fields with wheat, rye, oats, spelt and dry corn. Since 2013, Mad River Distillers has made whiskey and brandy with local corn and apples, respectively. In Barre, forthcoming Old Route Two Spirits is gearing up to craft whiskey and gin using 100 percent Vermont-grown grains. But the biggest props go to Cabot's Hooker Mountain Farm Distillery, which opened its tasting room earlier this month. There, farmers Kempton and Carrie Randolph distill spirits from entirely homegrown grains, potatoes, produce and herbs. The spent grains double as pig feed; those pigs root up the fields and redeposit the grains in the soil. How's that for a closed loop?
Wish Granted
Casa Aguilera Trading Company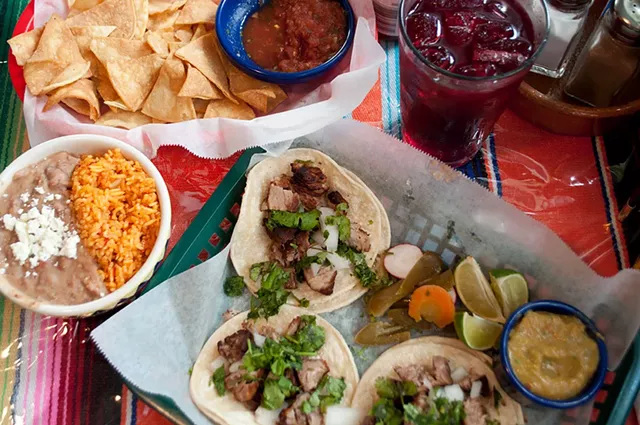 Hannah Palmer Egan
Casa Aguilera Trading Company
As the sun set on my final writing day of 2015, I issued a year's-end plea for 2016: "Will some ángel de Dios start making authentic — like really authentic — Mexican food in this state?"
I didn't expect an answer.
But in May that angel appeared in the form of Manuel Aguilera, who opened Casa Aguilera Trading Company in St. Johnsbury. The SoCal native had been selling homegrown salsas and chips around the Upper Valley since 2014, and when he moved to the Kingdom, he went all-in on a permanent location.
At Aguilera's Eastern Avenue cantina, the tortilla chips are thin and crispy; the rolled taquitos crackle before giving way to chile-tinged crumbled chorizo. Palm-size tacos arrive in sets of three and are street-food simple. One day this summer, I sampled orange-marinated cubed pork that had been flash-fried and then scattered with cilantro and diced onion, with salsa and spicy pickled veggies on the side.
Using his mother's homestyle Mexican cooking as a point of departure, Aguilera makes everything in-house, from the long-simmered mole in a wintry chicken stew to the fruity aguas frescas that cool the heat of a summer day.
Consider also the excellent south-of-the-border snacks from Randolph-based food truck Ana's Mexican Loncheria, the Cuban fare at Hardwick's Havana 802, the Salvadoran fusion at Burlington's Esperanza Restaurante, and the local, organic heirloom-corn tortillas from All Souls Tortilleria and Vermont Tortilla Company, and 2016 starts to look very generous when it comes to Latin American eats.
Biggest Bummer
Taverna Khione Has Closed
Matthew Thorsen
Marc Provencher
From the list stocked with delicate Greek wines to the firm and rustic handmade pastas to the slow-roasted lamb scattered with herbs just picked from the kitchen garden, I loved Shelburne's Taverna Khione. In 2015, I loved it enough to name chef Marc Provencher the year's best new Vermont chef. Provencher's food was bold and daring — though sometimes imperfect — and his restaurant was distinct and unforgettable amid a sea of restaurants serving burgers, mac and cheese, and poutine.
In an email earlier this month, Provencher seemed to attribute Taverna's late-fall closure to location. He may have a point: The former Café Shelburne spot, just south of Shelburne Village, was just too far afield for me to visit that often. But Provencher has vowed to return in a new location. "I've been supporting Greece with my restaurants for the last 10 years and will continue to do so in 2017," he wrote, then added that he'll "reveal the next plans [for] the Taverna" just as soon as he sells the space at 5733 Shelburne Road.
Which begs my next question: Anyone looking to open a restaurant in Shelburne?
Vermont's Loss = Boston's Gain
Phantom
Courtesy Of Matt Sargent
Matt Sargent
In January, carpenter-cum-chef Matt Sargent and his wife, Nancy, closed their quirky Waitsfield restaurant, Phantom, after about a year in business. Within months, they'd laid plans to reopen — under the name Brewer's Tap & Table — with co-owner Joe Slesar in a sprawling former factory in Waltham, Mass., about 20 minutes outside Boston. That restaurant opened in November with 48 craft beers on tap, big burgers and entrées such as barbecued quail. That's cool — for them, I guess.
Told Ya So
A Cuisine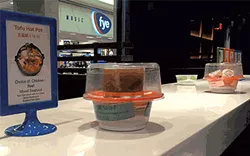 I won't claim to have the audacity to predict a restaurant's doom before it opens. And I have deep respect for Sandy Kong, whose Asiana Noodle Shop has been a downtown staple for years. But if you're going to open a conveyor-belt sushi restaurant (where diners belly up to a bar and grab dishes as they glide by), maybe don't do it in the beleaguered Burlington Town Center mall, a spot tourists pass without noticing and locals assiduously avoid.
Natural Wonder
Saffron
University of Vermont researchers are growing saffron in a greenhouse in St. Albans. With a market value of about $20 per gram, the crop could bring farmers up to $100,000 per acre. How cool is that?
Kitchen MVP
George Lambertson, ArtsRiot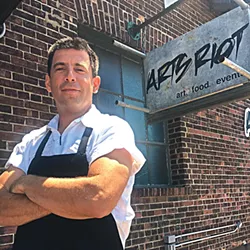 Courtesy Of George Lambertson
George Lambertson
When it comes to food service, ArtsRiot has burned through more than a few business models. But in late 2014, the Burlington art space installed George Lambertson in the back of the house and endowed him with broad creative freedom. Since then, the high-strung, often restless chef has transformed his kitchen into a multipurpose, multitasking antidote to culinary boredom.
Early this year, Lambertson switched from a mostly static menu to a daily-changing bill of fare anchored by a few approachable standbys (popcorn chicken, a fantastic burger). Which means the Sichuan raw-beef salad you find one day may give way to blistered mackerel with pork belly and potatoes the next.
This spring, noted chef Jean-Luc Matecat joined the galley. His skills and ideas have mingled with Lambertson's in a cool and exciting synergy that I'd guess neither chef could have predicted.
By summer, Lambertson had added a food truck to the enterprise and parked it on Pine Street during weekday lunch hours. The truck's fried-chicken sandwiches and midday beers rounded out the collective menu offered by the growing lineup of mobile eateries that have taken up summer residence in the area since ArtsRiot launched its Friday Truck Stops in 2013.
Finally, on November 8, the kitchen launched its "double-down" early evening specials — order one, get two on select beers and snacks — which may be the only good thing that came out of Election Day.
Emergent Dining Destination
East Burke
Let's be clear: East Burke was not blessed with a half dozen amazing new openings in this year alone. The tiny mountain town has always had a solid village core, centered on the Northeast Kingdom Country Store (great sandwiches and takeout) and the Pub Outback. But the past few years have brought some great culinary color to town.
In 2014, the Pub became the Burke Publick House, where a bomber Vermont beer list complements well-crafted locavore plates such as cheddar-chorizo poutine with maple-tinged gravy. That same year, Mike's Tiki Bar opened behind the pub, and I've yet to find a Vermont bar I enjoy more. I can't complain about the food from the Vermont Food Truck Company, which summers next to the bar, either.
2015 brought Foggy Goggle Osteria's rustic Italian food and pizzas, courtesy of former Trout River Brewing owner Dan Gates. The 2016 additions of Café Lotti (pastries, cold-brew) and Auntie Dee Dee's Homemade Vt Baked Goods have breakfast covered, and the mountain has gained two new venues, too.
So now you can head to Burke, grab an amazing cup of coffee and a pastry on your way to the slopes, and have several solid dinner options when you're famished from a day of skiing.
Also: It's snowing.