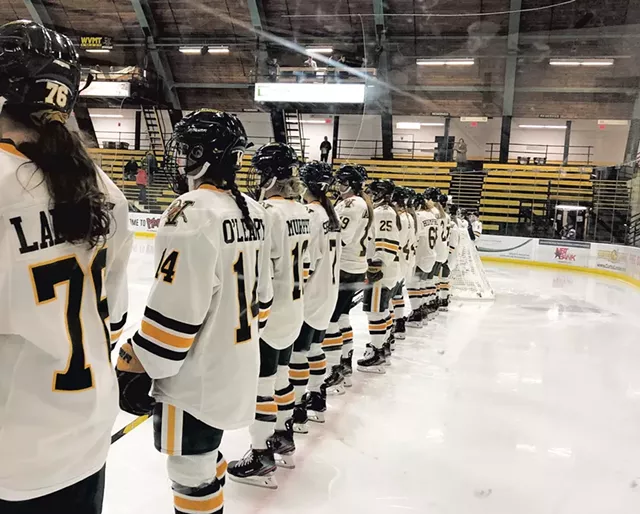 heather polifka-rivas
UVM women's hockey team
It's cold outside, Netflix hasn't updated its shows lately, and your kids are so bored they're offering to organize your cabinets. How about a movie? Meh. You did that last week. Plus, with tickets, popcorn and slushies, you might have to take out a second mortgage on the house. So where can you find budget-friendly entertainment? Think outside of the (penalty) box and go with your "GUT" instincts. In other words, take your family to see a UVM women's hockey game at Gutterson Fieldhouse. It's so much fun!
Admittedly, we are not a hockey family. Our kids, ages 11 and 7, have no interest in playing. And frankly, my husband and I can't fathom committing to the parental dedication it requires. That being said, we love watching a good match. So off to Gutterson Fieldhouse we went with our friends this fall to watch the UVM women take on Dartmouth. We arrived about 15 minutes before the 6 p.m. face-off. The concession stand was well-equipped to satisfy hungry fans with hot dogs, pizza, pretzels, nachos and even pieces of whole fruit, as well as a plethora of soft drinks and beverages.
We'd eaten beforehand, so we headed right for the stands, easily finding seats behind the penalty boxes. They gave us a great view and put us up close to the players and the action. And the concept of a penalty box was mind-blowing for my children. They referred to it as the "time-out box" once they knew players were sent there for misbehaving on the ice. "Grown women get time-outs too, Mom?" My daughter Ruby, 7, asked.
Sadly, though, we easily snagged those seats because the fieldhouse was nearly empty. By my rough count, fewer than 200 people were there. How is this possible? Gutterson seats approximately 4,000 people and the men's hockey team often sells out, and they're playing the same sport as the women?! The women's game was fast-paced and riveting. Players were tough, smart and resilient. It's unfortunate that more people didn't support the team.
heather polifka-rivas
Heather's son, Henry, and his friend Sydney meet Rally Cat
Regardless of sparse attendance, UVM pulled out all the stops. Rally Cat made several appearances, including coming up to hug and high five our kids between time-outs (except for Ruby, who only likes Rally Cat from afar). Music and lights blared every time UVM scored, and a few fans waved school flags and cheered loudly. This was the first time we took our kids to a live hockey game, and it didn't take long for them to really get into the spirit. Despite her short attention span, Ruby managed to understand some basics about the game and get her proper cheer on. She was more entertained by the Zamboni machine that resurfaced the ice between periods. Got antsy kids? Send them down to the edge of the rink to look for snow and ice that has been pushed out. Ruby was obsessed with finding bits of snow and crushing them in her bare hand. Because the stadium was far from full, the kids were able to move to different seats each period to get a different view. We also could easily explore the fieldhouse. On the second floor near the bathrooms, the kids discovered the UVM Hockey Hall of Honor, a long wall filled with pictures of well-decorated hockey alums. In another wing we found a table for Rally's Round Up, UVM Athletics' official kids club. Kids under 12 can sign up to get free game tickets, locker room tours, a gift bag, and opportunities to meet athletes and coaches.
The women's team beat Dartmouth 4-2 that evening, and the game ended right before bedtime, which was an added bonus. I reminded my newly minted middle school son that these women are students, like him, and they were probably headed home to do homework or catch up on a project. I could see the wheels turning in his head that someday in the near future he, too, could be like these athletes in college if he continues his die-hard interest in soccer.
It's easy to think of the UVM campus as an isolated "for college students only" place. But women's hockey is a gem that provides entertainment for all ages and fosters a bond between the school and its community.
Know Before You Go
The UVM women's hockey regular season runs through Feb. 22. While the rink is indoors, it can still be chilly. Coats, hats and gloves make spectating more comfortable. Tickets cost $5 for adults, $3 for kids and $2 each if purchased for a group of 10 or more. All are general admission. Learn more at uvmathletics.com/sportswomens-ice-hockey.
UVM Women's Hockey, Gutterson Fieldhouse, 97 Spear Street, Burlington