When it comes to getting to New York City from Vermont, I've done it all: Amtrak, JetBlue, Greyhound, car. The trip is always a drag. So I was psyched when I heard megabus, the no-frills bus service famous for offering $1 fares, was coming to Burlington in early April. It would still be six mind-numbing hours on the New York State Thruway, but at least it would be cheap!
Before booking a trip — $18 each way — I check my other options. Round trip on Amtrak: more than $140, and you have to drive to Rutland first. JetBlue: $195 round trip, plus a long train ride to and from JFK. Driving is never as fun as you think it's going to be, and it's growing more expensive as gas prices skyrocket.
Why is the megabus so cheap? The service, which launched in 2006 and now hits 70 cities in the U.S. and Canada, doesn't have stations, ticket booths or attendants. If you want a ticket, you have to buy online. The further in advance you buy your ticket, the cheaper it is.
megabus may also be the most convenient option, at least in the Burlington area: It departs from outside the University of Vermont's Royall Tyler Theatre twice a day, every day.
Too good to be true? I decided to find out.
******
I arrive at the steps of the theater about 15 minutes early for the 4:30 p.m. bus. A small crowd has gathered, and I spot a young woman sitting alone, a yoga mat slung over her shoulder. I ask her if I'm in the right place.
She quickly takes me under her wing. A 27-year-old megabus frequenter, she's been driving down to Albany to catch the bus to New York for a few years now. We introduce ourselves. Her name is oddly appropriate for the occasion: Journey.
Journey tells me she bought her tickets as soon as she found out megabus was coming to Burlington. She spent $1 each way. "I feel like I won the lottery," she says.
We find a spot near the curb to wait. If we're the first ones on board, we can get the best seats (as far as possible from the dank bathroom). If it's a double-decker, Journey says, we should head upstairs and grab the front-row seats, so we can watch the road unfurl in front of us.
(I later learn that in 2010, a double-decker megabus took a wrong turn off the highway near Syracuse and plowed into a low railway bridge, killing four passengers in those coveted front-row upper-deck seats.)
It's past 4:30, and there's no sign of a bus. So Journey and I get acquainted. She teaches art at elementary schools in Essex and Brookfield and is headed to New York for a daylong yoga conference.
Fifteen minutes later, there's still no bus. "That's the other thing about megabus," says my companion. "There's no explanation; no one knows what's going on."
People are beginning to get antsy, so when a couple of UVM guys ride by on a bicycle built for two, honking their horn and shouting, "We're the megabus!" everybody laughs.
"I think people actually deal with it better if there's no attendant," says Journey. "Because what are they going to do, complain?"
The bus finally pulls up at about 5:05. By then, a line has formed, and thanks to my seasoned new friend, we're at the front of it. There are no tickets, so the bus driver glances quickly at our phones and printed-out receipts, and we climb aboard. It's not a double-decker, but we get the front seat anyway.
Our driver doesn't mince words. "My name's Tim," he says after shutting the door. "No smoking on the bus. If anybody's gonna be sick, let me know." He's new to this gig, and it's kind of endearing — even though he forgets to flip the switch that activates both the free Wi-Fi and the overhead reading lights until halfway through the trip.
Tim passes around a clipboard so we can check off our reservation numbers. "Isn't that his job?" a girl whines loudly, and then we're off.
"I'd never heard of megabus until they came here," Tim tells Journey and me once we get moving. He was on National Guard active duty for three years in Underhill before taking a job making deliveries for Black River Produce. Now he makes the round trip to New York three times a week.
I make it about an hour and a half before I realize I have no choice: I'm going to have to brave the toilet.
Fumbling for a light, I press what turns out to be an emergency-call button several times before noticing that the light comes on automatically when you lock the door. Luckily (I guess?), nobody responds to the emergency call.
I wad up some toilet paper and use it to lift the seat cover. Underneath is a towering mountain of peed-upon toilet paper. There is no way to sit on that seat without making contact with the filthy mound. The bus is rocking back and forth, knocking me off balance. I hold my nose and squat — then discover the hand-sanitizer dispenser is kicked.
We arrive in Saratoga Springs, our one stop, at dusk. Megabus makes all its stops curbside, and I assume we'll stop somewhere downtown — or at a gas station, like most buses do. But we pull into the Saratoga Casino and Raceway. From the bus windows I can see horses galloping around the track, trailing jockeys in tiny chariots.
I've never been to a casino, so I'm really excited. The Saratoga passengers waiting on the curb to catch our bus are not. "We're already an hour late, and we have connections to make!" one woman bitches when driver Tim announces we'll reboard the bus in 10 minutes.
Aching to stretch our legs, many of us stream into the casino. It's a Thursday night, and the place is abuzz with gamblers making bets at computers, dudes lurking at a brightly lit bar and women munching on popcorn. In the bathroom, one woman sits alone on a settee, all dolled up in a tight, shiny dress and stripper heels. My fellow passengers let out sighs of relief. "I was just facing the very real threat that I would have to use that toilet again," one confides.
On the way out, we gawk at the casino-goers. "That's the most depressing shit I've ever seen," says another megabus rider when we get outside. She should see the place when we stop on my return trip — which is otherwise uneventful and perfectly punctual — on Sunday morning: slot machines overrun with stone-faced, gray-haired gamblers; people with walkers hobbling through the flashing lights; others sitting alone in the food court, chewing gummy pizza.
We're back on the bus, at least an hour behind schedule. The Wi-Fi is finally working, but the signal isn't strong enough for Journey to download the third Hunger Games e-book. So we engage in good old-fashioned conversation, which, like the casino, turns out to be an unexpected megabus perk. We talk about our careers and families and love lives. She hazards a guess at my astrological reading.
When I realize we're going to arrive in the city too late to catch the commuter train to my parents' place in New Jersey, as I planned, Journey offers to put me up at her aunt and uncle's apartment in SoHo.
"Are you sure?" I ask, hesitant to spend the night with a stranger — but, after six hours on this bus, it feels like I've known her forever.
"Totally," she says.
Around midnight — an hour and a half behind schedule, and after a few harried minutes in which Tim tries to navigate the bus down from the curb it has jumped on the Triborough Bridge — he drops us on the corner of 28th Street and Seventh Avenue. Journey and I split a cab and head downtown, where we land on a cobblestone street lined with high-end shops. Oh, man, I think, this place is going to be incredible.
And it is, but not in the way I'm expecting. The door is more of a metal barricade. We file into a freight elevator, which only has two walls. I stand against one of them, and we watch the stories sink beneath us as we rise to the top floor. Journey pushes open another metal door, and we step into a real artist loft — a slice of New York City history, spared from gentrification by a city proviso that preserves lofts for working artists.
Her aunt and uncle moved in 30-odd years ago, when SoHo was teeming with industrial artist lofts and squats, back in the gritty New York City I've only seen in the movies. No way I would have seen this if I'd taken JetBlue.
Journey crashes on the couch; I take the floor beside a gurgling fish tank.
In the morning, we say good-bye at the subway. "That was fun," Journey says. "It felt like we were traveling!"
Exactly. The megabus may be a bit stinky, sometimes late and kind of dysfunctional. But it lends itself to making friends and breaking routine.
I head off into the city that morning, noticing all the things that travelers notice: the height of the buildings, the smile on the guy playing steel drum on the subway platform, how far I am from Vermont.
And, for $36 round trip, I've got money left to spend like a tourist, too.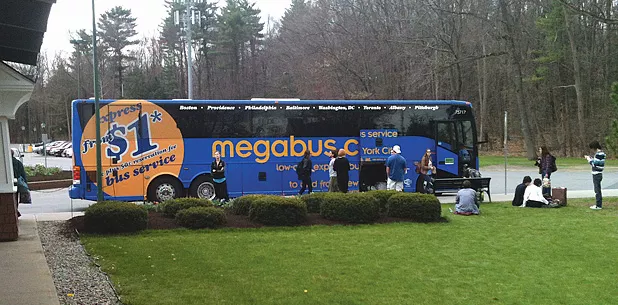 The megabus stopped at Saratoga Casino and Raceway