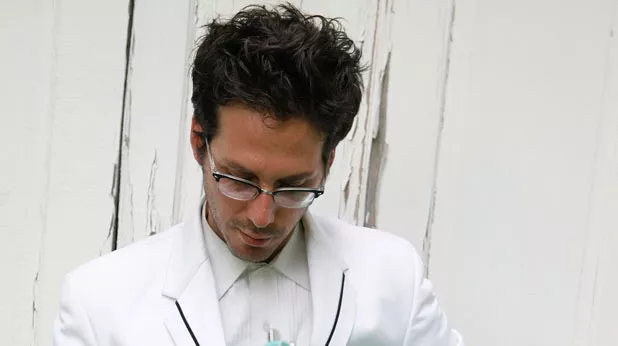 Since its inception in the late 1990s, Clem Snide always seemed like a band on the verge of breaking out. But for one reason or another — perhaps they were a little too smart or quirky for mainstream audiences — they never did. They even split up for a few years before reuniting in 2009.
But the music industry Clem Snide returned to was very different from the one they had left behind. It's no secret that the internet has changed the way fans consume music. It has also changed the way artists deliver it. Clem Snide, and especially the band's charismatic front man, Eef Barzelay, have proven to be exceptionally savvy in that regard. Barzelay has experimented with a variety of fundraising tools, from the now standard Kickstarter campaign to more creative ventures, such as writing personalized songs based on ideas and stories from fans — for a modest fee. As a result, Barzelay and Clem Snide are as vital, and prolific, as ever.
In advance of a benefit show for the Cystic Fibrosis Foundation at the Bird's Nest Bistro in Warren this Friday, July 19, Seven Days chatted with Barzelay by phone from his home in New York City.
SEVEN DAYS: You seem to have embraced the new model of fan-sourced fundraising. What are your thoughts on the ways artists have been forced to sustain themselves recently?
EEF BARZELAY: I was one of many artists who got into the business at a bad time, right as the party was kind of winding down in the late 1990s. Clem Snide had our moment, but we mishandled it and never quite achieved a level of profitability that allows you to sustain a full band, or whatever labels' interests there were. So for me, it all came crumbling down about four years ago. I was forced to come up with a new way to do it. And it just so happens that the internet, which destroyed the old model, was also creating opportunities for a new way to do it. So I've tried to come up with more sustainable and satisfying ways than waiting around for some head of a label to maybe throw money at us. And it's been great. It's kind of saved my skinny ass.
SD: One of the ways you've done that is by writing songs based on stories fans send to you. How did that idea come about?
EB: I like the idea of writing as other people. I find it very liberating and very inspiring to step into someone else's life or brain or heart. So I started reaching out to fans with an offer to write them a personal song, and it just kind of grew.
SD: I actually had an idea for a song I've been meaning to send to you. An old band of mine was supposed to open for Clem Snide here a few years ago. But there was a blizzard, and you couldn't make it. Meanwhile, Crash Test Dummies, who played the club the previous night, were stranded here. So we ended up playing with them instead, which was pretty surreal.
EB: [Laughs] Wow. What were they like?
SD: Well, they're Canadian, so they were really friendly. They did an all-request show, so I requested "Jingle Bells" from their Christmas album. And then their lead singer called me an asshole from the stage. I think he was joking, though.
EB: Last Christmas I threw myself into Christmas tunes. They're fun as hell to play. And "Jingle Bells" is, especially. I woulda done it, is my point.
SD: Oh, they played it. Their version is in a minor key, actually.
EB: They modernized it. That's cool.
SD: Speaking of covers, that's another way you've employed the fan-sourcing model, recording cover requests from fans, and usually twisting them around a bit. Are there any songs that are too sacrosanct for you to mess with?
EB: No, there's nothing I won't do out of deep respect. But there are some songs that I just can't do, that I can't pull off. "Don't Fear the Reaper," I couldn't do it. I failed you. And any kind of Beach Boys, I can't do. But to me, all songs are equal. I don't distinguish between [Christina] Aguilera and Velvet Underground. All songs are equal, so I don't put any songs on pedestals. I'll get my dirty hands all over it. I'll molest any song.
SD: You've said in previous interviews that you approach them with almost a lack of respect.
EB: Well, I try not to respect the original too much. I think that's what a lot of people do with covers — they immediately try to follow the original. But if you don't start from that perspective, it's very helpful. I work just from the chords and lyrics. Then sometimes I'll change the key, or even the melody, a little bit. I'll have my way with it.
SD: I'd say that's why your covers, like "Don't Stop Believing," really just kind of sound like Clem Snide songs, which is what I love about them.
EB: If you whittle a song down to just its basic melody and words, that's what a song is. I try to strip it down and work from there. I could never sing like Steve Perry, so I do it my way.
SD: Did you know that Wikipedia has you listed as an alt-country band?
EB: [Chuckles] That was a label that was sort of affixed to us early on, and I guess it sort of made sense at the time. At one point we tried to change it to "art-country," but somehow that never stuck.
SD: Clem Snide songs are often very funny. Can you talk about the role of humor in your writing?
EB: I just write what feels right to me. At some point things became polarized. Either you were sincere like Radiohead, with mumbled profundities. Or you were like Ween. There was no in between. I try to disregard all that. If you're in a painful, dark place, you make jokes, right? That's how people respond to bad things. So why limit yourself? You can have silly sorrow. I just like to mix things that don't seem like they belong together.
The original print version of this article was headlined "Saved By the Internet"