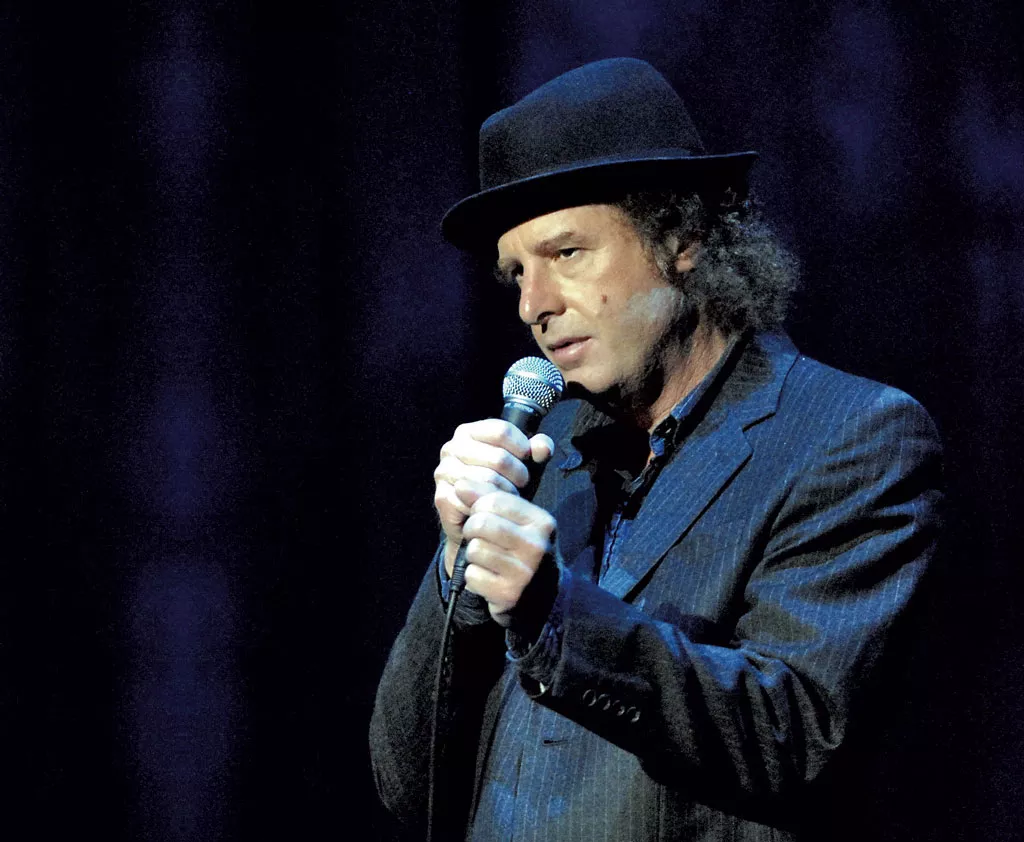 A good Steven Wright joke has exquisite efficiency. Coupled with the standup comedian's sleepy, deadpan delivery, the delicious irony of lines such as, "You can't have everything. Where would you put it?" and "I have a seashell collection. I keep it scattered on beaches all over the world" have a way of sneaking up on you. His jokes are typically simple, often absurd and almost always hilarious.
Wright, 58, has been a working standup since 1979. As with many comedians of the era, his popularity soared after being on "The Tonight Show Starring Johnny Carson" in 1982. He went on to release a Grammy-nominated comedy album, I Have a Pony, in 1985, which led to an HBO special and frequent appearances in TV and film. One of his signature roles was as the voice of the radio DJ in Quentin Tarantino's Reservoir Dogs.
Wright is now widely regarded as one of the finest standups of his generation. His unique style has influenced countless comics since, perhaps most notably Demetri Martin and the late Mitch Hedberg. Wright is a successful writer, actor and producer, but he's at his wonderfully weird best onstage. So the audience is sure to discover when he performs at the Barre Opera House this Saturday, November 8.
In advance of that performance, Seven Days spoke with Wright by phone to talk about his career and advice for young comics ... and to settle an old bet.
SEVEN DAYS: Your style is so distinctive. And especially when you were first starting, there wasn't anyone doing comedy quite like it. How did you develop your style?
STEVEN WRIGHT: It just happened. There was never a decision about whether something was a certain style or if it was different. All it was was, I wrote things down that I thought were funny and that the audience might laugh at. They were abstract one-line jokes. And how I talk is just how I talk. And it was even more exaggerated onstage. I was so serious, because I was trying to remember my act, what was coming next. So I had a very straight face. I was very lucky that it all rolled together by accident. It was very innocent: Maybe they'll laugh at this!
SD: Who were some of your bigger influences?
SW: George Carlin. He talked about small-time, everyday things. And that's what I ended up doing, too. He'd talk about a staple, or some little thing in life.
Woody Allen made a double comedy album before he did movies. I was doing a radio show in Boston at the time and listened to many, many comedy albums. And I liked how he wrote a joke the best.
SD: Given that your act was so different, did you ever feel that the audience was hesitant to embrace it when you started doing comedy?
SW: No. It's interesting. I got three minutes the first time at an open mic. They laughed at some stuff and didn't laugh at other stuff. I kept going back to the open mic, and some stuff worked and some stuff didn't. Even now when I try new jokes, it's the same: Sometimes it works, sometimes it doesn't.
But I know what you mean. I don't think anyone cared about style. It just mattered if it was funny.
SD: Here in Burlington, the comedy scene has really started to develop. In the last couple of years, especially, we've had hundreds of new people trying comedy. Quite a few of those people have stuck with it and become promising young comedians. What advice would you give them?
SW: That's very cool. I would say to go onstage as much as you can. That's how you learn. The thing is that you're the teacher and the student at the same time. You really have to teach yourself how to do it, because performing is different than just thinking about jokes. When you're onstage, it's a different world.
The other thing I would say is not to try out jokes on your friends. A one-on-one dynamic is not the same as you in front of 30 or 50 people. It's not a good test. When I started, I would try jokes on my girlfriend, and if she didn't like them I wouldn't do them. Then one night I did some of the jokes she didn't like and they worked. Even now, if I tell a joke that works onstage to someone I know, they might not laugh. It's very different. So whatever you write down that you think is funny, try it on the audience. Trust the audience, not your friends.
SD: Johnny Carson was really important in helping to launch your career. What was your relationship with him like?
SW: He affected me twice. The first time was watching him when I was 15. That's when I thought I wanted to be a standup comedian. Watching his monologues and the comedians he'd have on — Carlin, Richard Pryor. And I thought, Wow. Wouldn't it be great to be one of those guys? It changed my whole life.
When I was on the show, I would talk to him during the commercials. He was kind. He would ask you what you were doing. You felt a connection with him, even though you were the lowest part of the totem pole. You could tell he was a standup and you were a standup. The way he'd talk to you, it was like you were in the same club. That was very inspiring. It was very genuine.
SD: You're at a point in your career where you have influenced a new generation of comedians. Is that something you ever think about?
SW: I started noticing about 15 years ago that I'd be watching TV and see some guy come out and do jokes that were like my style. I thought it was interesting.
I started when I was 23. And from the beginning, you're writing something, you're testing it out, seeing what works, doing your act. That has never stopped, straight through to what I'm doing now. So in the '80s and '90s, when I was on TV a lot, that's still what I was doing. I wasn't thinking, Oh, there's a 15-year-old kid in some house somewhere and he's gonna do comedy in seven years. Of course I wasn't thinking about that. But now that I know that that happened, it's like, Well, that's what happened to me when I watched Carlin and listened to Woody Allen. They influenced me and now I've influenced these people. It's weird, because to me, I'm just me. I'm used to it now, that I've affected people. But it's like an accidental thing.
SD: You were a "consulting producer" on Louis CK's show "Louie." But he rather famously has made that show virtually a one-man operation. He does everything from writing and directing to editing himself. He even owns the cameras. So what does a consulting producer do on a show like that?
SW: He writes every single word. But he would tell me the stories and I would just give him feedback, my opinion, on each episode. Then I would go to the shooting and we'd look at the monitor after and discuss what was funny or whether something worked or didn't. Then we'd go to the editing and discuss the editing. I basically gave him my opinion for each of those three steps.
It was amazing to me, because as a standup comedian, I do everything myself. It's all in my head. So it was fun to talk about comedy with another person, with a genius. The guy is a genius. His mind astounds me. So to discuss all these elements with this brilliant guy was a lot of fun. He's a writer and a standup and an actor and an editor. He could have a career in any one of those things. But he does all of them. He's unbelievable.
SD: Did you take anything away from that experience that you applied to your own work?
SW: I took away how focused he is. He's always going. Even though I've never lost interest in what I'm doing, it made me even more into what I was doing. It made me kind of jazzed up.
SD: I have a hard time picturing you jazzed up.
SW: [Laughs] I get that a lot.
SD: Last question: I need you to settle a very old bet. One of my favorite movies is So I Married an Axe Murderer. An old girlfriend and I used to watch it all the time and we always debated whether your scene as the pilot flying through the storm was scripted or improvised. I always thought it was the latter, but she believed it was scripted. So which is it?
SW: They let me make all my lines up. So you win!
SD: Nice! If we still talked to each other, she'd owe me dinner.
SW: [Laughs] That's hilarious. Glad I could help.
The original print version of this article was headlined "The Wright Stuff"