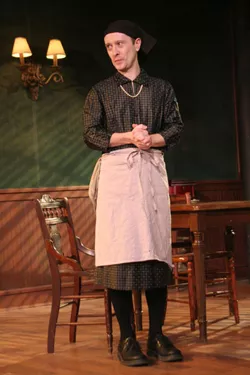 After the Berlin Wall fell in 1989, a colorful survivor of both the Nazis and the Communists emerged from the drab grays of East Berlin. Charlotte von Mahlsdorf was a plucky furniture fanatic who had built - literally with her own hands - a museum housing a vast, quirky collection. She preserved delicate artifacts and salvaged irreplaceable architectural elements while destruction and barbarism swept through her city. One horror followed the next: the liquidation of Jewish families and their possessions, World War II bombings, the Soviet Army occupation, then the systematic bulldozing of historic buildings during the Cold War.
Soft-spoken Charlotte navigated this unforgiving era living openly as a man in a dress. No makeup, no heels - just a shirtwaist, apron, pearls and sensible shoes. She was, nonetheless, a gay male transvestite who cultivated her passion for preservation while surviving under repressive totalitarian regimes.
News of Charlotte's story electrified New York playwright Doug Wright. He rushed to Berlin to visit her and persuade her to be the subject of a play. She agreed and sat for a series of interviews at her museum, where she also lived. But the process of capturing Charlotte's life turned into a tortured one for Wright when the archives of the East German secret police opened. Her Stasi file posed uncomfortable questions. Picking his way through Charlotte's complex background became a delicate pas de deux between the playwright and his muse, between history's elusive facts and memory's shifting perceptions.
Wright charted this choreography in a stunning one-man play, I Am My Own Wife, which earned him both the Pulitzer Prize for Drama and the Tony Award for Best Play in 2004. The Vermont Stage Company's current production, starring the gifted Andrew Sellon, lives up to Charlotte's memory: It's vibrant, elegant and just a bit cheeky. Director Sarah Lampert Hoover has grasped the pivotal question: Is Wright's search for truth about the journey or the destination?
Even as a boy, Lothar Berfelde knew he was a girl. Most of his family accepted his eccentricities, including an early fascination with collecting out-of-fashion 19th-century furniture. His masculine aunt Louise caught him trying on women's clothes one day. "Did you know that nature has dared to play a joke on us?" she asked. "You should've been born a girl, and I should've been a man!" She helped Lothar understand what it meant to be a transvestite: that it was an inborn instinct.
Lothar's courage and self-acceptance grew after he confronted and overcame evil during World War II's darkest days. As a young teen, he became self-reliant, clever and audacious, facing painful circumstances that others wanted to deny. He saved Jewish composers' records by pasting on fake labels for "Aryan polkas and waltzes." He rid the family of his brutal father and survived encounters with desperate Nazi soldiers. And, as the material world disintegrated around him, Lothar continued to rescue and collect pretty things: clocks, gramophones and especially furniture from a period called the Gründerzeit, Germany's early industrial age.
In I Am My Own Wife, the playwright interviewing his subject is the framing device for telling Charlotte's story on stage. As the character Doug returns again and again to Berlin, Charlotte reveals progressively more traumatic secrets and Doug asks more disturbing questions, prompted by what he learns from the Stasi file. Was Charlotte protecting her friends - fellow collectors and homosexuals - or spying on them? The international press and the German public, who had lauded Charlotte, begin to question her as well. Collaborator - the unspoken accusation is the post-Cold War's dirtiest slur.
Doug can't bear to believe that his heroine might have feet of clay. But Charlotte, as a connoisseur of antiques, knows the intrinsic value of imperfect original surfaces. She cautions Doug against refinishing the damaged past. "You must show it," she says emphatically, "'as is.' It is a record, yes? Of living. Of lives."
I Am My Own Wife calls for one actor to play 35 characters and conjure a virtuosic range of accents and emotions - all while wearing a dress. Andrew Sellon excelled at every aspect of the demanding role. He played Charlotte with subtle feminine grace, never resorting to campy, drag-queen clichés. Refinement characterized her gestures and speech. Sellon's eyes remained demure as Charlotte, relinquishing their shyness only when they widened with passion for a particularly vivid, often furniture-related, memory.
Charlotte switches frequently between English and her native tongue. Sellon's German - and the Teutonic tinge to the Frau's slightly fractured English - was nearly flawless. Dialect coach Gillian Lane-Plescia deserves credit for the assist.
Vocal shifts - changes in pitch, volume and tone, as well as accent - offered a way for Sellon to move between characters without changing costumes. Charlotte's voice was higher, softer and more measured than that of eager-beaver New Yorker Doug, whose fast-paced speech bubbled with enthusiasm. Sellon delivered journalist John Marks' Texas twang with a newsman's This-Just-In urgency. He reserved the deepest timbre for Lothar's nasty father. The audience was pin-drop quiet during the father-son confrontation. Sometimes it was hard to remember that the palpable presence of every character came from just one actor.
Director Lampert Hoover has experience with this format - she directed a wonderful one-woman The Syringa Tree at VSC last year. Here, she helped Sellon delineate characters with her physical staging of scenes. Like a skater whose routine uses every inch of the ice, Sellon took advantage of every part of the stage. The most important interaction is the back-and-forth between Doug and Charlotte during interviews. Lampert Hoover's direction emphasized their physical ebb and flow across the set as the emotional stakes between them intensified.
Caleb Jon Magoon's expert lighting provided a wealth of tools for conveying shifts of time, place and character. It meant, for example, that Sellon could turn a simple bench, laid diagonally at one corner of the stage, into collector Alfred Kirschner's cold prison cell. The Texan Marks always spoke from beneath an overhead spotlight, which brought out a rugged edge in Sellon's jaw line.
Outstanding production elements placed Charlotte in the polished surroundings she would have appreciated - and insisted on - while they also supported Sellon's remarkable performance. Scenic designer Jeff Modereger furnished the set with intricate period pieces, such as an Edison gramophone with a large wooden horn. The warm cherry tones of the furniture and stage floor nicely offset Charlotte's soft black and dark-gray dress. A forest-green scrim sectioned off a back room packed with more antiques - a visual metaphor for Charlotte's cluttered past.
The complications of Charlotte's stories nearly prevented Doug Wright from penning I Am My Own Wife. In a lengthy introduction to the published play, he reveals that the breakthrough came when he abandoned the idea of being Charlotte's biographer and began to see himself as the curator of the museum of her mind. Wright realized that, like Charlotte, he was a collector - not of things but of stories. And that perhaps the most intriguing story was that of how two collectors from such different backgrounds came together.
Wright initially feared that inserting himself as a character in his own play might be "the most flagrant act of narcissism a writer could commit," he writes. But storytellers have been hanging around the edges of their own tales since Homer first started reciting rhymes. With I Am My Own Wife, Wright proves that, from time to time, it's not bad to show a little more bard.
Related story: Director Sara Lampert Hoover also directed The Syringa Tree for VSC in 2006. Read Lisa Crean's review of that show, from the March 8, 2006 edition of Seven Days.