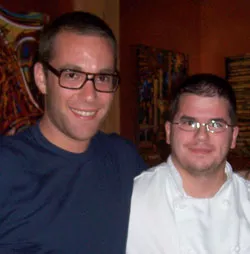 Ilan Hall, left with Donald Cobb at Taste
Since the Flying Pig relocated to Shelburne, the Charlotte spot formerly occupied by the indie bookstore has been mournfully empty. Before the end of the year, however, the Ferry Road space will most likely be reincarnated as a place to buy quality prepared foods and locally produced goodies. "We're not going to be allowed seating," explains owner Rick Benson, also chef-owner of Burlington's Taste." Zoning restrictions don't allow a kitchen, either, so all of the cooking will be done back at his B-town locale.
Benson, who used to work at the now-defunct Net Result, sees a need for high-quality fruits de mer and the sides to go with 'em. But the dishes won't be strictly seafood. "We'll have big blocks of cheese. We're gonna cut steaks to order . . . There's an acre plot behind the place, so we're hoping to do vegetables and flowers for the store and for Taste," he relates.
Why Charlotte? Benson believes the affluent village could use an infusion of high-quality food. "There really isn't much commercially zoned down there." The former Flying Pig "is the first building off of Route 7," he notes. Folks fresh off the ferry drive by, too.
Focusing on a new, and as yet unnamed, biz hasn't kept Benson from upping the ante at Taste. The waterfront eatery now has "lounge nights" on Sunday, featuring live music and a casual menu with homey items such as steak sandwiches and "duck fingers." There are also frequent tasting dinners. The next one takes place this Wednesday, October 24.
Benson must be doing something right. On October 18, Bravo's "Top Chef" winner Ilan Hall dined at Taste with his girlfriend's family. According to Benson, who doesn't watch the show, "The table of six UVM girls next to his group gave him the full rock-star treatment, complete with giggles and screams." The 24-year-old former line cook is about to open his own 30-seat restaurant in Greenwich Village.