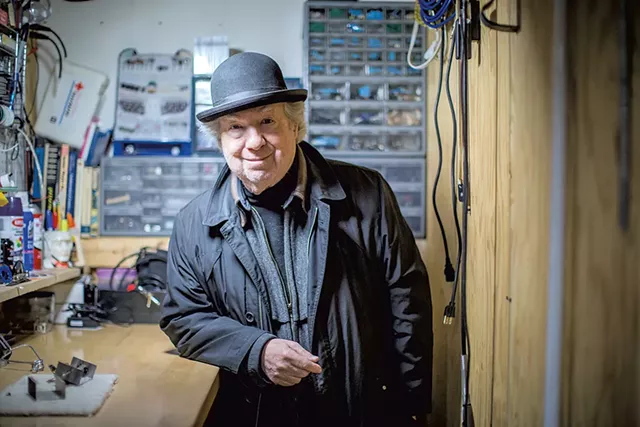 Luke Awtry
Charlie Morrow
Where are you reading this story right now? Perhaps you're in a bustling coffee shop or cozied up on the couch by a woodstove with a warm cup of tea. Wherever you are, stop reading and close your eyes. Take a few deep, relaxing breaths and just listen. What do you hear?
At a coffee shop, you'll probably catch the whir of baristas foaming milk or the buzz of an espresso grinder, snippets of conversation from nearby tables and the clink of spoons in mugs. In the hygge-inducing environs of home — depending on where you live and with whom — the only sound might be a crackling fire.
For most of us, background noises are just that: in the background. But the sounds that surround us play a crucial role in how we relate to and navigate the world. They add layers of richness and depth. And, manipulated by the right hands — or, perhaps more accurately, the right ears — ambient noise can be used to enhance experiences, manipulate feelings, inspire deeper understanding or provoke curiosity. Sometimes all at once.
"We're born blind," says Charlie Morrow, a sound artist who splits his time between Barton, Vt., and Helsinki, Finland, where he lives with his wife. "So sound is the first sense we experience when we're born, and, because of that, sound has the power to profoundly impact how we relate and react to the world."
Morrow, 76, is the founder of MorrowSound, a multinational company that specializes in 3D sound installations using the MorrowSound Cube, a high-tech speaker system that represents a dynamic evolution of surround sound. While surround sound projects in 360 degrees but on one plane, Morrow's system projects spatially from any direction: left, right, up or down.
"What we do is present sound in a way that mimics how we actually hear and process sound," he explains.
The MorrowSound Cube uses eight speakers — one for each corner of the cube. There are typically four speakers at floor level and four overhead. Cubes can be combined as building blocks to fit in spaces of virtually any size or shape.
Morrow has received two patents for the system's software, which he developed himself and which enables him and his team of programmers and audio designers to manipulate the projection of sound with unprecedented control and precision. The result is a vivid listening experience that can be used to bring stunningly realistic effects to almost any setting.
At the Vermont Tech Jam in Essex Junction last October, Morrow demonstrated the capabilities of his system. At one point, he sent the sound of a roaring motorcycle racing through the cavernous Champlain Valley Exposition. It was so realistic that more than one attendee glanced at the front doors to see if a Ducati were speeding past.
Morrow's technology can also be used to mask sounds. Stepping into the MorrowSound booth at the Tech Jam, visitors were enveloped in a shroud of forest noises — chirping birds, rustling leaves and babbling brooks — that blocked out the cacophony of the rest of the convention.
"There's a way that we can move sounds around a space but also a way to make the space feel different, either bigger or smaller or just transported," Willie Fastenow recently told PC Magazine in a story about Morrow's technology. Fastenow is the principal and owner of Park Boulevard Productions, an events company that partners with MorrowSound to put the tech in practice. "Half of it is the technology, and half of it is the content and how that content is applied," he added.
Since 2002, MorrowSound has crafted immersive sonic environments in 40-plus locations around the world, including retail stores, museums, hospitals, planetariums and other public spaces.
For an exhibition at the Smithsonian National Museum of Natural History in Washington, D.C., Morrow and his global team of designers and sound engineers plunged museumgoers into the depths of the Arctic Ocean to visit narwhals. They used recordings taken from above and below the ocean surface, including the sounds of cracking ice and whale song. At Planetarium Wolfsburg in Wolfsburg, Germany, MorrowSound installed a massive, state-of-the-art sound system that gives visitors the impression of rocketing across the universe.
Update Required
To play the media you will need to either update your browser to a recent version or update your
Flash plugin
.
In Rio de Janeiro, a MorrowSound soundscape adds vivid realism to a shopping mall thrill ride that involves evading sea monsters in a virtual submarine. In Lincolnshire, England, Morrow conjured the centuries-past sonic environs of the dungeons beneath Lincoln Castle. When Microsoft celebrated the release of Windows 8 in 2012 by building Mictropolis, a 160-foot-long model of New York City in Manhattan, Morrow created distinctive soundscapes for each of the miniature city's five boroughs using sounds taken from their real-life counterparts.
Lincoln Castle - Charlie Morrow
Update Required
To play the media you will need to either update your browser to a recent version or update your
Flash plugin
.
"He puts you in a space that makes you feel like you're there," says Ashley Gilliam. While working as a senior interior designer for the Minneapolis-based firm Cuningham Group, she collaborated with Morrow on an installation for a Kaiser Permanente health hub in Santa Monica, Calif.
Kaiser Permanente Health Hub - Charlie Morrow
Update Required
To play the media you will need to either update your browser to a recent version or update your
Flash plugin
.
The medical office's waiting area was designed to evoke nearby Palisades Park, a long, narrow park on a bluff overlooking the Pacific Ocean. MorrowSound was brought on to infuse the illusion with realism by re-creating the park's sonic atmosphere. Think singing birds overhead and crashing waves hundreds of feet below; passing joggers and traffic on Ocean Boulevard. If you were to close your eyes and listen, you might believe you were sitting on a park bench by the ocean instead of in a doctor's waiting room.
"That's the magic Charlie creates," says Gilliam. "You truly get to experience something that you wouldn't otherwise."
When wearing the signature black bowler hat that often tops his round face, Morrow almost looks like a René Magritte painting come to life. And there's a certain surrealism to what he does. Where the Belgian painter famously juxtaposed ordinary objects with extraordinary settings, Morrow uses ordinary sounds to create extraordinary environments — often, as in the case of the Santa Monica waiting room, in places where you'd least expect them.
Finding the Beat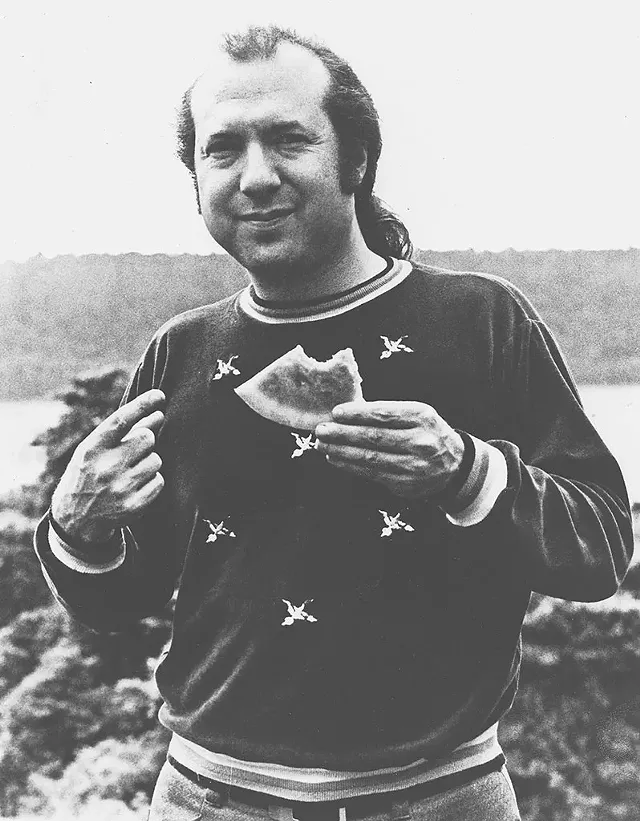 Courtesy Of Charlie Morrow
Charlie Morrow in 1977
Morrow's pathway to his current high-tech commercial endeavors threads through some of the most interesting and important developments in American art, music and poetry in the last 50 years.
"I was educated by good fortune," says Morrow from his Barton home, where he's lived since 2006.
Morrow is a self-professed workaholic, which helps explain the prolificacy of his career in sound. Born to psychiatrist parents in Newark, N.J., he credits them for his hyper-driven work ethic and artistic nature.
"They were very professional people and serious about their work," says Morrow. "My dad wouldn't leave his office until he was done with his reports, because then his mind was free. Those are lessons I learned from my parents that were extraordinary. They had very good ways of coping with life."
Art was one of those coping mechanisms. Morrow's father was an amateur filmmaker; his mother was a painter. Morrow gravitated toward music at a young age, first playing piano, then focusing on trumpet.
"I knew the pleasure they got from their creative lives," he says of his parents. "It was the thing that they lived to do."
Most kids rebel against their parents in one way or another, and the children of psychiatrists are no exception. "They often say that psychiatrists' kids are the ones who need the most help," notes Morrow. "I was going to go to medical school, but I took a left turn into music and sound. I made the invidious choice to go the other way and make the artwork my support."
In 1958, Morrow entered Columbia College in NYC, where he studied chemistry and music. He increasingly found himself more drawn to the latter, in part because of the scholastic and extracurricular connections he was making.
Most notably, Morrow studied under renowned ethnomusicologist Willard Rhodes. He also befriended a skinny young singer named Art Garfunkel. And he palled around with a bright young Beat poet named Allen Ginsberg.
"He was a very pleasant person to be with," says Morrow of Ginsberg. "He was a relaxed guy and seemed to be happy in himself. I enjoyed working with him because he was very positive. He was a funny and personable showman."
Microtropolis - Charlie Morrow
Update Required
To play the media you will need to either update your browser to a recent version or update your
Flash plugin
.
Morrow recalls that Ginsberg would often have audience members chant Morrow's name when they played concerts together — Ginsberg reading poetry, Morrow accompanying on trumpet. "He was already, at that point, a very famous guy," Morrow says. In the 1960s, Ginsberg was a titan of NYC's Beat poetry scene — "and that put me smack into the middle of it."
Morrow found himself moving away from traditional jazz and band music and toward his own often-heady compositions. He quickly became immersed in the city's avant-garde scene, particularly where poetry and world music intersected. Ethnomusicologist Rhodes was especially influential on Morrow at this time.
"He was a terrific inspiration, because the Beat scene was tied up into the world poetry scene," Morrow explains. "The mantras, the taking on and blending of Indian cultures, American Indian cultures — a lot of it was the blending of cultures."
But another Columbia teacher would prove to be Morrow's most important mentor and frequent collaborator: poet Jerome Rothenberg.
"The two of us were always able to inspire each other," recalls Morrow, who collaborated with Rothenberg on hundreds of projects. "He had words, and I had music."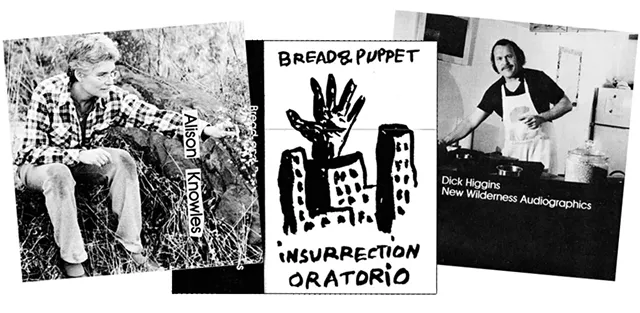 Courtesy Of Charlie Morrow
Album covers from New Wilderness Audiographics
The two would forge a lifelong friendship and remain collaborators for decades, perhaps most significantly as cofounders of the New Wilderness Foundation. Through its recording arm, Audiographics Artists Cassettes, the nonprofit music and publishing collective produced dozens of works by poets, artists and musicians such as Dick Higgins and his wife, Alison Knowles, as well as Morrow himself.
Long before that collaboration took off, though, Morrow says, Rothenberg helped him find his own style as a performance artist. "More than anything, he helped me develop my more personal stuff," Morrow says. Specifically, Morrow began writing, producing and performing healing chants.
"When I started to use my voice and chanting, it was Rothenberg who encouraged me to use it as a performance. I don't know if I would have done it if he hadn't brought me into his audience," Morrow says. "In a very light way, he would lead me to different solutions."
Hefty Endeavors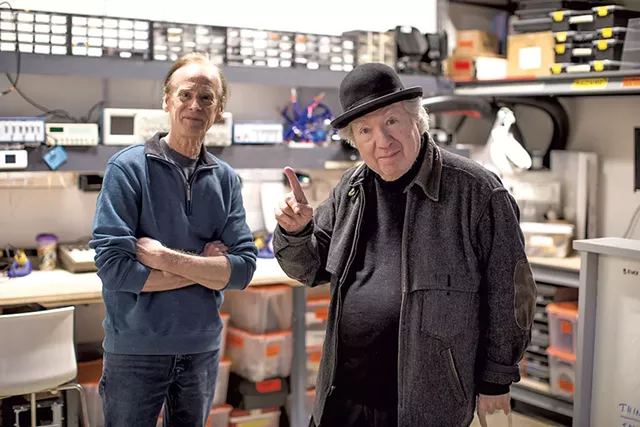 Luke Awtry
Jay Walbert and Charlie Morrow
While Morrow's artistic life in the 1960s was spiritually enriching, it was far from financially so. He rose to acclaim in NYC avant-garde circles, especially through collaborations with the experimental performance arts collective Fluxus, which counted Yoko Ono and John Cale among its members. But paying gigs were few and far between.
"There was no money coming from there at all," says Morrow. "That was the moment when I realized my mother was quite right: I needed to be in a field where people get paid."
In 1965, Morrow's mother introduced him to an advertising exec named Andy Mashberg, who in turn introduced the fledgling artist to the world of commercial jingle writing.
"He told me to get used to the fact that you're going to spend your whole life on the phone asking for appointments to show them your work," Morrow remembers. "He was right."
Mashberg was also right in predicting that a lucrative career in advertising awaited Morrow. The young musician became a sought-after composer for radio, TV and film. He especially took to jingle writing. Morrow worked on hundreds, if not thousands, of commercials and ad campaigns around the world over several decades as a commercial composer. You're probably familiar with his most famous work, the long-running "Hefty, hefty, hefty / Wimpy, wimpy, wimpy" jingle for Hefty trash bags.
Jingle writing may not have been the most artistically fulfilling work, but Morrow says he enjoyed it.
"I liked the fast turnaround of the business," he explains. "I spent two years in college writing one string quartet and vowed never to work like that again. It just got different; it never got any better."
What's more, Morrow's earnings from his commercial work made it possible to build and operate his personal recording studio. A gearhead since childhood, when he built ham radios, he says the studio was a natural extension of that hobby. He used it to record other artists — making all of the New Wilderness recordings there — and to pursue his own widely varied projects.
The latter included scoring an array of films, such as Okay Bill by John G. Avildsen — who went on to win an Oscar for directing Rocky — and Moonwalk One, a documentary about the 1969 moon landing that will have a rerelease this year for the 50th anniversary of that milestone.
Speaking of 1969, Morrow's studio was also used by Stan Goldstein and Wavy Gravy to mix the tapes from that year's Woodstock festival.
Luke Awtry
Charlie Morrow's signature hat
That wasn't Morrow's only brush with pop music. Owing in part to his affinity for world music, he was hired as an arranger for numerous pop acts, including Vanilla Fudge, the Rascals and Simon & Garfunkel. His most famous work undoubtedly appears on the last's "Scarborough Fair/Canticle." It was Morrow's idea to use chimes and harpsichord to tether the traditional song to its British Isles roots.
"The studio became a magnet," Morrow says.
So did he. Over the next several decades, Morrow would get involved with a staggering number of projects.
"It's really amazing what he's done in his lifetime," says Jay Walbert, 72. He's the curator of the Charlie Morrow Archives, which currently occupies Morrow's entire Barton basement plus an off-site storage container. The collection — which was even bigger until a recent flood wiped out a good chunk of it — contains hundreds of master tapes from Morrow's careers as a jingle writer, recording engineer, producer and artist.
The archives also hold countless pictures, show flyers and chapbooks from the Beat scene and the avant-garde and new-music scenes of the '70s and '80s. Stacks of copies of Ear Magazine, the new-music mag published by New Wilderness in the 1980s, occupy one corner. There are reams of correspondence with folks such as Knowles and Higgins, who moved to West Glover in the 1970s as part of the back-to-the-land movement. Morrow bought his Barton spread from Higgins.
"There's a lot of Charlie," says Walbert with a chuckle.
The archive also houses posters, writings and assorted tchotchkes from Morrow's side career as a multisensory event designer, a pursuit that would directly influence the development of MorrowSound.
Among Morrow's signature events was the Concert for Fish, a 1973 performance piece based on "fish language" that he staged in Long Island's Little Neck Bay. He later planned solstice events for NYC and other cities around the world. One of Morrow's more ambitious undertakings was Toot N Blink, a 1982 piece performed in Chicago by two fleets of ships on Lake Michigan, in honor of composer John Cage's 70th birthday.
Those events and others were "very much inspired by the idea that music is part of life, as opposed to really abstracted from life," Morrow says.
That same principle drives his work on soundscapes.
"At a certain point, I decided I would take my work outside the concert hall to create and be part of immersive environments," says Morrow. "Then I took the event idea and put it into 3D sound design to see if I could re-create that feeling, because I like to create little worlds."
The Art of Noise
Photos Courtesy Of Nationwide Children's Hospital
The Magic Forest at the Nationwide Children's Hospital
It is always spring at the Magic Forest. That's the waiting area at Nationwide Children's Hospital in Columbus, Ohio, and one of MorrowSound's signature projects.
"It's a wonderful sensory experience," says Alisa Pinciotti, a senior project manager at the hospital in charge of interior design enhancements.
The long hallway is lined with massive, three-dimensional trees and a colorful assortment of cartoonish animals that collectively give visitors the impression of wandering into a fairy-tale forest. While the visuals are undoubtedly appealing, especially in the typically sterile confines of a hospital, Pinciotti says the sounds of the forest are particularly magical.
Morrow and his team created a 365-day loop for the Magic Forest that features sounds of animals and weather typical of central Ohio.
Magic Forest and Aviary - Charlie Morrow
Update Required
To play the media you will need to either update your browser to a recent version or update your
Flash plugin
.
"When you walk through in the early morning, it's the dawn chorus; it's the birds that sing in the morning — cardinals and blue jays and geese," Pinciotti explains. "There's even a cow thrown in there."
At night, she continues, the birdsong gives way to crickets and whip-poor-wills. The loop is randomized, so that no two days are the same. One morning, you might hear a cardinal in the northern corner of the space. The next, it will have flown to a different part of the room.
"It's just this wonderful underlayer that you have to kind of be quiet to appreciate," says Pinciotti. "You might be having a cup of coffee and a conversation, and then you hear a flock of geese fly through. You'll hear the rain coming, and then it weaves through the space."
The Magic Forest is intended as a respite space for patients, their families and even staff. Pinciotti believes it works not only because of the technology but because of Morrow's dedication to the smallest details.
"He's an artist," she says. "He's wonderful to work with. His attention to detail is amazing and maddening at the same time, because he really wanted it to be perfect."
While creating the installation at the Kaiser Permanente health hub in Santa Monica, interior designer Gilliam went into the field with Morrow and his recording engineer to capture sounds in Palisades Park. She, too, was impressed by Morrow's creativity and insistence on realism.
"We wanted to make it authentic to what you would hear if you were at the park," Gilliam says. So, in addition to the sounds of birds and waves, they recorded snippets from a nearby farmers market. The weekly market is open on Wednesdays, and that's the only day of the week you'll hear it at the health hub.
"We really wanted to bring that level of detail into the design in order to make it so that, when people arrive, there is something familiar and pleasant about it that allows patients to decompress," says Gilliam.
"We're creating a sonic ecosystem," Morrow says. "It's about creating a sense of atmosphere so that, when you enter a space, the walls and the ceiling evaporate and you're transported to somewhere else entirely."