Kevin Mccallum
Nick Stanhope checking the status of one of Green Mountain Power's grid-level batteries
Any doubts that Jennifer Hannux had about the two pricey Tesla Powerwall batteries in her rural Hartland home drained away over the Halloween weekend.
Strong winds and flooding knocked out power to more than 100,000 Green Mountain Power customers, including those in her neighborhood. But the Hannux family's lights stayed on. So did their refrigerator. And their hot water heater.
"For a power outage, it was definitely a pretty pleasant one," Hannux said.
The lights also continued to burn for another 1,100 Green Mountain Power customers who otherwise would have been in the dark, because lithium-ion Powerwalls in their homes provided instant backup power.
The utility tells customers that a pair of Powerwalls can supply electricity to a typical home for up to 24 hours. During the most recent outage, some customers needed the systems only for a few hours until service was restored. The Hannux family, who cut back on usage and also tapped a portable generator to power some devices, drew on theirs for 55 hours. One GMP customer in South Royalton used a Powerwall for 82 hours, according to the utility.
GMP began installing and renting the batteries to customers for just $15 a month in a $15.5 million pilot program that began in 2017. The batteries had performed during blackouts many times since, but never on such a scale.
"They've been amazing," said Josh Castonguay, GMP's chief innovation officer. "This Halloween storm solidified how well they perform."
"I would love to get them in every home," Castonguay added.
That's not going to happen anytime soon, in part because the utility has agreed to limit new Powerwall installations to 500 customers per year for now. But battery storage is nevertheless charging to the forefront of Vermont's vibrant renewable energy economy.
While utilities are pushing the in-home battery packs, developers have begun to incorporate shipping-container-size batteries into solar projects, storing energy for use when the sun goes down.
And investors are building stand-alone battery projects to rent to utilities in the risky game of "peak shaving" — drawing power from batteries instead of the regional grid when demand and costs are highest.
"Things are happening very quickly right now," said Matt Kakley, spokesperson for ISO New England, the Massachusetts-based organization that manages the regional power grid. "People are very excited about participating in the [energy] storage market, and we see storage playing an increasingly big role in the region going forward." The number of groups looking to build large-scale battery projects for the New England grid more than doubled in just nine months of 2019, Kakley said.
In Vermont, in-home and large-scale battery storage are generating buzz as homeowners and investors begin to recognize their potential.
"The storage market today is where solar was seven or eight years ago," said Chad Farrell, founder and CEO of Burlington-based Encore Renewable Energy. "Pricing is coming down, and products are getting more reliable and affordable."
Farrell's firm specializes in designing solar projects for installation on properties unsuitable for other uses. The company is working on two arrays in Jericho, at a former landfill and a gravel pit, with Johnson-based Vermont Electric Co-op. Both projects are being designed with battery storage.
The state needs more such projects if it is to remain a leader in clean energy, he said.
"Vermont's renewable energy goals are in jeopardy if we can't figure out how to best deploy energy storage," Farrell said.
Peak Tweakers
Storing power is also crucial to helping utilities save money, said Rebecca Towne, CEO of VEC. That's why the utility partnered with the developer of a four-megawatt battery in Hinesburg this year. VEC purchased the right to use the $2 million battery — which charges from the grid during off-peak hours, when electricity is in lower demand and less expensive — for up to 400 hours per year.
When the utility thinks it is about to hit a peak demand period, it can avoid paying higher-demand prices for power from the regional grid by drawing down the battery, Towne explained. The arrangement is an affordable option for the small cooperative, which has 32,000 members.
So-called "peak shaving" can be a tricky investment, however. There are annual and monthly peaks, and predicting when they will hit is a complicated calculation involving the time of day, weather and when other utilities turn on their batteries. Misjudge the ever-shifting peaks by even a few minutes, and a utility will be basically drawing on expensive battery power — VEC says the rental rate is proprietary — for no benefit. But time the peak right, and the payoff can be more than worth the effort.
VEC drew down the Hinesburg battery between 5 and 6 p.m. on July 30 to lower its power draw from the New England grid by one megawatt. That turned out, company officials later learned, to be the year's peak electric usage in the region. That was lucky for VEC, because a utility's share of the region's power use during that crucial hour determines its grid costs for the following year. According to the co-op, its members will save $94,000 as a result.
"Our estimates are that, in a good year, we'll basically be able to give back about $100,000 to customers," Towne said.
GMP's Castonguay explained that the company uses the Powerwalls in people's homes in a similar fashion. The utility and Tesla control the batteries in the program, filling them with energy during off-peak hours and draining them at times of heavy power usage, typically between 5 and 8 p.m. Initially, GMP managers decided when to flip the switch to use the batteries, Castonguay said. Now, a Tesla algorithm monitors for anticipated peaks and trips the switch automatically. Normally, that energy is fed to the local grid. But in the case of a power outage, the homeowner can draw from the battery, as the Hannuxes did at Halloween, to keep the lights on.
Powerless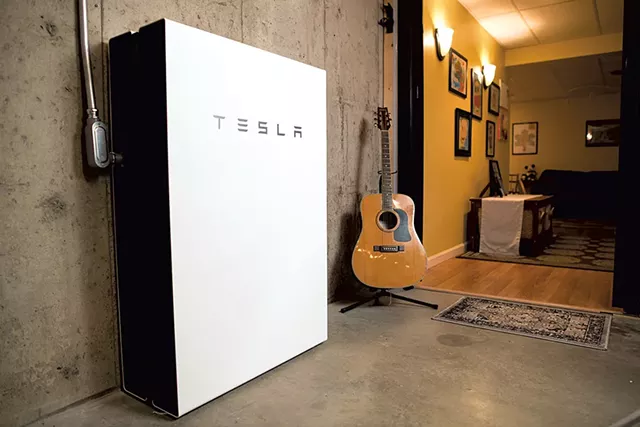 Courtesy Of Green Mountain Power
A Powerwall in Colchester
There is a catch to renting a couple of pricey Powerwalls from GMP for $30 a month. Customers who own their own batteries get to say how much power they want to share with the utility, but because of the high up-front costs, relatively few people participate in that GMP program, called Bring Your Own Device. Most people with Powerwalls in their homes do not own or control them.
That lack of control made state Rep. Robin Chesnut-Tangerman (P- Middletown Springs) uncomfortable, but he signed up for the Powerwall rental program anyway.
"One of my concerns was, in this initial pilot project, they can draw the battery down to nothing," Chesnut-Tangerman said.
He asked GMP officials if they could leave 20 percent in the batteries for emergencies, but he said he was told there weren't enough participants in the program yet to permit such a buffer.
Suppose, he asked, a car crash knocks out power, and people's batteries had been drained?
"They said that, technically, that was possible, but statistically the chances were infinitesimal," Chesnut-Tangerman said. "It happened a month later."
He and his wife, Melissa, were home one evening when the power went out without warning. "Both of us sort of did a double take and said, 'Wait a minute, we have a Powerwall!'" he recalled.
They realized that the utility had drained their battery earlier that evening, so the outage left them in the dark. Though power was restored the following morning, the incident underscored Chesnut-Tangerman's concern.
"We have no control over it whatsoever," he said.
Castonguay stressed that the utility doesn't drain the batteries as storms approach, to ensure they're charged up if needed. He also noted that the Tesla algorithm is very good at targeting upcoming peaks. Batteries are rarely drained completely; the discharging ends as soon as the software senses the peak has passed.
Program participants know the utility will use their batteries to keep overall system costs down — one of the reasons the Powerwalls' cost is low.
The $15-per-month fee over the 10-year life of the program amounts to $1,800 — much less than the $8,000 retail price of the batteries. The coordinated discharge of those batteries makes the low cost to homeowners possible.
If it can time the peaks well, GMP estimates it can save all ratepayers — not just the ones with the batteries — at least $2 million over the next decade. While that amounts to a mere $2 annually per customer, more batteries from future phases will add to those savings, he said.
Even so, GMP is asking to increase the monthly price it will charge new customers for two Powerwalls, from $30 to $55. The bump is needed to cover higher battery and installation costs and to make sure the benefits of the program are spread between Powerwall users and everyone else.
Regulators with the state Public Utility Commission plan to take a close look at whether the storage program is living up to its promised returns to ratepayers.
Riley Allen, deputy commissioner of the state Department of Public Service, expressed cautious optimism about electric utilities' ability to help the state meet its energy goals, which call for Vermont to get 90 percent of its energy from renewable sources by 2050.
With battery prices, types and markets in such a state of flux, "you don't want to invest too much too soon," Allen said. The economics of the industry are likely to shift if the peaks are no longer as dramatic as they have been, he noted. As battery use surges, energy costs could level out, making peak-shaving harder, he said.
Back in Hartland, Jennifer Hannux's husband, Shawn, sees nothing but upside to their Powerwall rental. The $30 they pay monthly hasn't even increased their GMP bill, he said. That's probably because the Tesla app on his phone telling them how much energy is flowing into and out of the batteries has made family members more conscious of their energy use.
The low cost and peace of mind he gets from knowing his family is safe if the power goes out made the rental decision an easy one.
"For $360 a year, that's a no-brainer for me," he said.