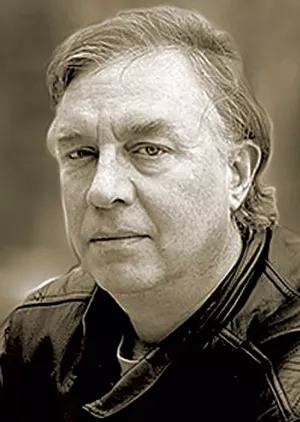 Courtesy Of Liz Deniord
Chard deNiord
Vermont's eighth poet laureate, Chard deNiord, is technically a lame duck. His four-year tenure ends this coming November, and the Vermont Arts Council has begun seeking nominations for his successor.
In the meantime, deNiord is not, to loosely paraphrase Dylan Thomas, going gentle into that good night. Two or three days a week, he makes the two-and-a-half-hour trek from his home in Westminster West to Providence College in Rhode Island, where he teaches English and creative writing. To pass the time in the car, he memorizes poetry and listens to audiobooks — most recently, Moby-Dick, which, by his estimate, consumed approximately two weeks' worth of driving.
Despite all that commuting, deNiord has somehow managed to co-edit a poetry anthology with former Vermont poet laureate Sydney Lea, give readings at schools and community venues across the state, lead workshops, write bimonthly articles for the Brattleboro Reformer and Valley News, interview dozens of other poets for various projects, and complete his sixth book of poetry, In My Unknowing, due out next year from the University of Pittsburgh Press.
As his term nears its end, deNiord corresponded with Seven Days by email about his work, the hectic life of a poet laureate and the merits of uncomfortable chairs.
SEVEN DAYS: You worked as an aide in a psychiatric hospital and earned a master's in divinity before dedicating yourself to teaching and writing full time. How do those experiences inform your work as a poet?
CHARD DENIORD: I've only written one poem, titled "Happy Hour," about my experience working at the Connecticut Mental Health Center in New Haven in the early '80s. I've often tried writing about my experience there, but I have found the stories and language of the people I treated too challenging or difficult to translate into poetry. But dealing with life-and-death issues on a daily basis in a large urban mental health facility helped me think philosophically, psychologically and creatively about human nature and behavior in profoundly new ways.
As a divinity school student, I spent most of my time writing pretty turgid papers about theological and biblical topics. I was also writing poetry, but it was pretty awful. My homiletics professor gave me memorable feedback one day after I had delivered a sample sermon in his class. "DeNiord," he said, "your poems are too preachy and your sermons too poetic." I no longer write sermons — at least, I hope I don't.
SD: Do you have any rituals around your work — tons of caffeine, no caffeine, designated writing hours, special slippers, etc.?
CD: It seems like I'm always writing on the run. I have no rituals. I do sit in a particular chair when I'm home that's not very comfortable. I keep telling myself that I should find a more comfortable chair, but I never do. Perhaps it's best that way: to be always a little uncomfortable.
I write whenever I can, usually early in the morning. I find that if I don't finish at least the first draft of a poem, it disappears for good. My first inspiration, which can be just a phrase or sentence that pops into my head, often fades completely by the time I finish a poem. So, figuratively speaking, I might start out writing about an aardvark but then discover, in the course of writing, that the aardvark was merely my muse's ruse for a giraffe.
SD: In your view, how does the public benefit when a state has a designated poet laureate?
CD: When a state sets a high standard for its poets laureate, as Vermont has over the past 70 years, it leads its residents with language that complements its laws, traditions and customs with what the poet W.H. Auden called "memorable speech." So, in vital mimetic ways, strong poets both bear witness to and reflect ineluctable truths about human nature and events. One can't read "Home Burial" by Robert Frost or "Headwaters" by Ellen Voigt or "The Bear" by Galway Kinnell or "Mock Orange" by Louise Glück or "Speculation" by Ruth Stone and not be deeply moved and enlightened at the same time, even changed.
Poets challenge their readers to exercise their imaginations and, in so doing, prompt them to commit what the poet William Blake said was the most "sublime act," namely, "to set another before you." A strong poet laureate succeeds in accomplishing both a literary and political feat by deepening its citizenry's appreciation for others. Vermont's poets laureate consistently have done just this, while also memorializing its heavenly landscape, its fierce sense of independence, and its paradoxical motto: "Freedom and unity."
SD: What does being a poet laureate actually entail?
CD: The Vermont Arts Council wisely leaves it up to each new poet laureate to design his or her own "job description." The position is honorary, so it comes with only a relatively small stipend of $1,000. Fortunately, I am not formally "required" to do anything. I have been asked occasionally to write "occasional" poems, which I'm not very adept at. I think the only poem I'm required to write is an occasional poem for the induction of the next poet laureate. But I'll have to check on that.
SD: As we spend an increasing proportion of our lives online, how do you think our relationship with poetry is changing?
CD: America has always had a strange relationship with poetry. While some of its most important government and political documents are pure poetry, such as the Declaration of Independence and the Gettysburg Address, only 6 percent of all Americans, according to the latest National Endowment for the Arts survey, read poetry or literary fiction. So, while the internet has made poetry and literature more accessible to the general population in unprecedented ways, it has also shortened people's attention span and distracted them away from poetry with such synchronic lures as Twitter, Facebook, Instagram and news that doesn't stay news. I've been working pretty hard as the poet laureate of Vermont to spread "the word" about poetry as a vital, life-changing art form that's hiding in the open.
SD: Which poets, or other writers, do you read most often? Which writers and poets have had the biggest influence on you?
CD: I'm a catholic reader, with a small c. I review a lot for the Harvard Review and the online journal Plume, so poetry books pile up on my desk. The poet I return to most often is Emily Dickinson, who tortures me exquisitely. Also Walt Whitman for his vatic "meter making arguments," and Gerard Manley Hopkins for his music. A few modern and contemporary poets I return to often include James Wright, Ruth Stone, Brigit Pageen Kelly, Bruce Smith, Philip Levine and Elizabeth Bishop.
The problem, at least my problem, with listing favorite or influential poets is that one tends to leave out more than a few. Here are a few more kicking me in the rear: Stanley Kunitz, Edna St. Vincent Millay, Terrance Hayes, Jack Gilbert, Jerry Stern, Grace Paley, Muriel Rukeyser.
My biggest influences have been Robert Frost, Walt Whitman, Emily Dickinson and Bob Dylan.
SD: Finish this scenario: You, Robert Frost and Grace Paley are all canoeing on a lake. The boat capsizes. What happens next?
CD: We each write our names on the water, then bless the silence before we go under.