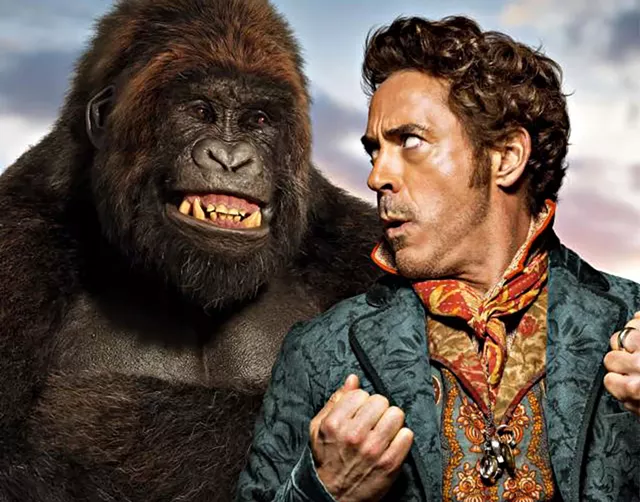 DR. NO Downey and his comical menagerie offer more fracas than fun.
Was the surreal cockroach chorus line in Cats the highlight of your holiday moviegoing? Are you unafraid of walking through the Uncanny Valley where disturbingly realistic CG critters reside? You're in luck.
The new family film Dolittle features a scene in which a dragonfly (voice of Jason Mantzoukas) negotiates a deal with a Sicilian-accented ant who complains, "You come to me on the day of my daughter's wedding." The dragonfly laments that he had set his cap for the ant heiress. In the next scene, the lovesick insect makes a pass at a prim parrot (Emma Thompson).
At this point, we are roughly halfway through the movie, which is set in 19th-century England and involves the quest for a mystical remedy for a dying Queen Victoria. This is our introduction to the dragonfly, one of a seemingly endless parade of gleefully anachronistic animals who make their home with Dr. Dolittle (Robert Downey Jr.), a gruff Welsh physician who can speak to and understand them.
Halfway through the film, you'd think we might be acquainted with all its main players. You'd think we might even care a bit about the widowed doctor, or his fresh-faced protégé (Harry Collett), or the gorilla (Rami Malek) with fear issues, or the squirrel (Craig Robinson) on a revenge mission. But this whirligig of bad wisecracks doesn't give us a second to care about anything.
The animals are voiced by actors of note — Malek, Octavia Spencer, Kumail Nanjiani, John Cena, Marion Cotillard, Ralph Fiennes. They pop in and out of the ragged plotline like members of an improv troupe who've been given no space to build characters and are trying desperately, desperately to be funny. Mainly that means disconnected riffing: "I got a front-row seat to crazytown!" Robinson scoffs. Cotillard's character randomly proclaims "Vive la résistance!" and then vanishes for the rest of the movie.
Meanwhile, Downey mumbles, twitches and grimaces his way through the film's steampunk settings as if he's angling to usurp Johnny Depp's niche in blockbuster cinema. Only Michael Sheen, as the preening villain, manages to generate any authentic comic sparks.
While it may frequently feel like bad improv, Dolittle actually appears to suffer from overthinking. When Universal higher-ups didn't like the cut from director Stephen Gaghan (known for such incongruously adult fare as Traffic and Syriana), they reportedly ordered extensive reshoots from the folks behind The Lego Batman Movie and Teenage Mutant Ninja Turtles, hoping to give the film greater appeal to restless kids worldwide.
Was there ever anything smart in Dolittle to dumb down? We'll never know. An animated prologue devoted to the doctor's backstory does suggest that his status as a grieving widow was intended to have more emotional impact than it does in the final product.
The final cut of Dolittle seems to aim for the punch-drunk vaudeville of the Pirates of the Caribbean movies, but at least those maintained a consistent tone. This movie practically comes with its own RiffTrax: While the humans impersonate Victorians, the animal voice actors offer their snarky commentary in the vernacular of 2020. In a movie that is mostly but not wholly animated — i.e., a movie where real human beings still appear — the effect is ... bizarre.
The animation has its cringe-worthy moments, too: Jip the dog (Tom Holland) moves all wrong. When the creature on-screen is an anthropomorphized ant or dragonfly, we can suspend our disbelief and enjoy the ride. But a movie that constantly preaches love for animals should probably at least get a dog right.