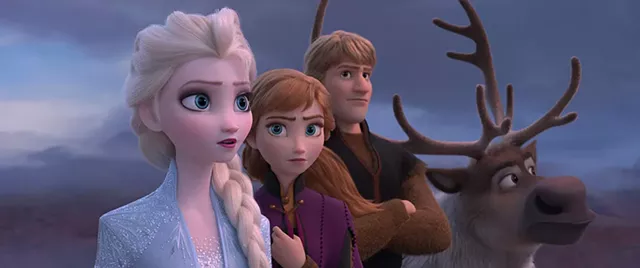 VISION QUEST While it has more to say than it succeeds in showing, Disney's animated sequel is still a lot of fun.
Atoning for colonialism. Promoting environmental stewardship. Being hip and self-aware. Inserting a whole new backstory. Making toes tap and hearts swell with catchy musical numbers. Not pissing off the multitudes who feel deeply invested in all things Frozen. Selling millions of dollars' worth of Disney merchandise. These are some of the goals that Frozen II sets out to accomplish in 103 minutes.
Of course it doesn't succeed. In particular, viewers can be forgiven for barely registering the parable of colonial exploitation that flashes by in the last half hour, given that it consists of awkward exposition by screenwriter Jennifer Lee (who codirected with Chris Buck) and her writing team. Yet it's hard to ignore that the sequel to the 2013 animated mega-hit is a weirdly ambitious film, struggling to cater to very young Disney fans, their parents and the Tumblr demographic. And when it lands — particularly in a few high-octane musical numbers — it really lands.
Queen Elsa of Arendelle (voice of Idina Menzel), Frozen's icon for introverts and misfits of all kinds, has found a pleasant equilibrium living with her more gregarious sister, Anna (Kristen Bell). But an unearthly voice keeps calling Elsa "Into the Unknown" in the film's striking signature ballad. After elemental spirits invade Arendelle, the sisters set off on a quest to the Enchanted Forest, inhabited by the mysterious Northuldra tribe, to address the magical unrest.
This quest hinges on a new backstory for Anna and Elsa's deceased parents (Evan Rachel Wood and Alfred Molina), which mutates as the sisters progress into the lush, scarlet-leaved autumn forest. Meanwhile, Kristoff (Jonathan Groff) is on his own quest for the perfect marriage proposal for Anna, and enchanted snowman Olaf (Josh Gad) has grown from a slapstick-prone kid into a smart-mouthed preteen. (It's worth staying to the end of the credits to hear his synopsis of what we just watched.)
The visual textures of the Frozen world remain sumptuous, from the jewel-toned forest to the foamy ocean waves that Elsa confronts in a breathtaking sequence. None of the songs, again by Kristen Anderson-Lopez and Robert Lopez, is likely to achieve the ubiquity of Frozen's "Let It Go." But they run an entertaining gamut, from Olaf's swingy vaudeville numbers to Kristoff's '80s-style power ballad (complete with parodic visuals) to Anna's "The Next Right Thing," a song about doing what needs doing in the moment, even when the big picture looks hopeless.
That last song packs an emotional wallop — maybe it's the times we're in. But how does Anna know what needs doing at this moment in the story? Rather than plant the seeds of knowledge early on, so that Anna can reach a full-blown revelation at the same instant the audience does, Lee transplants a handy history lesson by means of magic. As a result, the movie's efforts to be "woke" — to show how the sins of the past shape the present — feel like a well-intentioned footnote rather than the organic resolution the story needs.
In a genre where fan service is often the top priority and repetition is safer than innovation, one has to admire the filmmakers' fumbling efforts to dramatize inconvenient truths. Overall, Frozen II is a bit of a mess. Its world building needs another few drafts, and it keeps introducing promising new human characters and magical critters only to shove them aside. As Elsa and all creators know, a towering ice palace cannot stand on a shaky foundation. But the beating heart inside this one is intact.