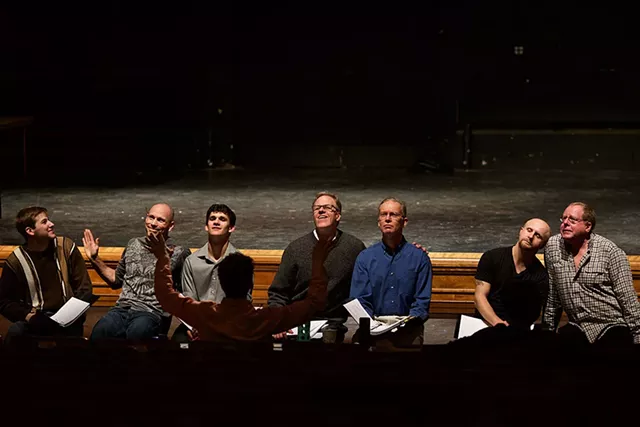 Cast of Love! Valour! Compassion
It's a shame that Love! Valour! Compassion! is just a one-night stand this week, presented by Vermont Pride Theater at the Chandler Music Hall. When a show is billed as "One summer. Eight men. Complications...," you gotta assume that entertainment is at hand. Indeed, Terrence McNally's dramedy won a Tony for best play in 1995, among many other awards. It was made into a movie in 1997. Production notes sum up its story thus: "Infidelity, flirtations, soul-searching, AIDS, truth-telling and skinny-dipping mix monumental questions about life and death with a wacky rehearsal for Swan Lake performed in drag."
"It's kind of a period piece, but it still holds up really well," notes guest director Eric Love. "Some references to AIDS seem dated, but some feel really urgent." And, he adds, "It's racy."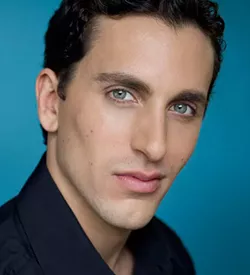 Love, 28, moved to Vermont just four months ago from New York and is the assistant artistic director and education director for Northern Stage in White River Junction. He's "on loan" to guide a regional cast of seven men in a staged reading of McNally's groundbreaking work. As it happens, the North Carolina native says, he read Love! Valour! Compassion! in college and "didn't really get it. It was denser and weirder than I expected." But then "I went to New York City and met Terrence McNally, and worked with him on a musical," says Love, who came to have more insight into the playwright's story.
A staged reading often presents a row of actors simply sitting in chairs or standing at lecterns for the duration, but Love didn't want to settle for that at the Chandler. His challenge, he says, has been "to meet the needs and demands of this play" without sets or props, and to keep the audience engaged in the talky action. To that end, he employed devices such as creating side areas where subsets of characters can develop their relationships.
And — spoiler alert! — the director got his actors tutus for that drag version of Swan Lake.
"One reason I took this job is, I didn't know if I would ever have the opportunity to direct a gay play again," says Love. "And there's another reason to do it: It's still relevant." He points to persistent homophobia in the local community and elsewhere. "Our hope," he says, "is to have one big full house."