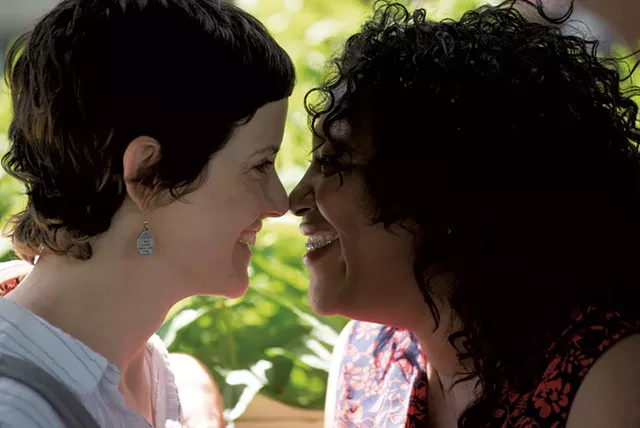 Bright Half Light: Carly Bennet (left) and Fabienne Nadeau
When the Summer Pride Festival first launched at the Chandler Center for the Arts in 2011, a typical reaction was: "Wait, what? A pride festival in Randolph?" The response of one local resident was worse: Outraged, he pulled his program sponsorship.
LGBTQ content might not be for everyone, but the community at large has been supportive, and the Chandler has soldiered on. Beginning next week, the arts center will present its eighth annual festival with three plays focused on the LGBTQ experience, each staged twice over two weeks.
In addition, the Chandler is hosting a 25th-anniversary screening of Jonathan Demme's Oscar winner Philadelphia and an art exhibit featuring a collection of masks, costumes, puppets and more from Vermont performer Gabriel Quirk.
Aunt Jack: Standing, from left: Joshua Huffman, Tristan Goding, Nimue Washburn and Susan Loynd; Couch: Jeff Tolbert
It's self-evident that the path to acceptance, and to legal rights, has been long and difficult for LGBTQ communities. Euphoria over the legalization of same-sex marriage in 2015 was deflated by the presidential election in 2016, to name just two relatively recent events. Meantime, questions about the meaning of gender itself have entered the national conversation — and the fray of politics.
But that doesn't mean a play about "the gays" has to be serious.
Consider S.P. Monahan's Aunt Jack. A twentysomething actor and playwright in New York, Monahan has crafted a script that touches on current issues but at heart is about family. In it, a prominent gay activist has died and his gay son introduces an unexpected new lover. And it's funnier than it sounds.
Photos Courtesy Of Tim Calabro/first Light Studios
A Perfect Fit: From left: Andra Kisler, Marissa Mattogno and Leah Romano
Director Gene Heinrich — a staple of Vermont's theater scene — writes, "When I read the laugh-out-loud script, I knew I had to direct this play. It has everything: gays, lesbians, bisexuals and drag performers!" And yet, he adds, "some pretty surprising things happen during the show."
Monahan will come north to witness the staging of Aunt Jack. Hoboken, N.J., playwright Lia Romeo is coming up, too, for the premiere of her play A Perfect Fit. Her story explores the first lesbian relationship of college sophomore Nicole, which in turn gets her mother to wondering about her marriage and the assumptions she's made. According to the Chandler, Romeo was inspired to write the play after reading an article about women who come out late in life. Director Cher Laston is taking her sixth turn with the festival on A Perfect Fit.
The final play, Bright Half Life by Tanya Barfield, follows the lives of two women, Vicky and Erica, over decades. When the play premiered in 2015, the New York Times wrote, "Bright Half Life shows the volatility in a long-term partnership, the joy and desolation, the hurt and help — all intermingled, all at once."
Vermont director Kim Ward adds, "What was most striking about this play, when I discovered it, was that it could be the story of any couple, regardless of gender identity or sexual orientation, and every actor who read for the part said the same thing."
A love story is a love story is a love story.