James Buck
Kim MacQueeni
Last fall, Champlain College offered a course in magazine publishing through its professional writing program. The 11 students in the class performed all the duties that writers and editors undertake: determining a tone for the publication, developing story ideas for short pieces and longer features, writing and editing articles, designing pages, and proofreading copy.
But even in a hands-on class such as this one, the teacher gets to call some shots. Kim MacQueen, managing editor of the Champlain College Center for Publishing, developed and taught the course — and came up with the magazine's theme: health and wellness. Thus, as an initial task, the students in the class — by chance, all female — had to consider what wellness meant to them and how to approach a topic that's heavily covered in the media.
"It was kind of funny," recalled Grace Safford, a sophomore from Elmore. "Half the room was like, 'Yeah, I'm ready to write about this.' The other half was like, 'Man, I hate yoga.'"
After discussions and kicking around ideas, the full group was interested, Safford said. "When we came together and had a common definition and wiped away the stereotypes of wellness being kale and yoga, people were happy," she said. "Eventually, everyone really loved the idea of writing about wellness."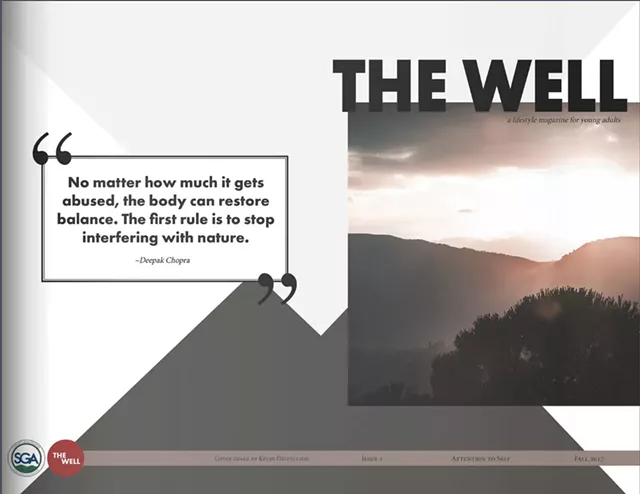 That enthusiasm and interest is evident in the Well, the 48-page publication that the students produced under MacQueen's direction. The stories in the magazine — subtitled "A lifestyle magazine for young adults" — are engaging and well written, addressing familiar issues such as seasonal affective disorder (SAD), as well as lesser-known topics such as healthy gaming apps. The Well offers some quick recipes to make during finals week and includes a list of health resources. The digital version of the magazine is online now; a print version will be published next month.
MacQueen said she wanted the class to "mimic an editorial hierarchy." In developing the course, she said she was initially unsure whether to "dictate" the theme of the magazine "or to let the students have that agency.
"I decided ultimately it would help us move faster and get a lot more done if students could focus, rather than divine everything from scratch," MacQueen continued. "They really took the opportunity to redefine [wellness] for themselves ... [It] was a really organic process."
Each student pitched three ideas for a 500-word article and selected one to write. From these shorter pieces, a few were chosen for more in-depth coverage, giving students an opportunity to report, write and edit feature-length stories.
Safford produced a piece about service dogs — an idea that came to her when a college friend arrived on campus with one.
"I was very curious about the whole process, but I noticed that I didn't know how to approach her and ask about service dogs," Safford said. "What's the etiquette about this? What do I say? What do I do?"
Courtesy Of The well
The Well staff
She chose to atend Champlain for its writing program, having honed her chops as a high school sophomore at Peoples Academy in Morrisville, where she produced a 50-page grammar guide as part of an independent study. "It kind of snowballed from there," Safford said of her interest in editing.
Maina Chen, a senior from Brooklyn, N.Y., led the editorial team and worked as editor on Safford's article. She was impressed by the supportive and collaborative nature of the class, Chen said, and the students' ability to create a product over the semester.
"It was actually pretty fun," she said. "I didn't realize what was in store, because I've never taken a publishing class before, but I'm actually proud that we've come this far."
Senior Kiera Hufford of Trumansburg, N.Y., wrote about SAD. She knew a student who had experienced it and thought the subject would be timely. Through her job at the college's Center for Publishing, where she is assistant managing editor, Hufford worked through winter break to finalize the magazine's production.
"I am very happy with it," she said. "I think all of the content is really well written, and I'm proud of the writers in there. All of the story ideas were really great and were executed really well."
MacQueen said the opportunity to develop the course was a "wonderful gift." She plans to offer it again in the fall.
As for the first class, she said, "I lucked out. These 11 wonderful young women showed up to take it, and they asked amazing questions. They worked with each other to learn and create this wonderful thing. It was an absolute joy to teach."