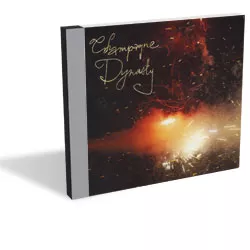 (State & Main Records, CD)
2011 was a tough year for the Montpelier music scene. Most notably, the closing of Langdon Street Café last spring was a critical blow, robbing the quirky capital of a vital social hub and artistic center. Ironically, the coffee shop's exit coincided with the ascension of the Golden Dome Musicians' Collective. With a pair of compilation albums and a handful of individual releases, the musicians guild and its ancillary label, State & Main Records, have offered local music fans a little solace. The GDMC also offers hope that a vibrant music scene can reemerge in Montpelier. And when it does, it likely will be on the backs of GDMC bands such as Champagne Dynasty and albums such as their provocative, self-titled debut, released on S&M Records late last year.
On the surface, Champagne Dynasty might seem improbable heroes. Montpelier, and central Vermont in general, is best known for its lively folk and American-roots community. So that a 1980s-inspired electro-pop band with irreverent hip-hop tendencies may serve as scene saviors is somewhat surprising. But it shouldn't be.
What made the LSC scene special was exactly that element of surprise. Understated and nuanced eclecticism was among the café's finer qualities. But so was occasionally overt weirdness. And that blend of subtle charm and intentionally heavy-handed chicanery makes Champagne Dynasty compelling, stylish and fun.
From the insistent throb of opener "Street Priest" and the dynamic disco-synth pop of "Got the Gold" to the winkingly sinister groove on "Bring the Car Around" and the joyous, indie-rock bounce of album closer "Diamonds Bright," Champagne Dynasty offer unself-consciously goofy sonic twists and lyrical turns. Vocalists Alexis Hurley and Knayte Lander prove ideal foils for one another. Hurley's delivery is flirtatious and easy, while Lander's is more deliberate and grounded, though never stiff. Johnny Morris' drum programming, samples and synth work highlight the band's B-52s-ish interplay with uncomplicated but lively arrangements. Lander proves quite a sonic handyman himself with equally effective guitar, bass, synth and organ. The result is a record that both surprises and beguiles.
Are Champagne Dynasty really Montpelier music messiahs? Probably not. But that's not the point. The band's self-titled debut reminds us that, if the town is a little down, it's certainly not out. There's still plenty of exciting music in Montpeculiar.
Champagne Dynasty is available at Buch Spieler Music in Montpelier and Burlington Records.