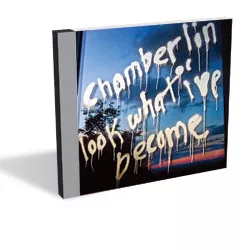 (Audiotree Records, CD, digital download)
I'll admit it: I really want to not like Chamberlin. It's nothing personal. I'm sure they're really nice guys and all. And far be it from me to begrudge anyone success. But, come on, their story is so annoyingly improbable, it's hard not view them with at least a little bit of (admittedly jealous) skepticism. To recap…
Four virtually unknown dudes hole up in a rural Vermont cabin to record a demo. Scott Tournet, guitarist for Grace Potter & the Nocturnals, somehow gets hold of said demo and goes appropriately apeshit. He signs on to produce their 2011 debut, Bitter Blood, and then takes the band on the road with GPN, almost instantly making Chamberlin one of the three or four most successful and well-known rock bands from Vermont. It's a fairy tale. It's also the kind of break most local bands toil entire careers for and never get. So it's understandable — if not entirely fair — that some degree of cynicism would follow.
But here's the thing: Based solely on talent, Chamberlin deserve every shred of success and adulation they've received — and that includes some recent pimping by the likes of Rolling Stone, Paste and others. The band's latest EP, Look What I've Become, released on Tuesday, September 4, is a sparkling effort, building on the solid foundation laid down on Bitter Blood and a follow-up cover EP, Cabin Covers. The record reinforces the notion that Chamberlin are no mere GPN vanity project. They're the real deal.
While Bitter Blood was impressive, it was hampered by a derivative bent that's not unusual with a debut, especially from such young musicians. Their influences read like a 2011 Pitchfork sampler: Band of Horses, My Morning Jacket, Passion Pit. Not so with Look What I've Become. Chamberlin appear to have outgrown their hero-worship phase and set about the task of writing music that is purposeful, nuanced and, more importantly, genuinely gripping.
The EP is noticeably darker than the band's earlier work. Well-wrought themes of jealousy and betrayal wind through leanly arranged songs such as "Thief" and "A Pleasant Conversation Over Drinks" with chilling urgency. That guitarist and vocalist Mark Daly and guitarist Ethan West fired the rest of the band prior to recording — and subsequently felt super guilty about it — seems to fuel the EP's overwhelming and tangible sense of treason.
Chamberlin have since kissed and made up and are back together. Word is they've begun work on new album. But if Look What I've Become is any indication, the next big thing out of Vermont may already be here.
Look What I've Become by Chamberlin is available at chamberlinband.com.