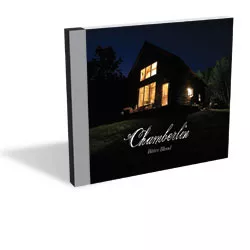 (Roll Call Records, CD, digital download)
When the news broke that local rock outfit Chamberlin would be accompanying Grace Potter and the Nocturnals on their most recent tour, the reaction from the Vermont listening public was generally this: "Uh … who?"
Without so much as an EP or more than a handful of shows under the band's belt, it's fair to wonder whether the five recent University of Vermont grads had really "paid their dues" yet. Most local acts spend their entire careers hoping for just that sort of break. More often than not, it doesn't come. Collectively, the local scene arched its eyebrows and crossed its arms with dubious suspicion.
Here's what we know. Chamberlin wrote their debut record, Bitter Blood, last year in a cabin in Goshen. Some early demos made their way to Scott Tournet's ears. The GPN/Blues and Lasers guitarist was so impressed that he signed on to produce the record, joining the band for sessions with engineer Ben Collette at the Tank in Burlington when he wasn't on the road. That experience begat the invitation to join GPN on tour. Chamberlin returned home earlier this week as the biggest local band no one in VT has ever really heard of.
Now that we're up to speed, the question is: Is the band any good? It is.
Bitter Blood is a curious hybrid of indie rock — both the reverb-washed and jangly varieties — and hard-charging, Southern-fried rock. Think Band of Horses meets … well, maybe Blues and Lasers. The album reveals a band whose maturity far outstrips its age. It is loaded with ambitious ideas, executed to near perfection.
"Fools" is a stunning opener, bending and swooning around a perky guitar melody before exploding with ragged aplomb. "Dust" settles into a cozy groove beneath a sparkling guitar line. The title track is lighter-worthy power balladry at its finest.
The record's only real flaw is that, at times, it feels like a Pitchfork sampler, jumping around with heavy-handed nods to other big-name indie acts. "Paper Crown," for example, is MGMT-lite. Other moments too closely recall Vampire Weekend, Clap Your Hands Say Yeah or My Morning Jacket. Unintentional mimicry is a pretty common misstep for a young band, though. Generally speaking, Chamberlin's ingenuity suggests they'll be able to offset overt hero worship in the future.
When a band comes out of nowhere and finds immediate success, it's natural to be suspicious; it's hard to believe in rock-and-roll fairy tales these days. But, based on the strength of Bitter Blood, Chamberlin may have a little Cinderella in them. Here's hoping they avoid turning into pumpkins.
Bitter Blood hits stores on Tuesday, March 1. Chamberlin open for Robert Randolph and the Family Band on Sunday, February 20.