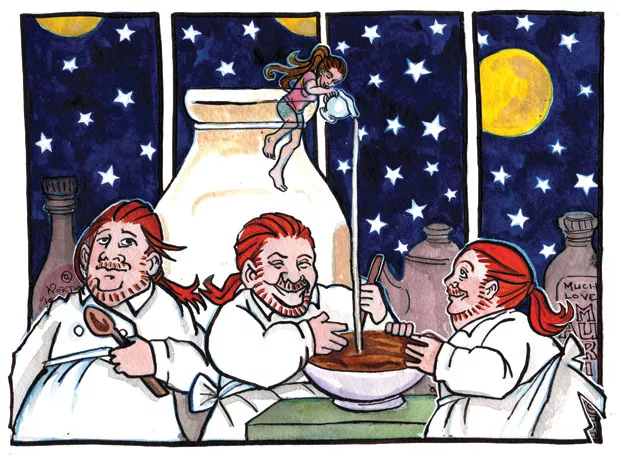 Some of the judges hated my polenta. As I plated the next course, I could hear muffled whispers as the 10 of them — mostly University of Vermont students — tasted and talked. Though I'm usually the one doing the critiquing, this time I was on the chopping block.
I was playing at being a contestant on a "Top Chef"-style cooking show and, so far, my panel of judges was unimpressed. The goal had been to create a dish that featured every color of the rainbow, which is tougher than it sounds. Plenty of foods are red or green, but how many are blue or purple? A fruit salad, the simplest solution, seemed like a massive cop-out. So I'd stirred green scallions and blue cheese into yellow cornmeal as it cooked, and then topped the finished product with roasted red peppers and sweet, briny shreds of orange lobster. The skin of my eggplant had gone from a lovely violet to dull brown in the oven, so at the last minute, I dropped a curl of Purple Haze carrot on each plate. Indigo? Forget about it.
I knew what would make "Top Chef" judge Tom Colicchio scoff if he were here. The carrot wasn't integrated into the dish, and the scallions and cheese had melded so completely with the cornmeal porridge that their colors didn't show. Watching competition-style TV reality shows, it's easy to think you could build a better raft, perform a perfect paso doble or fry up a better batch of frites. But it's hard to account for what happens when your perfect plans begin to crumble. Out of time, I felt my pride wither as the panel of adjudicators grabbed plates I wasn't pleased with. There was a smile on my face, but all I could think about was that morning's chicken incident. It was the kind of time-wasting misstep that can knock a promising "Top Chef" contestant right out of competition.
How did someone who doesn't even have cable end up trying a rendition of Bravo's "Top Chef" at home? Once I discovered, last February, that I could watch the popular cooking competition show on iTunes, I was quickly hooked. Every episode includes two competitions. The first, called a "quick fire," throws contestants into a high-intensity battle against the clock and each other. Then, in the lengthier "elimination challenge," the aspiring stars must prove their mettle or go home. The show wraps up with a segment at the "judges' table," where the chefs are praised or excoriated by an elite panel of eaters.
Inspired by the show to make every dish memorable, I found myself wasting less food and getting more creative. After some practice, I could even deftly cut a carrot into perfect, eighth-inch brunoise cubes. The week before my little self-competition, reveling in a couple of culinary triumphs — an heirloom-tomato and goat-cheese salad garnished with crispy sage, and a satiny soup made with carrot tops and pea shoots — I boasted to anyone who would listen that watching "Top Chef" was making me a better cook.
Then hubris ran away with me. To prove my point, I asked my coworkers to assign me culinary challenges and agreed to assemble a panel of judges to evaluate the results. I nixed some of the suggestions — such as cooking while tied to my husband, which sounded like a recipe for divorce — and settled on three favorites. In addition to preparing a rainbow-hued plate, I agreed to create a three-course dinner out of ingredients typically used in breakfast and make a meal based on a favorite children's story.
On the big day, I worked up my menus and headed to the store, where I allowed myself $50 and 30 minutes of shopping per challenge. In the meat department, I noticed the plump chicken I had my eye on had already reached its sell-by date. "If you were getting judged on your cooking, would you serve this bird?" I asked one of the butchers. "It'll be just fine," he replied. Uncertain but trusting, I plopped the chicken in my cart. At home, with my trusty scribe, Seven Days food intern Maggie Dodson, recording my every move, I sliced open the chicken bag … and nearly lost my breakfast. The meat smelled putrid, and a vigorous scrub in hot water did little to improve the situation. Into the trash it went, and Maggie headed for the store to find a new, less foul fowl.
Looking at my list of things to do, I knew I was in trouble: I'd planned to complete all of my cooking in the next four hours, and several of my dishes called for chicken stock, which needs to simmer for at least three. So I busted out as much prep work as I could, piling chopped vegetables neatly on saucers and plucking herbs from my container garden. Maggie returned 51 long minutes later with a pudgy chicken better smelling than the previous one. With a razor-sharp boning knife, I took it apart, nearly slashing my own stomach in the process. I managed the task in two minutes, 30 seconds and six milliseconds — not nearly as fast as "Top Chef" speed demon Hung Huynh, but not too shabby, either. The wings, drumsticks, body and giblets went into the stockpot. I had other plans for the breasts and thighs. They'd play a starring role in my cold picnic lunch.
As soon as food writer Alice Levitt suggested a challenge based on kiddie lit, I thought of The Wind in the Willows by Kenneth Grahame. The story features anthropomorphized British animals who picnic and gallivant around the countryside. In a slightly macabre turn, they often dine on dishes made from creatures that might otherwise have been their woodland friends, such as hares and pheasants. Since the other challenges required making several hot dishes, a cold picnic seemed like the perfect counterpoint. I planned a sugar-snap pea and tomato salad with toasted hazelnuts and crème fraîche tarragon dressing, slices of tea-smoked chicken and spicy pickles, to acknowledge the influence of Indian flavors on English cuisine. For dessert there would be gooseberry "fool," a simple dish made by blending homemade gooseberry jam with sweetened whipped cream.
As I prepared the picnic for the "judges' table," I felt pleased with the food I'd produced. But would the panel be able to forgive me for the polenta? On score sheets where they rated the appearance and taste of each dish on a scale of one to five, two judges said the mush was "underseasoned." Another criticized its "muddy colors." Several others found it just so-so. Happily, aside from the mostly unpopular fruit fool, the picnic was more popular. "The chicken was incredible," one judge wrote. "The flavor, texture and moisture content were perfect." Said another: "The [snap-pea salad] was the best thing on the menu. I really loved the dressing, and the [hazelnuts] were a great addition."
But, even as I reveled in the praise, I knew I was about to have egg on my face again. I'd failed to meet the parameters of my final contest: Choose eight ingredients from a list of 10 that are commonly used in breakfast dishes and make a three-course dinner from them. Of the items fellow writer Lauren Ober had suggested, I chose to use eggs, sausage, raisin bran, sweetened yogurt, orange juice, fresh berries, potatoes and bacon. How do you work raisin bran into dinner? I did it by pulverizing the bran flakes in a blender with some toasted walnuts, adding melted butter and turning the mixture into a crust for quiche. I mixed up the custard, poured it over homemade sage-and-nutmeg sausage and sautéed chard, and popped the quiche in the oven with just 45 minutes until I had to meet the judges.
Running out of time — up to my ears in bubbling polenta, with the quiche cooking and several condiments still to make — I realized my potato puffs with bacon lardons were never going to happen, meaning some of the required items would go unused. But my dessert — Liberté French Vanilla yogurt topped with blueberries and blood-orange syrup I'd made earlier — would be a snap. Just like the contestants on "Top Chef" who fail to complete a challenge to the letter, I would stand behind the two dishes I did make. The quiche crust tasted good but wasn't a hit with the judges — it was a little too hearty for the delicate custard. If I made it again, I'd fill it with something more robust, such as a pumpkin cheesecake. The yogurt with berries and blood-orange syrup got raves, though.
"It is what it is," I muttered to myself as I read the mixed reviews. I concluded that trying to do three challenges at the same time had been pretty silly. Had I been a real "Top Chef" contestant, the judges might have asked me to "pack my knives and go" because of my poor polenta, or for failing to produce potato puffs. It was a relief not to have to serve my less-than-perfect dishes to famed restaurateurs such as Hubert Keller and Eric Ripert. The judges I did have — one of whom confessed to eating mostly mozzarella sticks and chicken fingers, while another had a distaste for dairy products of any kind — were tough with their comments but generous with their scores. I ended up with an average rating of four out of five.
In any case, I didn't undertake these challenges in hopes of winning $100,000 and an article devoted to me in Food & Wine magazine. I wanted to test my own ingenuity and flexibility and invent recipes I might make again — and in that regard, I succeeded. Maybe someday I'll be confident enough to take a stab at reality TV. In the meantime, if you've got a cooking challenge … bring it on!