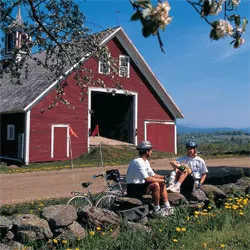 Courtesy of VBT Bicycling and Walking Vacations
Frank Wesel had the tired and exasperated look of a cyclist who's had a long day of pedaling against a stiff wind and is now lost. The fiftysomething rider flagged me down near Porters Point in Colchester just as I was starting a late-afternoon bike ride.
"Excuse me," he said in a distinctly German accent. "Can you tell me how to get back to Burlington? I can't seem to locate the signs."
Wesel's frustration was understandable. I've often given directions to out-of-town cyclists who become confused in this part of Malletts Bay. Since I was biking into Burlington myself, I invited him to join me.
As we picked up the bike path and crossed the pedestrian bridge over the Winooski River into the New North End, Wesel looked visibly relieved — and impressed. Clearly, this was his first time on the waterfront trail, and it was his most relaxing stretch of riding all day.
Wesel, an experienced cyclist from Berlin, Germany, told me he was in town for a few days with his son, who attends school in Boston. The two had taken a Greyhound bus to Vermont, a trip that was both expensive and a logistical headache with two bikes in tow. Overall, they loved the Vermont scenery, Wesel assured me, but he found the services for cycling tourists simply didn't measure up to those to which Europeans are accustomed.
Wesel said he bikes across Berlin to work every day. And he described the many services available to long-distance riders on the Berlin-Copenhagen cycling route, a 400-mile trail that runs between the German and Danish capitals. Wesel was shocked to discover there was no dedicated bike route between Burlington and Montpelier.
When we reached the Queen City, I showed my new friend the trailside offices of Local Motion, which should have been his first stop as a bicyclist new to the area. There he got some maps and other useful info for the remainder of his stay.
"Cycling in Vermont was … one of the most exciting natural beauties I ever had, and I've had many of them," Wesel wrote later in an email. "At the same time, [it featured] some of the worst ones as far as logistics, information, infrastructure and bureaucratic obstacles." Notably, those "obstacles" cut Wesel's visit short by several days, which city officials might measure as money not spent in local restaurants, hotels and stores.
The Berliner's sobering tale indicates that Vermont isn't yet the cyclist's destination it could be. Nonetheless, bicycle tourism has come a long way in the Green Mountain State since 1971, when Middlebury College professor John Freidin launched Vermont Bicycle Touring (VBT), the first such company in the United States. Since then, Vermont has seen more than a half-dozen other high-end touring companies set up shop. The state has also added hundreds of miles of marked routes, multiuse trails such as the Burlington Bike Path and the Missisquoi Valley Rail Trail, and off-road mountain-bike trails and facilities.
Vermont's bicycle tourism is picking up speed as it becomes a bigger part of the state's overall tourism picture. Even so, in many respects our treatment of cyclists lags behind that of the rest of the developed world, and there's plenty of room for improvement.
Chapin Spencer, Local Motion's executive director, points out that Vélo Québec, the Canadian equivalent of his Vermont nonprofit, employs more than 100 people in a three-story building in downtown Montréal. From there, cyclists can ride hundreds of miles in all directions on designated bike paths. As Spencer puts it, "It's not just a northern climate thing" that keeps bicycle tourism from really taking off. Indeed, cycling as a three-season sport is ideally positioned to grow in Vermont's tourism economy — if Vermonters are willing to make the necessary investment.
How large a slice of the tourism pie is biking? Difficult to say, since no one has ever measured the sport's scope in a comprehensive way. According to Spencer, Bruce Burgess of Middlebury calculated 15 years ago that cycling-related tourism brings in about twice as much money as does the maple syrup industry.
If that figure was inflated back then, it's probably not far from the truth today. Recently, the Vermont Agency of Transportation decided to update the estimate. Last month, VTrans put out a request for proposals for consultants to study the environmental, fiscal and public-health impacts of cycling and walking on the state. That study probably won't be done before 2011 at the earliest.
However, if Burlington Bike Path use is reflective of statewide trends, the impact of cycling is significant and increasing. A study released in February by the University of Vermont's Transportation Research Center revealed that the waterfront trail and the Island Line Trail brought between $1 million and $2.5 million to the Chittenden County economy between May and September 2008. At some locations, as many as 50 percent of the trail users were from outside Chittenden County. And, each day the causeway bike ferry was operating that summer, nonlocal ferry users collectively spent some $13,700 in the region.
Bike-ferry reservations and use suggest that bicycle tourism is moving in the right direction, at least in Chittenden and Grand Isle counties. Last week, Local Motion announced a new ferry schedule that was expanded from about a dozen days of operation last year to 22 this summer, including every weekend in July and August as well as Labor Day weekend. Ferry captain Brian Costello reports that more than 25 charters are already booked for tour groups this summer — the most he's ever had. This despite higher ferry fees to cover rising costs.
According to Spencer, cycling tourism is holding steady, if not accelerating, on three different paths. He cites the high-end overnight road tours handled by local companies such as VBT, Sojourn, Bike Vermont and POMG Bike Tours; day-use ridership on multiuse trails such as the 26-mile Missisquoi Valley Rail Trail; and the development and expansion of new and existing mountain-bike networks in the Northeast Kingdom and the Waterbury-Stowe area, which already draw tourists from near and far.
Gregg Marston is the current owner of VBT. Specializing in five-night/six-day bike tours, the touring company offers two trips within the Green Mountain State and 30 other cycling vacations around the world, from Cape Cod to Croatia, South Africa to New Zealand. Approximately 65 percent of Marston's business, which employs 30 people in Bristol alone, takes place in Europe.
According to Marston, his Vermont tours — one from North Hero to Middlebury, the other in Addison County — are almost exclusively booked by non-Vermonters in the 50- to 55-year-old range, with plenty of disposable income. After all, VBT's all-inclusive tour packages run from $1395 to $1695 and feature daily "discovery events," such as visits to candle-making operations and dairy farms. And, like most bike-touring companies operating in Vermont, VBT runs a support van for its clients who get tired during their rides or, more commonly, purchase items along the way that they want shuttled back to their hotel or inn.
The chances of seeing international travelers from anywhere but Canada are "virtually nil" on VBT's Vermont tours, but Marston says they've been attracting more and more clients from around the United States, who are coming here for that uniquely Vermont experience.
"We have people who drive up here from Texas for our trips," Marston says. "It's not so much about the cycling. It's really about the cultural experience. You've got to figure, for someone coming here from Kansas City, this is real different."
Of all the growth areas for bicycle tourism in Vermont, none offers greater opportunities for expansion than mountain biking. Two decades ago, mountain biking suffered from a reputation — largely unjustified — as an outlaw activity dominated by male twentysomethings who cut illegal trails through private property. In recent years, however, the sport has come into its own as a family- and eco-friendly pastime that's "green" in both environmental and economic terms.
Tim Tierney is executive director of Kingdom Trails, a nonprofit organization in East Burke that operates a fee-for-use 100-mile network of mountain-bike trails on Burke Mountain and Darling Hill. Voted "best trail network in North America" in a Bike magazine annual readers' poll, Kingdom Trails averages an 18 percent annual growth in trail use, an impressive figure in any business. This year, Kingdom Trails hired four riders to patrol the trails, à la ski patrol.
According to Tierney, a survey conducted last summer of the trails' riders found that only 25 percent were from Vermont. The same percentage came from Canada and the rest from elsewhere in the United States. On average, Kingdom Trails users traveled 250 miles to ride in Vermont. As Tierney puts it, "Basically, we're pulling from Montréal and Boston … We've become Little Québec down here."
Last year's rider survey, which was conducted by students from Lyndon State College, unearthed other revealing details that should pique the interest of Vermont's economic-development gurus.
The average age of Kingdom Trails bikers was 37, with an average income of more than $75,000. Moreover, those users — 36,000 in 2009 — typically spent at least two to three days in town, staying at local inns, condos, hotels and campgrounds. And all that tourism traffic was drawn almost entirely by word of mouth and online resources.
Another development on the horizon should bring mountain-bike ridership in Vermont to new heights, literally: the Ride Center in the Waterbury-Stowe area. Patrick Kell is president and executive director of Vermont Mountain Bike Association (VMBA). The nonprofit advocacy group is working with major land owners in the area and the Trapp Family Lodge, the town of Stowe, the Stowe Land Trust, and the Vermont Department of Forests, Parks and Recreation to develop a 40-mile trail network similar to Kingdom Trails.
"We're not just trying to develop a small-scale local trail system," says Kell. "What we're trying to do is build a big regional destination for mountain-bike tourism."
Part of the attraction of the Ride Center, Kell explains, is the ease of access — trailheads will be located at numerous locations, including several right off I-89 — and the national reputation the Stowe-Waterbury area already enjoys. While the project is hanging its helmet on a $450,000 federal grant that hasn't come through yet, Kell is confident that the congressional delegation will deliver.
Assuming, that is, the project gets through the Act 250 process. Recently, Vermont's land-use review temporarily stalled progress on the Lamoille Valley Rail Trail, a 92-mile multiuse trail that would run the width of Vermont. Once it's completed, the LVRT would become New England's longest year-round recreational trail and the "backbone" of a statewide network of trails.
Folks like Kell, Tierney and Spencer believe that a three-season bike-tourism industry, on the roads or off, goes just fine with the state's winter tourism powerhouses: skiing and snowboarding. As Tierney points out, one of the fastest-growing trends in mountain biking is lift-served downhill riding at ski resorts. As one bike-shop owner put it, mountain biking is Vermont's "new snow."
But essential to such growth is investment in Vermont's biking infrastructure — maps, kiosks, racks, wider on-road bike lanes and bike-friendly transportation networks — so travelers such as Germany's Wesel can get around with ease.
"I hear that all the time, especially from tourists, that they can't find their way around," says VMBA's Kell. "It's a bit intimidating heading off into the woods if you don't know where you're going … We want people to find their way home and have a good time so that, hopefully, they'll come back again."