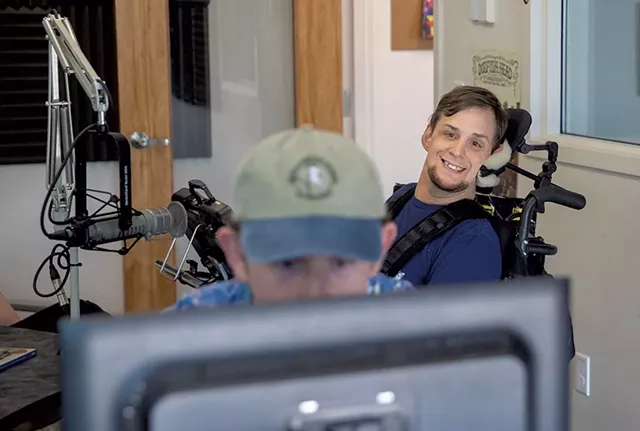 James Buck
Chris Osborne and Anthony St. Pierre
As Chris Osborne kicks off his 199th radio show on 92.5 WWPV-FM, the temperature outside is 80 degrees. So it's fitting that the first piece of music he plays is what his assistant, Anthony St. Pierre, calls "sunny day music." This particular piece is the prelude to Marc-Antoine Charpentier's Te Deum, a 17th-century composition, transcribed for a trumpet and a pipe organ.
Osborne has dedicated his weekly show to the latter instrument — the behemoth collection of wood or metal pipes, keyboards, pedalboards, and other controls that make up a pipe organ. Hence the show's name, "The King of Instruments."
After Te Deum, St. Pierre fades the music on the soundboard and switches on the mic so Osborne can introduce the show. The DJ maneuvers a joystick on his wheelchair to click a button on the screen that faces him and is affixed to his chair. A computerized voice greets listeners with "I'm your radio host, the Chris Meister" and welcomes them to another magnificent hour with "The King of Instruments" on the Saint Michael's College radio station.
Osborne, 33, is no ordinary student or community member spinning tunes in his spare time. He has cerebral palsy and is unable to speak. He communicates through his computer, building playlists and typing commentary with his joystick. On July 4, Osborne will host his 200th show.
"I want to share joy through the organ music," Osborne says, answering questions for this interview mostly through his computer.
But despite limited verbal options, he controls every aspect of his show. Through facial gestures and sounds, Osborne reminds St. Pierre to log every piece of music in the station's online database, keep an eye on the time and adjust the volume levels. He gives St. Pierre a look when the latter accidentally types the wrong album name into the system.
Osborne originally started his show through family and friend connections to a St. Mike's employee about four years ago, although nobody quite remembers who first had the idea for it.
Osborne has choreoathetoid cerebral palsy, which causes involuntary movements, especially in his limbs, head and face and affects his ability to speak and swallow. People with CP often retain the "startle reflex" and other reflexes that everyone has as a baby, which heightens their reactions to stimuli.
"I have assistants who help me do the things I want to do or have to do," Osborne explains.
When he doesn't have time to type into his assisted-communication device, Osborne uses an eye-gaze board, which looks like a large picture frame, that St. Pierre, his mother or an assistant holds in front of their face. The letters of the alphabet are lined up around its edge, and Osborne spells by looking at each letter in turn, communicating his intent in as few words as possible. When the interpreter guesses the right letter, Osborne smiles. When the letter is wrong, he furrows his brow.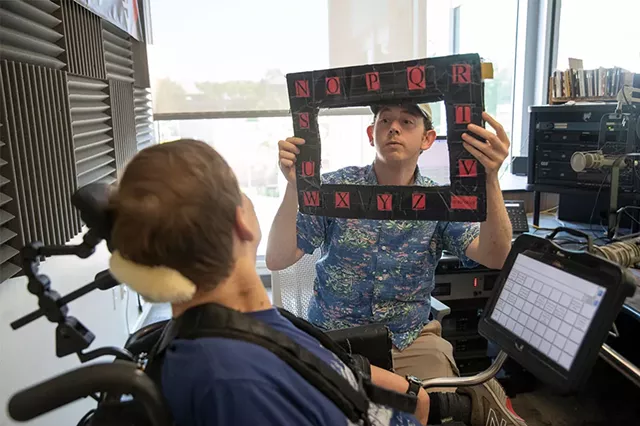 James Buck
St. Pierre assisting Osborne with an eye-gaze board
Talking this way can be like putting together a puzzle. But when you collect the pieces, Osborne is an absolute fount of information about the pipe organ. The walls of his apartment are lined with CDs — about 300 of them, as far as anyone can guess. Osborne is a skilled online sleuth when it comes to finding rare or out-of-print recordings. His favorite composers are German — Bach, Handel, Beethoven — but he also has favorite modern organists.
Then there are the instruments themselves, each one different. Osborne normally favors English cathedral organs, but when Paris' Notre Dame Cathedral burned in April, he sought out recordings of performances made there.
Some internet-gleaned trivia for those unfamiliar with the scale of a pipe organ: The Notre Dame instrument, which survived the fire with only minor damage, has almost 8,000 pipes. The largest functional organ in the world, in Philadelphia, has more than 28,000 pipes and weighs 287 tons.
"I love the sound of the pipe organ," Osborne says. "I learned it from my mom."
Nancy Osborne, who began playing the pipe organ at 15, was a professional church musician for decades. Of her four children, only Chris shares her passion for the instrument.
At home in his South Burlington apartment a few days before his show, Osborne spells out "Awak," and Nancy guesses before he even gets to the next letter: Awake the Trumpet's Lofty Sound, a chorus Handel composed for his oratorio Samson in 1741. Osborne loves an album of trumpet and organ music of which that chorus is the title track.
"Year born," he writes. That is, the CD came out in 1986, the year he was born.
Later, Osborne pulls up a video that shows a simple analysis of Bach's Fugue in G minor as it's played on a pipe organ. Nancy watches over his shoulder as colored tracks light up, showing which keys and pedals are being played. Think Guitar Hero with a lot more music theory.
Nancy hums along and notes when different voices join in on the melody. She and her son both grin as the piece switches keys to end on a major chord. Called a Picardy third, it's considered a happy way to end a section of music.
CP is a part of Osborne's everyday life, and for the most part it doesn't seem to bother him. He'd rather talk about the pipe organ or one of his other loves, such as movies, "The Simpsons" and ocean vessels such as the Titanic.
"We don't call you disabled, right?" Nancy asks him. "We just say, 'Chris has CP, and this is the way he does things.'"
Osborne doesn't like the word "disability" — when it's mentioned to him, he makes a face. Nancy says he doesn't feel bound to a wheelchair. Rather, his wheelchair is a part of his body, and it gives him the freedom to experience the world. When he was a kid, he would roughhouse in it, running into things at top speed. He "paints" giant pictures of the Titanic and other famous ocean liners using the tires of his chair. He pulls wagons and has even mowed the lawn, with the lawnmower tied backward to his chair.
"Basically, CP affects my whole body," Osborne says. "I've always had it, so I'm used to it."