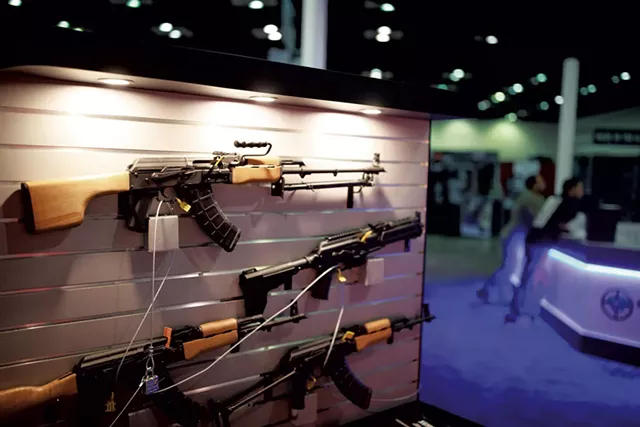 Ap Photo / Jeremy Hogan
A Century International Arms booth at last April's National Rifle Association convention in Indianapolis
A Vermont arms dealer imported the AK-47-style gun used to kill two children and a young man last month at a garlic festival in Gilroy, Calif., federal authorities told Seven Days. The company, Century International Arms, may also be tied to the weapon used in an even deadlier mass shooting this month at a Walmart in El Paso, Texas.
According to Prentice Danner, a spokesperson for the Federal Bureau of Investigation's San Francisco field office, the WASR-10 semiautomatic rifle used in the California shooting came from Century Arms, which is based in Vermont and Florida. The gun was illegal to possess in California. Authorities have said that 19-year-old shooter Santino William Legan, who died at the scene after injuring 13 others, bought the weapon earlier that month at a Nevada gun shop. Legan also came equipped with a 75-round drum magazine and multiple 40-round magazines.
Less than a week after that attack, another would-be mass shooter posted a manifesto to social media listing the gear he planned to use. The writer said his "main gun" would be an "AK47 (WASR 10)," though he lamented that it had a propensity to overheat when fired 100 times in quick succession. "I'll have to use a heat-resistant glove to get around this," he wrote.
Authorities believe the manifesto's author was 21-year-old Patrick Crusius, who they allege killed 22 people and injured 24 others at the El Paso Walmart on August 3. Because Crusius survived the shooting and could face the death penalty, local and federal officials have refused to release much information, including the identity of the gun's manufacturer.
"We want to make darn sure he gets convicted," Sgt. Robert Gomez, a spokesperson for the El Paso Police Department, told Seven Days.
In the more than five decades since Century Arms established a presence in Vermont, its weapons have found their way to Nicaraguan contras, Mexican drug cartels and American mass shooters. When a gunman wounded Rep. Steve Scalise (R-La.) and three others during a congressional baseball practice in June 2017, he was wielding a Century Arms SKS-style rifle with two 40-round magazines, according to a Virginia prosecutor. Publicly available records link the company's guns or those of its Romanian supplier to another five mass shootings since 2007.
Despite the carnage, Vermont politicians have continued to go to bat for the company, pointing to the more than 100 people it employs at a manufacturing plant in the town of Georgia.
Members of the state's congressional delegation have publicly defended Century Arms as a law-abiding business. And, as recently as last year, state legislators allowed the company to continue importing, manufacturing and exporting high-capacity magazines — even as they prohibited their sale within Vermont.
"It seems hypocritical to me," Rep. Brian Cina (P/D-Burlington) told his colleagues on the floor of the Vermont House during a March 2018 debate. "Why would we ban something and then allow it to be made here?"
Despite his concerns, Cina and 122 other House members — Democrats, Republicans and Progressives alike — voted for the loophole. Only 21 opposed it. "I supported it with reservations because I didn't want to harm a local business," Cina explained last week. "But I found even my vote to be a hypocritical one. I own that."
The precise nature and scope of Century Arms' business isn't clear. The closely held company, believed to be owned by the heirs of cofounder William Sucher, is highly secretive. Through its Washington, D.C., attorney, Mark Barnes, the company declined to comment.
According to data collected by the U.S. Bureau of Alcohol, Tobacco, Firearms and Explosives, Century Arms manufactured 453,016 guns in the decade ending with 2017. That number pales in comparison to the 14.4 million guns Sturm, Ruger & Company built during the same period and the 11.9 million Smith & Wesson did, according to ATF data.
But when it comes to importing military surplus weapons, Century Arms is an industry leader — and has been for some time.
According to a 2011 investigation by the Center for Public Integrity, PBS' "Frontline" and other news organizations, the company bought "hundreds of thousands of rifles" by the pound from the Italian government in the early 1960s. In the late '80s and early '90s, it became a leading importer of Russian and Chinese SKS rifles, a precursor to the AK-47. More recently, it has focused on AK variants from former Soviet bloc countries.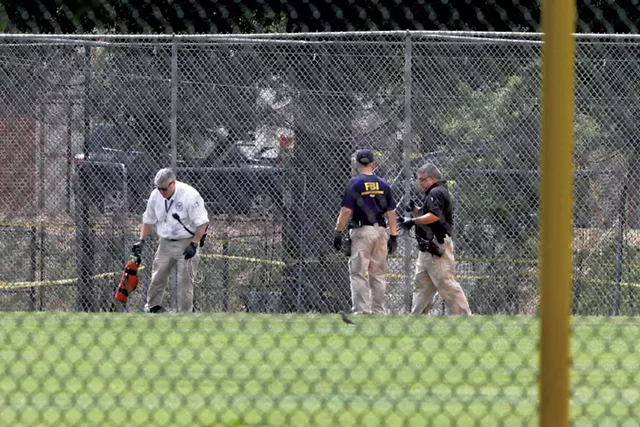 Ap Photo / Jacquelyn Martin
The Alexandria, Va., baseball field where Rep. Steve Scalise (R-La.) and three others were wounded with a Century International Arms rifle in June 2017
Century Arms has had a particularly close relationship with Romarm, the Romanian government-owned manufacturer of the WASR, or Wassenaar Arrangement Semiautomatic Rifle. In a federal lawsuit filed in 2012, lawyers for Century Arms wrote that it had obtained more than $55 million worth of weapons from Romarm over the previous decade and had "the exclusive right to purchase certain firearms." In a 2017 opinion related to another lawsuit, U.S. District Court Judge Christina Reiss of Vermont referred to Century Arms as Romarm's "exclusive distributor in the United States."
That suggests that if the El Paso shooter used a WASR rifle, it was likely imported by Century Arms.
Romarm officials did not respond to a request for comment.
For decades, the federal government has banned the importation of semiautomatic rifles with a certain kind — and a certain number — of military features. But according to the CPI/"Frontline" report, companies such as Century Arms have skirted the restrictions by adding additional features to slimmed-down guns once they reach the U.S.
In a 2018 memo prepared for the trial of Mexican drug lord Joaquín "El Chapo" Guzmán, an ATF analyst described how 40 of the Sinaloa Cartel's guns seized by Colombian authorities had been converted by Century Arms for sale in the U.S. Among them were five Romanian WASRs exported to Vermont with a low-capacity magazine, then reconfigured to accept a 30-round magazine.
Thirty-five of the seized rifles were semiautomatic versions of a Yugoslavian machine gun assembled in Vermont with an imported receiver thick enough to handle an attachable grenade launcher. According to the ATF report, they could be converted to fully automatic machine guns in about 10 minutes with $16 worth of parts.
It's impossible to know how many Century Arms guns have been used in mass shootings because, since 2003, Congress has barred ATF from publicly disclosing data linking crimes to specific gun manufacturers and retailers. According to David Chipman, a retired ATF agent who serves as senior policy adviser to Giffords, a gun-control group, the policy is the result of Republican efforts to shield the industry from scrutiny and accountability.
"I don't know how you make reasonable policy decisions if you don't know how criminals get guns and what guns they're getting," he said. "But this is a policy by design, not by accident."
Press accounts and a database maintained by the Violence Policy Center, another gun-control group, link Century Arms and/or Romarm rifles to mass shootings over the past 12 years in New Jersey, Missouri, Pennsylvania, Virginia and Nebraska. That list is likely incomplete, because local authorities sometimes publicly identify guns used in crimes with no greater specificity than "AK-style" or "AK-variant."
Part of the appeal of Century Arms' WASR-10 is price. The weapon is "one of the cheaper AKs you can buy, which is why you see them around," said retired ATF agent Stephen Barborini, who now works for a Florida police department. The WASR-10's list price is $794.99, according to Century Arms' website. Versions of the gun were available from Vermont dealers this week ranging in price from $696 to $822.
Over the years, Century Arms has counted on support from powerful allies in Vermont. Two months after another company's semiautomatic rifle was used in the Sandy Hook Elementary School shooting, the Rutland Herald asked the state's congressional delegation whether its members were troubled by Century Arms' presence in the state. "They are engaged in a lawful business just as others are that are involved in firearms commerce, employing many Vermonters," Sen. Patrick Leahy (D-Vt.), Sen. Bernie Sanders (I-Vt.) and Rep. Peter Welch (D-Vt.) said in a February 2013 written statement.
In a May 2013 letter, Leahy and then-governor Peter Shumlin urged then-president Barack Obama to allow Century Arms to import $30 million worth of American made, World War II-era weapons from South Korea. When the White House blocked the deal the following year, the company laid off 41 Vermont workers.
In a joint statement to Seven Days last week, spokespeople for Leahy and Welch said the delegation had "always taken seriously its responsibility to support Vermonters' jobs" but also backed a federal ban on the sale of assault weapons and high-capacity magazines. A spokesperson for Sanders, who is running for president, said in a more fiery statement that the senator had for decades "strongly opposed the importation, sale and distribution of assault weapons, such as the WASR-10 and AK-47."
As the Vermont legislature debated a major gun-control bill last spring, Rep. Eileen Dickinson (R-St. Albans Town) alerted Century Arms that it could be affected by the proposed state ban on high-capacity magazines. The company dispatched attorney Brady Toensing, then a Vermont Republican Party official, to lobby against the provision, which capped magazines at 10 rounds for rifles and 15 for handguns.
"This law would put them out of business," he said at the time, noting that many of its guns came equipped with 30-round magazines. Toensing, who has since left the state and the party to work for the U.S. Department of Justice, declined to comment.
As the bill neared House passage, Dickinson and then-representative Corey Parent, a St. Albans City Republican, crafted an amendment that would exempt magazines in the hands of manufacturers and importers planning to sell them outside of Vermont.
"The goal, of course, was to maintain jobs in Franklin County," Dickinson said last week.
According to Cina, the Progressive/Democrat from Burlington who called the amendment hypocritical, House Speaker Mitzi Johnson (D-South Hero) cautioned him after his floor speech that, if it failed, the entire bill might die. Johnson said this week that she didn't recall the conversation with Cina but didn't dispute it.
"My focus was on getting the strongest piece of legislation that we could, and I do think Vermont is better off with the magazine limit, with the few exemptions that we put in, than with no magazine limit at all," she said.
Republican Gov. Phil Scott, who championed the gun-control bill and supported the Dickinson/Parent amendment, agrees. "We can only do what we can do here in Vermont," he said, adding, "I'm not sure we can conclusively say that if we had not passed this amendment that those tragic events wouldn't have happened anyhow."
Parent, now a Franklin County state senator, said he found it "disconcerting" to learn that a Century Arms gun had been used in the Gilroy Garlic Festival shooting, but he wouldn't say whether he now regrets his actions.
Cina does. "If I could go back in time — if I knew then what I know now — I probably wouldn't have voted yes," he said last week.
The Burlington lawmaker might just get another chance. Rep. Maxine Grad (D-Moretown), who chairs the House Judiciary Committee, said she's open to revisiting the issue this winter.
"Anything's on the table," Grad said.