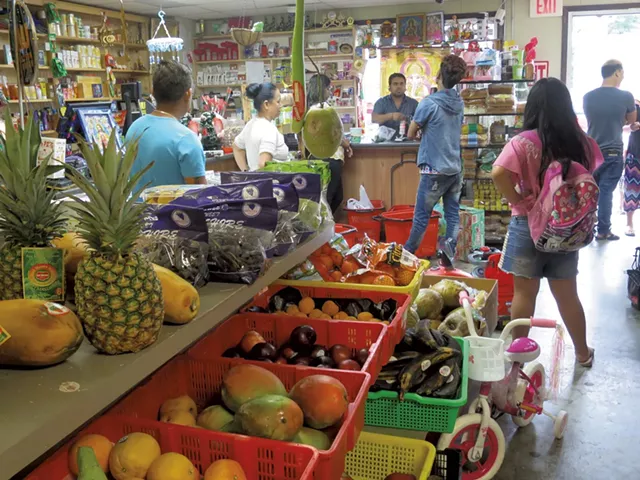 Mathew Thorsen
Som Timsina attending to his customers
On a Friday morning, Som Timsina was bleary-eyed as he straightened the vegetable baskets in his supermarket in the Old North End in Burlington. The owner of Central Market: Taste of Asia had returned the night before from a 30-hour round trip to New York and New Jersey to get fresh produce and supplies.
"Every 15 days I go to Boston, every week to New York City," Timsina, 39, said, rattling off his schedule. "Sometimes I feel so tired ... doing everything ourselves."
But the affable Bhutanese man perked up when he described his store as the largest Asian grocery retailer in Vermont. "There's no Asian store bigger than this," he declared.
Timsina and his brother-in-law, Bhakti Adhikari, opened their first Central Market in Winooski in 2011. They have since closed it to focus on their business in Burlington, which they opened in March 2014.
Central Market is one of eight grocery stores in the Old North End aimed at serving New Americans; the neighborhood spans an area of about 24 acres and is home to many immigrants. To remain competitive, the store doesn't limit itself to Asian food items — or to food items, period.
"My plan is to make everything available all the time," Timsina said. In short, he aims to provide a one-stop shopping experience to his community and beyond.
Some of the more unusual offerings customers will find at Central Market include Arabic calligraphy wall art and a poster of the Taoist god of wealth, Caishen. They can also buy fufu mix, a staple food in many African countries; palm-nut cream concentrate; and iPhone chargers. One of Timsina's best-selling items is air freshener from Saudi Arabia.
"The scent, everybody likes it," he said.
Matthew Thorsen
Produce at the market
The Bhutanese co-owners have made a conscious effort to cater to the needs of the area's multicultural community. For example, Timsina makes sure his store carries white eggplant and other varieties commonly grown in Thailand, Italy, India and Africa to satisfy customers' culinary preferences. A Nepali, Indian and Vietnamese restaurant with a small dine-in area serves those who seek sustenance on the spot.
Providing good customer service is key to ensuring loyalty among customers and staying competitive, Timsina said. Like a supermarket, Central Market has aisle signs to help customers navigate the store. Timsina carries a walkie-talkie to communicate with his employees and wears a Bluetooth earpiece so he can attend to customers both over the phone and in person. He greets Somali customers in Arabic and calls them "sister," an endearing term.
In 2008, Timsina, Adhikari and their families were among the first Bhutanese refugees to be resettled in Vermont. "It was hard," recalled Timsina. "Nobody spoke English at that time." In their new home, they had trouble finding familiar food items such as mustard greens and family-size rice packages, he continued.
Timsina's first job was at Vermont Teddy Bear. Later, he worked as an interpreter for the Vermont Refugee Resettlement Program during the day and at a hotel by night. After three years, he had saved enough money to open a grocery store in Winooski with his brother-in-law.
The entrepreneurial path was a natural choice for both Adhikari and Timsina. "It's an occupation from my ancestors. We started in Bhutan," explained 32-year-old Adhikari, who also owns eyebrow-threading stores in the University Mall and Burlington Town Center. Timsina said he learned the trade from his father, who was a businessman in Bhutan and Nepal.
Central Market arguably has the widest selection of international foods in the area. "I always find something [here] that you don't find anywhere else," said customer Andrew Miller, who said he hailed from the Caribbean. "Not everywhere in Burlington has international food."
Miller had stopped by the store to buy a 25-pound bag of basmati rice. "It's $25 here," he pointed out, adding, "You go into [another] store, and you buy a five-pound [package] and it's $8." He was also thrilled to find soursop, a fruit he hadn't eaten in three years.
Miller wasn't the only customer who made an unexpected discovery that day. Gita Badami and her husband, Ginesh, came in for Indian milk-based sweets and ended up making an additional purchase — a mango. The couple lives in Essex and used to shop at Central Market in Winooski. "Good selection here, you know," said Ginesh, nodding toward the vegetable display. "Some of the ones you see, you cannot get anywhere [else]."
Indeed, Timsina is most proud of the selection of greens and fruits at Central Market. "We sell banana flowers, banana roots, banana fruit and banana leaves," he said. Pointing to a basket of bamboo shoots, he noted, "Hard to get around here."
Loan Ly, an employee from Vietnam, manages the vegetable section. "She's a great worker. She knows everything," Timsina said.
He said it gives him satisfaction to serve a diverse customer base but admitted that the language barrier can sometimes be a challenge. "They speak different languages, and they don't know [how to describe] what they're looking for," Timsina explained. "When they go home and taste [the item] and realize it's not the right kind, they come back and return [it]." Faced with the difficulty of pleasing everyone, he's found that an emphasis on customer service is the best way to retain his clientele, he said.
Timsina reckoned that he hasn't had a vacation in about five years. Although he has seven employees, he's at the store every day. He admitted that it's tiring to make the weekly supply run to New York and New Jersey, but there's no alternative. His customers want food they used to eat in their home countries, and he aims to please them: "They get everything [at Central Market] now," he said.
Paw Wah of Essex is one customer who's remained loyal even as her shopping patterns have evolved. When the Burmese woman first arrived in Vermont in 2009, she said, she bought vegetables from ethnic stores such as Central Market. As she became more adept at using new ingredients, she expanded her range to larger supermarkets such as Shaw's and Hannaford, and she now shops around at different ethnic stores to compare prices, she said.
Matthew Thorsen
Banana stem
But the specialty items still bring Wah back to Central Market at least once a week. During her last visit, she bought a package of paratha — thin flatbread that's a staple food for people in Burma. While her family usually eats paratha with meat stew, she noted, they've also become accustomed to pairing the flatbread with Vermonters' staple food — maple syrup. "It's much easier [to prepare]," said Wah, chuckling.
Although he learned the grocery trade from his father, Timsina said he'll leave it up to his two young children to decide whether they want to continue the family business. For now, he hopes to expand his store. After each supply run, Timsina wishes he had more space to display his fresh produce and other food items. "I have to squeeze it all together," he lamented.
When Timsina inquired about renting the space vacated by the adjacent auto parts store, he said, he was told that location had been leased to City Market/Onion River Co-op. A City Market spokesperson confirmed that the downtown co-op has plans for the space but said not to expect updates until next spring. Currently, staff are focused on the upcoming opening of their store in the South End.
Timsina isn't worried about the potential competition. "We have our international products," he pointed out. Parking availability in his vicinity is a larger concern. But more traffic — vehicular or pedestrian — can only mean one thing, Timsina continued: "Whoever comes over there, they can see what's going on here. I'll have more customers."
He's not likely to take that vacation anytime soon.