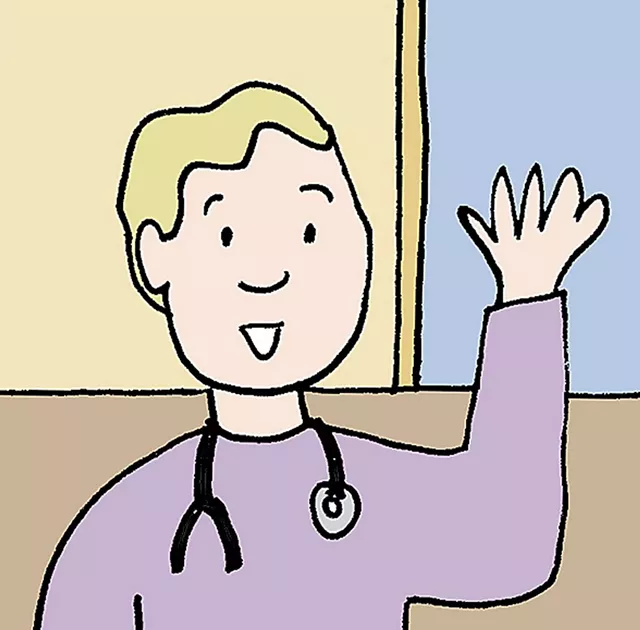 Courtesy Of Mk Czerwiec
MK Czerwiec's comic avatar
A public health professional and cartoonist from New Jersey creates a graphic memoir to help her heal from sexual assault. At Penn State College of Medicine, fourth-year students learn how comics can communicate complex medical information — and make their own. At Vermont Folklife Center in Middlebury, an ethnographic cartooning project aims to "mitigate loneliness, isolation and despair" among Latin American migrant farmworkers. Also in Vermont, artists from the Center for Cartoon Studies work with veterans to help address the effects of post-traumatic stress disorder.
All four of these endeavors fit within the definition of "graphic medicine," a diverse and burgeoning field that uses cartooning to convey information, tell stories and enhance positive outcomes in the broad arena of health care.
Graphic medicine in turn falls under the rubric of "applied cartooning," a practical orientation that CCS emphasizes. The center, with support from the Geisel School of Medicine at Dartmouth College, is hosting the ninth international Comics and Medicine Conference this month, called Comics and Medicine: The Ways We Work.
From August 16 to 18, the already-sold-out event will turn White River Junction into a conference center, as CCS cofounder James Sturm put it. The school itself, the Briggs Opera House, the Engine Room and other venues, as well as locations in Hanover, N.H., will host more than 180 attendees from around the country and as far away as China.
Sturm called the Comics and Medicine Conference "a natural extension of applied cartooning." Aware of the conferences since they began in 2010, he was an invited keynote speaker at the 2014 edition at Johns Hopkins University, talking about "some of our work with the VA hospital," he said.
The number of presentations at the Vermont gathering is staggering, with concurrent time slots that likely will force attendees to make difficult choices. A few of the titles suggest the breadth of content: "The Story of My Tits: Breast Cancer as Metamorphosis From Patient to Survivor to Creator"; "Graphic Trauma: Drawing as Working Through Sexual Violence"; "Exploring the Use of Comics in Health Education"; "Rock Steady: Brilliant Advice From My Bipolar Life"; and "The Ways Graphic Medicine Works in a Pharmacy School."
One of the presenters will be familiar to fans of the comics pages in this newspaper: Rachel Lindsay, whose talk bears the long but intriguing title "Cartoonist Behind the Curtain: Working in Psychopharmaceutical Advertising as a Closeted Mental Patient and Living to Draw the Tale." That's essentially the subject of Lindsay's debut graphic memoir, Rx, due out in early September.
Graphic medicine, both the phrase and the conference, can be credited to Ian Williams, a physician, cartoonist and writer based in Brighton, UK. Author of the graphic novel The Bad Doctor: The Troubled Life and Times of Dr. Iwan James, Williams is also coeditor of the Graphic Medicine Manifesto. He'll attend the Vermont conference, as will MK Czerwiec, his Manifesto coeditor and colleague at the Graphic Medicine website. She creates cartoons and a website under the name Comic Nurse.
Czerwiec (pronounced sir-wick, her site helpfully informs us) is the artist-in-residence at Northwestern University Feinberg School of Medicine in Chicago and a senior fellow of the George Washington School of Nursing Center for Health Policy and Media Engagement. Her job titles would barely fit on a business card and don't include her additional roles as teacher, cartoonist, writer and speaker. Czerwiec, 51, unpacked that in a phone conversation from her home in Chicago.
In her youth, this nurse's daughter never could have imagined the career she would have now, particularly since her parents did not encourage her drawing habit. Earning a master's in humanities and bioethics, Czerwiec said, she hoped to be a "student of narrative in health care." Today, she went on, "I mostly talk about drawing and how it can help in health care" — an understatement that sums up the essence of graphic medicine.
At Feinberg, Czerwiec teaches in the medical school and is "available if someone wants to use comics in their process," she said. At George Washington, she was "brought on as part of an effort to amplify the voices of nurses in media." As she pointed out, "The number of times nurses are quoted in media is abysmal." The voices of those underrepresented caregivers, in her view, are critical to the health care conversation.
Czerwiec's own narrative, based on a tough but affirming clinical experience, informed her 2017 graphic memoir Taking Turns: Stories From HIV/AIDS Care Unit 371. Attending to dying patients in the early years of that health crisis gave Czerwiec an interest in end-of-life experiences and care — the subject of a forthcoming graphic work and the topic of her shared presentation at the conference, "Dying, Death and Comics."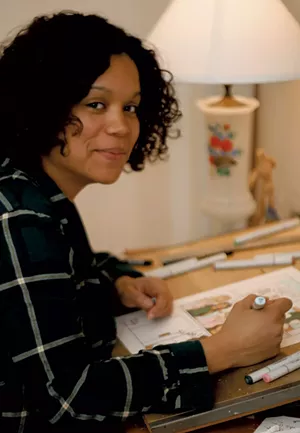 Courtesy Of Whitney Taylor
Whitney Taylor
One of the conference's keynote speakers is Whitney Taylor, 34, a cartoonist, social justice activist and public health professional. She has published numerous comic books and web comics and participated in many anthologies, including the reproductive-rights volume Comics for Choice. And, in some of her work, she has revealed and processed personal trauma.
"One of the things I'll be talking about [at the conference] is the book Ghost Stories," Taylor explained in a phone conversation from her home in Queens. "One of the stories deals with mental health and sexual assault.
"It takes a lot of work to deal with the trauma," she continued. "I'll talk about the choice to make that public."
Taylor added that the exposure was "worth it" because of the feedback she got from others who had the same or similar experiences.
"When I write about stuff involving mental health," she said, "it's to reduce stigma. The public health [work] is to increase literacy."
Taylor attended her first graphic medicine conference in 2014, the same year she took a workshop at CCS. "When I found out about graphic medicine, I realized there's a real interest in this field," she said, pointing out that it crosses a broad range of disciplines. "There are so many applications, from training professionals to allowing patients to express their experiences. There's a lot of enthusiasm.
"It's so cool that the conference is being held at CCS this year," Taylor concluded. "It's a great place to learn."