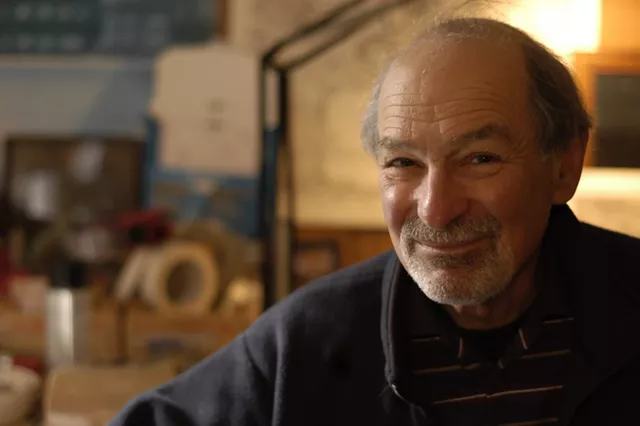 Courtesy of the Center for Cartoon Studies
Ed Koren
Ed Koren
is best known for his distinctive cartoons in the
New Yorker
— well more than 1,000 over six decades — featuring hirsute, long-nosed characters and gently satirical punchlines. He's contributed numerous cover illustrations to the magazine, as well, and has graced
Seven Days
with a few. In Vermont, where Koren and his wife, Curtis, have lived since 1978, he's also known as the
state's second cartoonist laureate
(2014-17), a generous contributor of artwork to numerous nonprofit causes, and a volunteer firefighter in Brookfield for 35 years.
New Yorker
for consideration. He had another reason to feel upbeat: The
Center for Cartoon Studies
in White River Junction has just created a scholarship in his name.
"Throughout his life, he's enriched our state in so many ways while touching the lives of all who knew him," reads an
explanation on the CCS website
. "With Ed's blessing, The Center for Cartoon Studies invites you to help us grow The Ed Koren Scholarship Fund to recognize and celebrate Ed's unique legacy by supporting an emerging cartoonist who is also looking to enrich the cultural and civic life of Vermont."
Courtesy of the Center for Cartoon Studies
Ed Koren honored at the Center for Cartoon Studies in 2006
CCS cofounder James Sturm said in a phone call that, when he first came to Vermont to start the school (with Michelle Ollie, in 2005), "I felt like one of the people whose blessing I needed was Ed. He was so enthusiastic!
"The way that Ed has embraced the community from the start, and the way they embraced him back, is just amazing," Sturm continued. "He was a firefighter and engaged so fully in civic life. The scholarship just wants to celebrate that and honor him. Basically, the funding will go toward a student that has shown an investment in the civic life of the state."
Koren is feeling it. "I'm deeply honored — how could I not be?" he said. "I've always been fond of the [cartoon] school and been connected to it — and to James.
"I've done this a long time — 72 years, if you go back to high school — but I've never taught cartooning," Koren observed. "I can't begin to tell you how honored I am to be associated with the school." He expressed admiration for CCS' emphasis on applied cartooning and social activism.
Let's Talk About It: A Graphic Guide to Mental Health
and
This Is What Democracy Looks Like: A Graphic Guide to Governance
, among other comic books.
To help build the Ed Koren Scholarship Fund, Sturm said individuals can make a
donation online
or send a check to the Center for Cartoon Studies, Attn: Ed Koren Scholarship Fund, P.O. Box 125, White River Jct., VT 05001. Questions? Contact Dave Lloyd at 295-3319 or
lloyd@cartoonstudies.org
.
[Correction, Friday, September 23, 1:15 p.m.: The title of a comic book mistakenly attributed to the Center for Cartoon Studies has been removed from this post.]