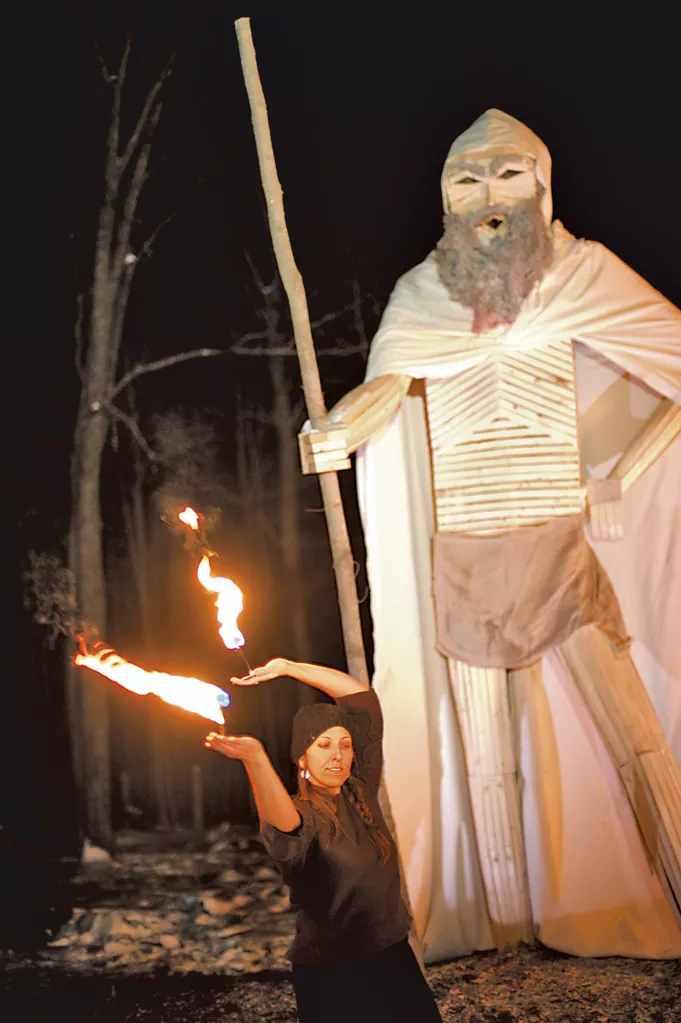 Courtesy of Chris Cleary
2013 Celsius
For Vermonters who dread the months-long onslaught of snow, ice and perpetually runny noses, the winter solstice offers a beacon of hope. The shortest day of the year signals increasingly longer days to come and, eventually, more light and warmth.
Chris and Kim Cleary aim to help us greet the winter season and beat back the blues with Celsius (The Winter Burn) on Saturday, December 20. The fiery fest has taken place for three previous years in the couple's backyard in Jericho, but this year's event will be held in a larger West Bolton location.
Fittingly, the idea was hatched during a journey to the famed Burning Man celebration out west. In 2009, Chris Cleary accompanied a friend who had built a large, Ferris wheel-type structure to torch at that festival in the Nevada desert. He returned a changed man. "Everything is art, I came to realize," Cleary says. "That's what I got out of Burning Man. It's about getting people together for art to make them all happy."
So for his 35th birthday, he continues, "I decided to build a burning sculpture of Father Time." The Clearys started Celsius in 2011 and have built 15 burning sculptures in that time, including a motorcycle, a mammoth, a Minotaur, a dragon, the ill-fated Icarus and the Greek sun god Helios. Kim Cleary, who has a background in nonprofit agricultural work, manages the event's logistics. Chris has been a stone sculptor for 15 years and also works with copper and brass. (The local arts community may recall his steampunk-inspired structures exhibited in Burlington in recent years.)
Stone is by nature a permanent medium, making Cleary's transition to fire work — an art form meant to disappear — a seemingly incongruous leap. Yet he sees a connection between the two. "Every sculpture I sell I have to say good-bye to," he points out. "It's the same scoop here [at the burn]. You build it and it's gone."
Cleary believes that people are drawn to fire because of both its drama and its fleeting, shape-shifting nature. "It's a medium that's in the moment," he says. "The impermanence is a beautiful thing."
Celsius has previously been free to the public, but this year, Cleary noted, they are selling tickets to cover the insurance and venue costs associated with the new location. The event will also offer a wider variety of entertainment. In addition to the main sculpture-burning event, a projected 250 attendees can look forward to more than a dozen pyrotechnic performers from around the Northeast, including fire breathers, fire jugglers, palm-torch dancers and choreographed fire-hoop dancers Green Mountain Hoop Troop. Cleary also hints at a daredevil BMX fire event.
Should anyone need a break from the flames, they can stay warm with Burlington band Red Hot Juba, which plays a self-described genre of "blisterin' hot, countrified jazz and Green Mountain swing." Citizen Bare, an Americana outfit from Jericho, will also share the stage.
As has been the case at previous burns, there will be no food or drink vendors. Attendees are encouraged to bring a dish to share, in keeping with the communal vibe of the event, says Cleary.
Even as they prepare for the winter burn, the Clearys are looking ahead to the summer solstice. They plan to offer overnight camping and to accommodate some 500 people. "By next summer, we are hoping to be a Burning Man-sanctioned event," Chris Cleary says. And, yes, there is an official Burning Man guide and certification process. "There's a 250-page binder of how to do a regional burning event, everything from security, parking and safety to how to use your lighters. They spell it all out," he explains.
For now, the Clearys invite heat-seeking Vermonters to attend the 2014 winter burn and to rejoice in longer days ahead. m
INFO
Celsius (The Winter Burn) is Saturday, December 20, at 4 p.m., in West Bolton. Directions provided with ticket purchase. $35 adults; $30 children ages 12 and under. cirquedefuego.com
The original print version of this article was headlined "Solstice Singe: 'Celsius' Burns in the Colder But Longer Days"