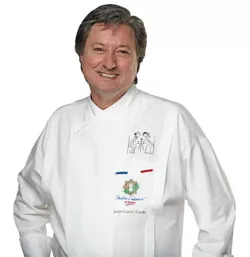 Since Tom Bivins left his job as the New England Culinary Institute's executive chef to open Stowe's Crop Bistro & Brewery last year, Paul Sorgule, vice president of culinary education, and Kevin O'Donnell, vice president of food and beverage operations, shared the seat. This semester, Jean-Louis Gerin debuts as Bivins' permanent replacement.
Chef-owner of Restaurant Jean-Louis in Greenwich, Conn., since 1985, Gerin is both a James Beard Foundation award winner for Best Chef: Northeast and a champion of the 2012 season of the Food Network competition show "Chopped." In his native France, the certified master chef has been knighted as both a Chevalier du Mérite Agricole and Chevalier des Arts et des Lettres.
So why did the chef decide to make the transition from chi-chi Greenwich to become an educator in the Green Mountains? "It's really nice to share the knowledge that we have. All of us want to teach in some capacity," he says. "It was the right time and the right address in Montpelier. When I heard about this opportunity, I just jumped on it. I wasn't even thinking."
Gerin will sell his 50-seat restaurant, but will continue to sell gourmet gifts including foie gras and chocolates through his website. At NECI, the chef says he sees no reason to make any major changes, but plans on instituting his own "very, very modern, very, very open" style of management. His primary mission, he says, is to make sure every student learns strong fundamentals, and to get to know each student individually. "I just want to say to the students, beware: I will recognize them," he teases.