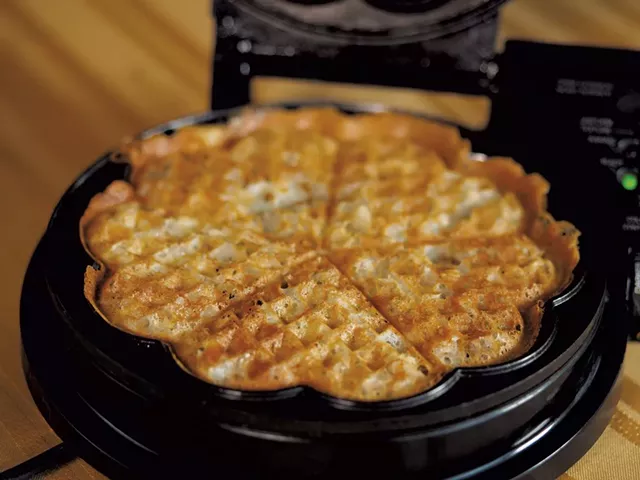 Andy Brumbaugh
Crispy Swedish Waffles
When I was a junior in high school, living with my father's cousin Bebbe in Sweden, I awoke one March morning to waffles. Bebbe informed me that it was Waffle Day, and we would celebrate by having waffles all day. He is the sort of person who can deliver a joke completely straight-faced and make you fall for it, hook, line and sinker. I thought this was for sure the case, so I laughed it off while I ate my waffle. Then, I got to school, and there were waffles for lunch. Biking around town on my way home, every café had waffles. And yes, there were waffles for dinner.
It turns out it was Våffeldagen, a holiday that stems from a mispronunciation. March 25 is the traditional Feast of the Annunciation, or Vårfrudagen (Our Lady's Day) in Swedish. Well, it turns out that Vårfrudagen sounds an awful lot like Våffeldagen, which is how you say Waffle Day in Swedish. So, over time, the day became less about the conception of Jesus, and more about crispy, delightful waffles.
The traditional Swedish waffle maker makes thin, heart-shaped waffles, and you can readily find this type of waffle iron here in the States. A standard waffle iron works, too, but don't try to make these waffles in a thick Belgian waffle maker. These waffles only have a little baking powder for leavening, so they won't fill a Belgian waffle iron and crisp up as they should.
Two kinds of waffles are prominent in Sweden — egg waffles, which are very similar to the waffles you are probably used to, and these light, crispy waffles. Not usually eaten for breakfast, they're served for dessert or for the ubiquitous Swedish fika, the afternoon (or mid-morning — or early evening!) tradition of coffee and treats that every Swede appreciates. The recipe is ridiculously simple: just flour, baking powder and a little salt folded gently into whipped cream with a little butter and sparkling mineral water. That's it! Serve them with sweetened whipped cream and jam, or with fruit, and celebrate Våffeldagen like a Swede.
Crispy Swedish Waffles
Andy Brumbaugh
Crispy Swedish Waffles
(Makes 6)
Ingredients:
2 tablespoons butter
1 cup whipping cream
1 cup flour
¾ teaspoon baking powder
pinch salt
⅔ cup sparkling mineral water
For topping:
½ cup whipping cream
1½ teaspoons confectioners' sugar
Jam of your choice (I like raspberry)
Directions:
Melt the butter and set aside to cool. Whip cream to soft peaks. Gently fold in flour, baking powder, and salt. Add butter and mineral water and gently fold in to make an even, smooth batter.
Whip cream for the topping to stiff peaks, then whisk in the confectioners' sugar.
Preheat waffle iron. Spoon in around 1/2 cup batter and bake until golden brown and crispy. Keep waffles warm in an oven set to 200 degrees. Repeat until all waffles are made. Serve with a dollop of whipped cream and a spoonful of jam.