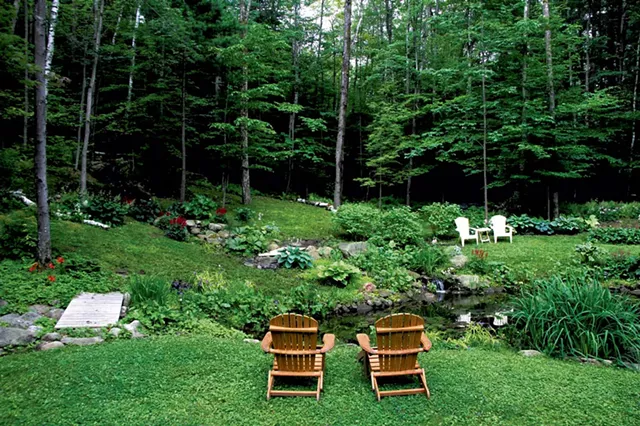 Courtesy of Orelyn Emerson
Bob and Shirley Smith's garden in Jericho
A rose by any other name would smell as sweet, but the phrase probably wouldn't have sounded nearly as good if attempted by another writer. William Shakespeare was a master gardener of the English language, plucking the most colorful words from his fertile imagination to plant seeds of doubt about human nature. Four centuries after his death, Shakespeare's popularity is still growing like a weed.
Jericho's 2016 country garden tour on Saturday, July 16, commemorates the Bard's quadricentennial with Shakespeare in the Garden. It's a unique addition to the plethora of events this year that have commemorated his passing in 1616. A tour committee brainstormed the theme last February, and the Deborah Rawson Memorial Library, along with six local residents, literally cultivated it on their grounds this spring. Proceeds from ticket sales will benefit the Jericho Community Center, where villagers have been gathering since 1847.
Each garden on the tour has photos of Shakespeare next to species that crop up in his plays. Visitors might be surprised to discover just how frequently he waxed poetic about plants. More than 150 varieties — from aloe to yew — are referenced in the playwright's prolific output. Many of them made the journey from merry olde England to the New World, and subsequently took root in Vermont.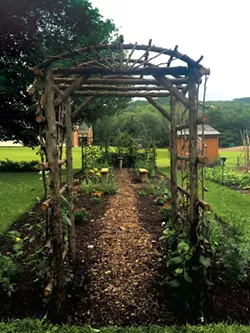 Nancy Stearns Bercaw
Garden at Deborah Rawson Memorial Library
In Love's Labour's Lost, for example, Shakespeare praises daisies and violets for painting "the meadows with delight." Hot lavender, mint and marjoram show up in The Winter's Tale. Wild thyme, oxlips and luscious woodbine are celebrated in A Midsummer Night's Dream.
If the play's the thing, then Jericho's Shakespeare in the Garden is like a botanical play that captures the spirit of the town. What to see or not to see is up to individuals on the self-guided tour. Maps to each location are printed on the tickets.
The library will demonstrate that all the world's a stage with live readings by Elizabeth Bernstein of Shakespeare's work every hour between 10 a.m. and 2 p.m., and written quotes appear on stakes among its flower beds. The garden's overall design, according to organizing committee member Orelyn Emerson, "was strongly influenced by the rustic Shakespeare Garden in [New York's] Central Park in 1916, composed of rustic cedar arbors, trellises and benches."
In Bob and Shirley Smith's garden, two streams cascade into a waterfall down their hillside. The landscape features tall trees and shade-loving plants, including numerous varieties of hosta, astilbe, marsh marigolds, rodgersia, darmera, water lilies and wild strawberries for ground cover. Talk about love's labour.
Joann and Dave Osborne offer a medicinal herb garden featuring more than 40 plants used in teas, tinctures, oils, salves and creams. Their calm oasis also features stone creatures among the healing beds.
As if wandering through a midsummer night's dream, visitors to Faith Ingulsrud and Eric Avildsen's garden will tread alongside terraced slopes and stone walls toward a wood clearing. Edible plants and untamed flora, many of them mentioned in Shakespeare's plays, lead the way.
Sandy Fary and Michelle Pinaud's garden landscape was created, you might say, measure for measure. Fary felled some sugar maple trees in the fall and used the wood to build an arbor and fence around her vegetable garden. She planted wisteria to climb the arbor and put the trellis along the fence. Wood chips were used for paths that meander around the grounds, where vegetable plantings are arranged in concentric circles. "Because the climate is similar to that in England," Fary says, "I have 77 plants referenced in [Shakespeare's] works."
These and other gardens, along with an afternoon tea, await visitors to the tour on Saturday, which begins at 9 a.m. rain or shine. All's well that ends well at 3 p.m. m